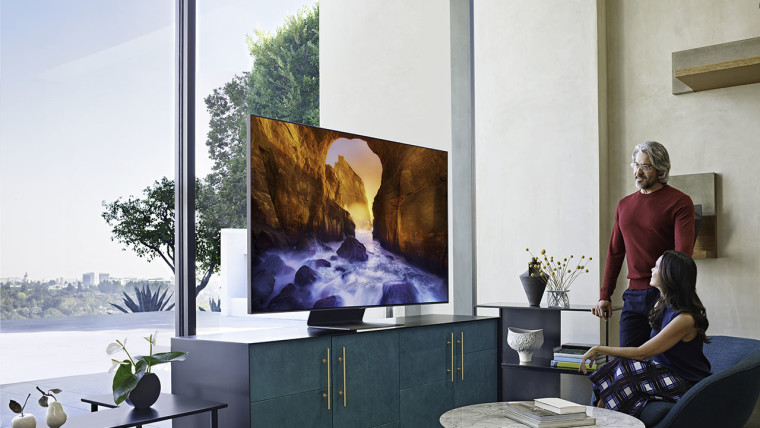 Today, Samsung announced that its newest range of 4K and 8K QLED TVs are available for purchase or pre-order through Samsung.com and select retailers in the United States. The 2019 4K lineup promises more screen sizes, ranging from 43 to 82 inches, with Samsung saying that IHS Market claimed that over 2.1 million TVs of 75 inches or more were sold in 2018.
"Our 2019 QLED line is designed for users who want the best combination of picture quality, smart TV capabilities and design," said Andrew Sivori, VP, TV Product Marketing, Samsung Electronics America. "This year's lineup represents our largest screen size offering ever. It brings together innovative feature enhancements and exciting content and service partnerships to deliver a truly groundbreaking viewing experience and unprecedented value."
Samsung caught headlines at CES this year when it announced that its new TVs - along with 2018 TVs through a software update - would come with iTunes Movies and TV and AirPlay 2 support. It's the first time that Apple's services have shipped on a television platform that's not made by Apple.
The 8K models come with the new Quantum Processor 8K, which uses AI to upscale content to 8K. As we've seen from last year's new TVs, upscaling content to 8K won't be the same as upscaling to 4K; a smarter system will be needed for better quality. Samsung also said that the Quantum Processor 4K uses AI for upscaling.
While the new QLED TVs ship with Samsung's in-house virtual assistant, Bixby, Google Assistant and Amazon Alexa support is coming soon, so you'll be able to control your TV with all of your devices. The firm is also promising better gaming support, using things like AMD Freesync and Game Motion Plus.
Samsung's 8K QLED TV is the Q900, and it comes in sizes from 65 to 98 inches. The 4K lineup includes the Q60, Q70, Q80, and Q90, raning from 43 to 82 inches. There's also The Frame, which comes in 43 to 65 inches and is meant to display art.