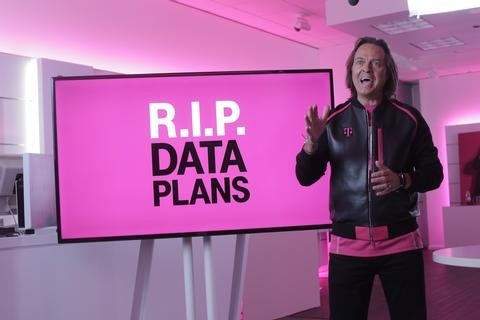 T-Mobile has been drastically changing the mobile industry for the past couple of years. Last month it offered its customers a better experience, one that abolishes data plans, and offers every customer unlimited data. A month later, it looks like T-Mobile is rewarding some of its loyal customers with targeted data upgrades, including unlimited data.
While it is unclear how many customers are getting this targeted promotion, I can confirm that I received one myself today whichpromises to upgrade my account with unlimited data. Although the text message pretty much sums up the promotion, there is a link attached that offers more details. According to the fine print that can be found on the webpage, the data upgrades are only available to those who receive a text message from T-Mobile over the next couple of days. Perhaps the most surprising is that the promotion is set to expire on February 28th, 2019. That's right, those who are upgraded to the unlimited data plan will stay upgraded for the next few years. When the promotion ends on March 1st, 2019, the upgraded plans will revert to their original status - but at that point who knows what kind of plans T-Mobile might be offering.
While looking into the details, I was also able to find that T-Mobile is offering another targeted promotion in the form of a 1GB upgrade. The same terms as the previously mentioned promotion apply, but instead of an unlimited data upgrade, customers will receive an additional 1GB until February 28, 2019.