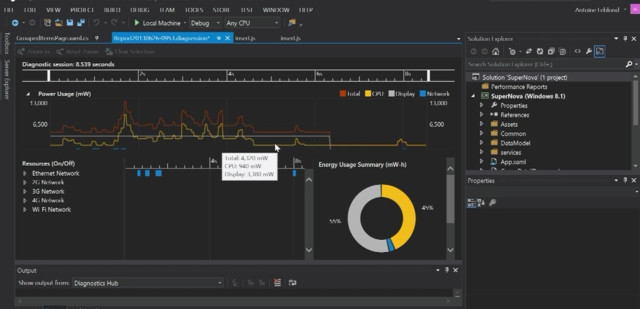 Microsoft's BUILD conference is a developer event, full stop. The keynote and sessions are designed specifically to help developers build applications for all of the Windows platforms that take full advantage all the features of the many Windows platforms offer.
Announced at BUILD today is that a preview version of Visual Studio 2013 is available for download. This announcement aligns to Microsoft's rapid release schedule and continues the rapid release cycle we have already seen from the Visual Studio team.
The new version of VS 2013 brings 5000 new APIs and a really cool power management feature. By running this new feature, you can actually see the power consumption of your application to help you optimize it for extended battery life.
You can download the new preview at the source link below but as always, the product is not the final version of the software and should not be used on a production machine.
Download: VS 2013 Preview