OnePlus is possibly the most controversial and enigmatic company of 2014. During its initial unveiling in late 2013, we were all presented with a rebel start up created by the former Vice President of Oppo, Peter Chau. Later, we would discover that OnePlus was in fact, owned by Oppo. Although the company has been mired in controversy by its unique invite only purchase program and sometimes questionable marketing methods, there is one thing that is undeniable about OnePlus - this is a company that understands how to break into a crowded Android market and excel beyond its competition.
Although I was one of the early birds to visit the website, I failed to actually register for an account that would allow me to purchase a OnePlus One. Naturally, I was a bit disappointed with myself and the invite system, but after registering properly, I finally received an invitation after waiting a couple months. Naturally, I opted to purchase the 64GB version in Sandstone Black and it arrived in a couple days from a warehouse in Burbank.
First and foremost, the packaging is phenomenal. When delivered, the OnePlus One comes in an unassuming brown cardboard package. On the bottom left hand corner there is a small round red OnePlus logo that acts as the pull tab. When pulled, it creates a nice uniform tear across the bottom edge of the cardboard box. This is where things start to get a little more interesting.
Inside the unsealed package, you are greeted with a bright white and red box. There is a sense of pride that is conveyed by the bright red "OnePlus" logo that is emblazoned on the front. While I generally dismiss packaging, it is obvious at this point that OnePlus wanted to create an experience that is in contrast to the usually mundane unboxing experiences from other companies. Peeking out of the right hand side of the box, there is a small red pull tab. Pulling this unveils a slender red box that opens to finally unveil the OnePlus One. The packaging is simple, the phone sits nestled to the left adjacent to another red "OnePlus" logo. Lifting this cardboard piece reveals a red flat wire microUSB cable and a elegant SIM removal tool. In case you wondering about the AC adapter, OnePlus chooses to package this separately, most likely to make it easier to ship to various countries.
Although the unboxing above might have seemed a bit theatrical, I opted to share this piece because it is clear that although OnePlus is a "new" company, they clearly understand and have a goal to provide consumers with a unique experience. But, does this experience end with the packaging or does it continue to the product?
Specifications
OnePlus One
Product Codes
A0001
GSM Bands

850, 900, 1800, 1900MHz

3G/4G Bands
WCDMA: Bands: 1/2/4/5/8
LTE: Bands: 1/3/4/7/17/38/40
Display
5.5" 1080p (1920 x 1080 pixels), 401 PPI
Processor
Qualcomm Snapdragon 801 processor with 2.5GHz Quad-core
Graphics
Adreno 330, 578MHz
RAM
3GB
Storage
16GB / 64GB
Connectivity
Dual-band Wi-Fi (2.4G/5G) 802.11 b/g/n/ac
Bluetooth 4.0
Internal GPS antenna + GLONASS
Digital Compass
NFC 65T (software card emulation, payment methods and multi-tag support)
Camera
13 Megapixel - Sony Exmor IMX 214
5 Megapixel
4K / 1080p with stereo sound recording | Slow Motion: 720p video at 120fps
Ports
MicroUSB 2.0 and 3.5mm audio jack
Sensors
Accelerometer
Magnetometer
Gyroscope
Light sensor
Proximity sensor
Battery
3100 mAh
Launch OS
Cyanogen 11S / Android 4.4.4
Launch Date
June 2014
Size & Weight
152.9 x 75.9 x 8.9 mm
5.71 ounces (162 g)
Price
16GB - $299 USD / 64GB $349 USD
Design
The OnePlus One is probably the most unique handset that I have had the privilege of handling this past year. The OnePlus One starts off much like any other smartphone on the market today. It is a slab design, but is constructed in a fairly unique way. The best way to describe the OnePlus' construction is that the phone is created in three layers. The top layer is comprised of the traditional glass layer that protects the LCD, the front earpiece speaker, 5MP front-facing camera, and a row of three capacitive buttons. The second layer is a chrome bezel that is sandwiched between the first and third layer. Although the chrome layer looks like your typical bezel, it actually doesn't sit parallel with the screen. Instead, the chrome portion cradles the LCD creating a unique lip around the device. The last and final layer is the back panel that is composed of a sandstone like material that feels like nothing I have ever felt before on a previous device.
While I'm not quite sure what it is composed of, the sandstone back panel feels great in hand. If I could describe it, the sandstone back panel feels like a very fine sandpaper or a smooth piece of charcoal. On the top end there is a 3.5mm headphone jack and small pinhole for a mic. The right side has a svelte power button, while the left side accommodates the volume rocker. The bottom has a microUSB port, another pinhole sized mic, and flanking the microUSB port is a set of speaker grills. It should be noted that these dual speaker grills actually function and produce stereo sound. The back panel has a 13MP camera with dual LED flash that does not sit flush, but only protrudes a tiny bit. The OnePlus One is by far the most uniquely design and carefully crafted Android handset of 2014. Its unique lines and material choices make it clear that OnePlus is trying to create an elegant handset that sets itself apart from the rest.
Display
The OnePlus One features a 5.5" 1080p IPS display. The display is produced by JDI and has Touch On Lens (TOL) technology. TOL essentially removes the distance between the touch sensor and the display panel allowing for better response when there is an interaction with the display. The display is also protected by Corning's Gorilla Glass 3, which for the time being is on par with the industry standard. For the most part, the display is excellent. The colors are bright and accurate, while the black and white levels are good. The viewing angles are also on par with most phones I have tested, only losing clarity when the device is viewed from ridiculous angles that are nearly parallel to the eye. The display also performs exceptionally well in brightly lit areas, even when under direct sunlight. Although the display does have a "sunlight enhancement" mode, I wasn't able to tell much of a difference in sunlight having it on or off.
Regardless, the OnePlus One did perform well under extreme circumstances that usually cause most displays to become washed out. I won't say that it was a perfect experience, but it was definitely above par when compared to most displays. Perhaps, the only complaint that I would have about the OnePlus' display is the yellow tint that appears on the bottom third of the display. While this has been addressed in dozens of posts on the OnePlus forum, the majority of issues seem to suggest that this occurs simply because the LCD has not had enough time to cure. While that certainly seems like a reasonable explanation and has been known to effect other devices, I would have thought that this issue would have resolved itself in the two months that I have owned it. But, in December the issue still persists and the yellow tint is quite evident when viewing certain types of colors. While it doesn't detract from a majority of the things that I do, it is still very noticeable once the display shifts to a white or light colored screen.
Software​
The OnePlus One runs Android 4.4.4 and is probably one of the most unique iterations thanks to OnePlus' exclusive partnership with CyanogenMod. CyanogenMod has been synonymous with custom ROMs since the debut of the first Android handset, the T-Mobile G1 / HTC Dream. Don't get the wrong impression here, this version of Cyanogen is not shoehorned into the device like previously unofficial builds of the OS, but is a custom build specifically for OnePlus.
I'll be honest, the first hour with CyanogenMod 11S started off kind of rough. Like any phone, you must go through the set up process when you first turn on the device. This allows you to setup ​any personal accounts and sync to online servers to integrate your backed up data. Naturally, this all worked without a hitch and the phone was easily able to pull all my contacts and email.But, upon leaving my home and starting the day, I discovered that the device for some reason, did not automatically setup the proper data APN's that left me without the use of data.
While it took me some time to figure this out, I kept on thinking how much this experience was reminiscent of when you purchased an unlocked device in the early 2000's. During that time, purchasing an unlocked device meant that you had to setup virtually everything manually and involved research and obtaining answers from online forums. Although the OnePlus didn't offer the same kind of "delightful" experience, it was a little odd that it didn't automatically populate the appropriate network settings for the phone. But, after fixing the issue, things were working pretty well until I discovered that I couldn't send out an MMS. Each time I would attempt to send out an MMS, the messaging app would crash. I didn't think much of it, this was something that could happen on an Android device every now and then. But, as I tried unsuccessfully sending out the the MMS over and over, I realized that this wasn't an isolated issue.
Since Android has a couple of different options when it comes to messaging apps, I decided to try Google's Hangouts app to attempt to rectify the issue. But, I was still met with the same result, as Hangouts also had the same issue. This was perplexing. I previously read on forums about the instability of CyanogenMod 11S on the OnePlus One, but I didn't think it would effect something this basic. After arriving back home, I started to search the OnePlus forums for a solution.
Some suggested to turn off a feature called "WhisperPush", that enabled secure SMS messaging. But, in my case, this didn't seem to be activated. After searching for an hour and trying different solutions, I found what would become the saving grace of my issue. The forum post simply stated to perform a hard reset on the device. Although not the most graceful or complicated fix, it worked and in the end that's all that matters. After rebooting the device and setting it up for the second time, things seemed to run better. The APN's were automatically setup this time with full LTE data and the MMS messaging issue was no longer present. Lets just say that this was probably the worst first 24 hours with a phone since unboxing the Nokia N97.
Luckily, after the first day, everything seemed to function smoothly. I never experienced a crash after that and while I personally don't use a lot of the customizable features of CyanogenMod 11S, it does offer a plethora of options for those that are looking to fine tweak their Android experience. Naturally, when discussing options and customizations, the first thing that comes to mind is making your devices look unique compared to your neighbors or friends. CyanogenMod 11S gives you the option to customize your home screen, but also takes it a step further by offering customized theme packs. These theme packs allow you to change the icons, fonts, wallpapers, lock screen wallpapers, boot animations, and sounds in one click. Perhaps, what makes this more unique on the OnePlus One is that you are able to directly download new theme packs from a native theme store. The themes can range from truly unique creations to copycat themes that mimic the appearance of devices from HTC, Samsung and LG. Although a majority of these themes are not free, it does give you a good option for customization and the price can range anywhere from $1 to $3 dollars USD.
Like most Android devices, if you are looking to gain access to your most commonly used settings, you will most likely utilize the Android pull down menu. What makes this unique on the OnePlus One is that ability to fully customize the icons. The CyanogenMod team has created an option that allows you to prioritize the icons and dismiss the ones that you have no use for. This is great for removing the clutter and bringing the most accessed settings to the forefront.
The OnePlus One also retains a majority of the standard settings menu that gives you access to settings like: Wi-Fi, Bluetooth, Mobile networks and other toggle switches to enable and disable various radios on the device. Diving past these standard settings, you will have the option to customize your lockscreen. This can be setup with additional widgets like a clock / alarm, weather, and also allow you to assign specific programs depending on the direction you slide to unlock. This is pretty handy for those that want instant access to a program when they unlock their device. Oddly enough in order to enable these custom features, you must leave the box next to "custom lock screen" unchecked. A bit of an odd choice considering that when you usually "check" an item, it enables the feature. Nevertheless, selecting this feature gives you the ability to fully customize your lockscreen experience.
Naturally, the device wouldn't be complete without support for gestures. This isn't similar to the gestures found on your typical Samsung that will have you waving your hands about to try and activate different menus. The Cyanogen team had a little something different in mind and opted to utilize the aforementioned TOL technology of the display. By tracing different gestures on the screen, it will enable different applications depending on the shape traced. For example, drawing a circle on the display will allow you to initialize the camera. Although these are a bit gimmicky, they did work fairly well with the exception of the music controls that utilized gestures that would require tracing a back or forward arrow.
Video and sound options were also taken into consideration by the CyanogenMod team as they have added little things here and there in order to tweak video and sound performance. In the sound menu there are automated options that will allow you to configure "quiet hours" that will give you the option of muting different sounds and notifications (phone, notifications, haptic feedback, system sounds, vibrations, notification lights) during set times. You can also setup your device so it can automatically launch your default music application when a headset is connected. The display menu is a bit more standard fare with general options for brightness and color. Some of the advanced settings include: adaptive backlight, sunlight enhancement, color enhancement, double-tap to wake, and preventing accidental wake-up.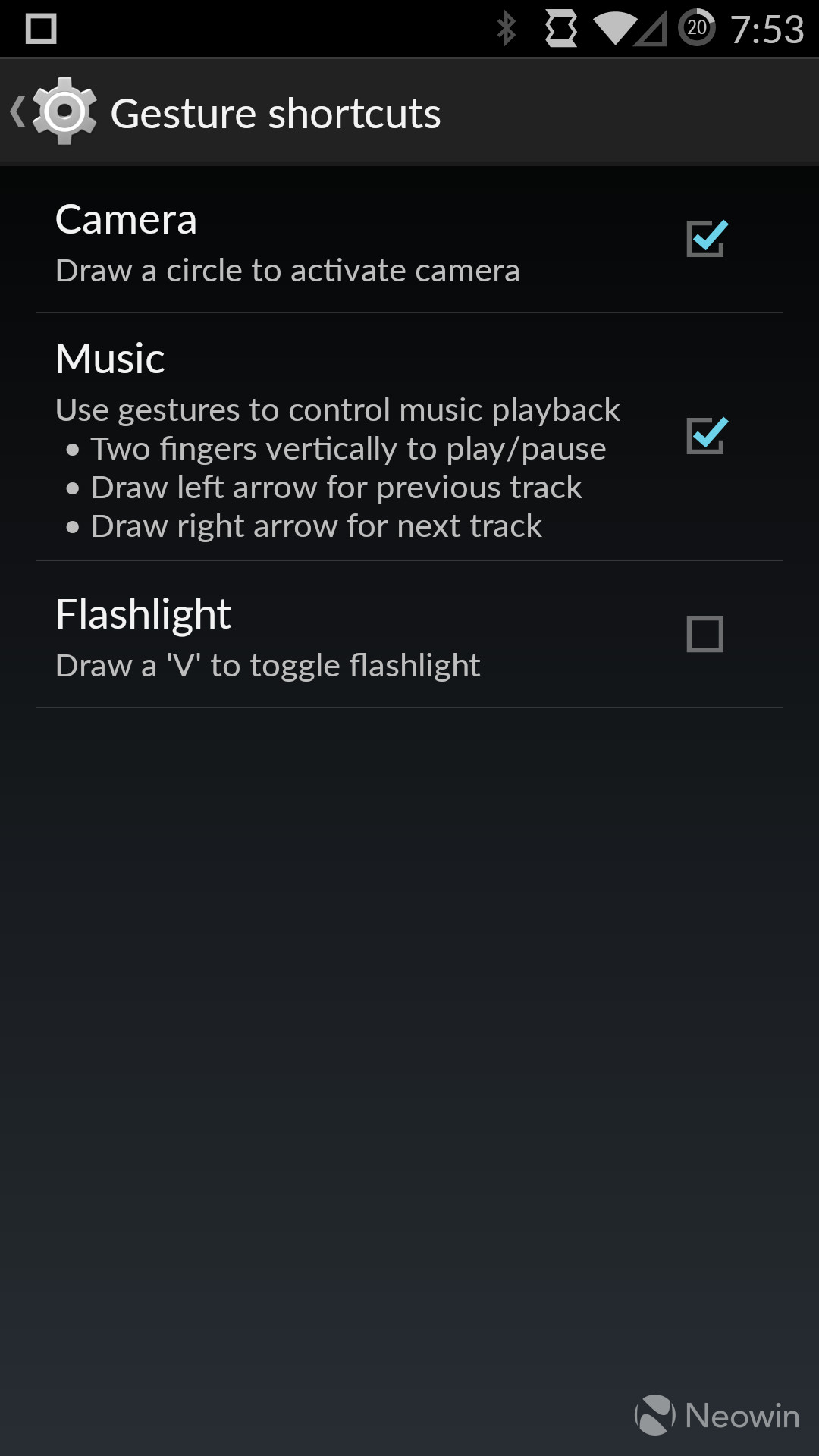 For those that would like to use on-screen menu buttons instead of the capacitive, OnePlus has an option for that. It'll disable the capacitive buttons under the screen and pop up a virtual set of menu buttons. Last, but certainly not least, is the privacy menu. Data privacy has become a major concern for those using connected devices. In the privacy menu you are given quite a bit of options in order to protect yourself from apps that might want more access than necessary. "Privacy Guard" will allow you to control which apps have access to your personal information like contacts, messages, or call logs. There is also options to put phone numbers and types of messages on a blacklist that will automatically block incoming notifications.
I can say hands down that this is the best third party Android OS and the only thing that could make it better is an update to Android 5.0. While OnePlus does have plans to make this happen, I have yet to see a firm release date for the highly anticipated update. For the most part I look forward to seeing what Cyanogen improves or adds throughout the years. The Cyanogen team has promised to support the device for a minimum of two years.
Overall, the options are abundant on CyanogenMod 11S. But, more importantly the options aren't overwhelming. The CyanogenMod team has done an excellent job of packing in as many features as possible, without making it confusing to navigate to the appropriate menus. This is in stark contrast to the menu systems we see on LG and Samsung devices that try to pack in a wealth of options, but will leave users confused due to the unorganized menus. Cyanogen has accomplished quite a bit over the years and has perfected the art of offering everything without leaving users confused and misguided.
Performance
The OnePlus One was initially released in June of 2014. The device had the latest available hardware for that time and utilizes a Qualcomm Snapdragon 801, 3GB RAM, and Adreno 330 GPU. Even several months later, the OnePlus One features some of the best hardware available with a few exceptions that include: Google's Nexus 6, Motorola DROID Turbo, and a few handsets exclusively released in Korea.
Naturally, the handset is quick and responds to a majority of daily tasks without issue. A majority of my use involves fairly simple tasks like checking my mail, surfing the web, Twitter, and taking photos every now and then. Just to make sure that we have physical numbers on this device, I put it through a gauntlet of tests to get some figures from the device.
As you can see, the device performs on par with its siblings with similar components. The handset does not compromise in any way and performs well during real world use and during benchmark tests. Without a doubt this is one of the fastest devices that I have used this year and performs well in every aspect of daily use.
Camera
The OnePlus One has a 13MP Sony Exmor IMX214 camera with an aperture of f/2.0. The camera has six lenses that should theoretically improve the quality of the images. Like most cameras, the 13MP shooter performs well in brightly illuminated areas, which means excellent pictures during the day. The colors are fairly accurate, the images are crisp, and the autofocus is usually pretty spot on. There are awkward times every now and then when the autofocus would fail to focus on what was intended to be captured, but for the most part this was rare.
However, night shots are another story. Similar to most sensors, the 13MP Sony Exmor did not perform well in dimly lit areas or night time scenarios. In dimly lit area and at night the autofocus system would have a hard time trying to lock focus on the intended target. Many of the images captured at night also suffered from either being over or under exposed. The camera never quite was able to find the sweet spot when taking photos at night. But, if you had enough time, and corrected the focus manually, the sensor was definitely capable of producing some good shots. It is evident in these scenarios that the absence of optical image stabilization makes taking photos in darker settings a bit more challenging.
The device also has the capability to shoot 1080p and 4K resolution video. Although the quality on both were reasonably good, the real concern or complaint comes in how the autofocus performs. During a majority of my tests, when I set the focus to "auto" it would have issues with automatically adjusting the focus between close and far objects. It literally could not adjust its focus when going from a close up object to something more in the distance and vice versa. Finding this strange, I changed the focus setting to continuous. This performed a lot better, but also resulted in violent shifts in focus, often detracting from what was being filmed.
In nearly every single test shot, the continuous focus mode would react and shift its focus point. It never could capture the moment perfectly. Instead, it was always trying to refocus the lens resulting in unusable video. Sadly, there wasn't a middle ground for the OnePlus camera because the autofocus mode on device wouldn't function as intended. While I appreciate OnePlus trying to implement an aggressive focusing system in the continuous mode, it would be much more appreciated if they fixed the autofocus mode so that it actually worked. The results for both methods of focus are distracting and unappealing. Naturally, this problem also persists with video taken in low light or night time scenarios. Hopefully, this is a software issue and OnePlus can resolve the problem with the CyanogenMod team.
Battery Life
The OnePlus One packs a 3100mAh battery that gives the device a two days of use. While I'm not the most active user, during my daily rituals I was able to consistently achieve about a day and a half to two days of battery life. My normal use of the device consisted of being on Twitter, email set to push, light internet browsing (maybe 1 hour total), and text messaging frequently. Naturally, I had the brightness set to automatic, Wi-Fi and GPS enabled. For the most part this should be able to provide even the most intense users with a full day of battery life.
Conclusion
Unlike most devices I review, the OnePlus One is something that I purchased for my own personal collection. While I had a wide variety of options (Samsung S5, LG G3, Xperia Z2 / Z3, Nexus 6) I opted to take my chances with a device that I deemed to be the "Nexus replacement" for 2014. While the purchasing process might have been a bit of a pain, once received, the OnePlus One was a true pleasure. The device has a design unlike anything I have ever used and the material on the back of the device sets it worlds apart from devices like the Samsung Galaxy S5 or LG G3. The OnePlus One is quick and the software enhancements are a welcome intrusion compared to customizations created by other device manufacturers.
But, while it seems to tick all the appropriate boxes, there is one thing that it lacks in terms of being a flagship and this issue isn't exclusive to the OnePlus One, but also affects other flagship devices as well. The OnePlus One lacks a differentiating feature that makes it sit above the rest. While it could be argued that the low price point would be its factor, I would've liked to see something unique offered by the device that would define the OnePlus One from the herd. But, honestly, what more can you ask for in a device that costs $299-$349 USD and competes with the top flagships of 2014?
Overall, this is a beautiful and powerful device, that runs an excellent build of Android created by the CyanogenMod team. Although it might not be perfect and better devices will undoubtedly emerge over the course of 2015, the OnePlus One will still have heavy appeal due to its value and its ability to hit the "sweet spot". I would feel confident in stating that this is the best Android device released in 2014.
Pros
great battery life great performance build quality CyanogenMod 11S
Cons
no general sale yellowing LCD camera's autofocus