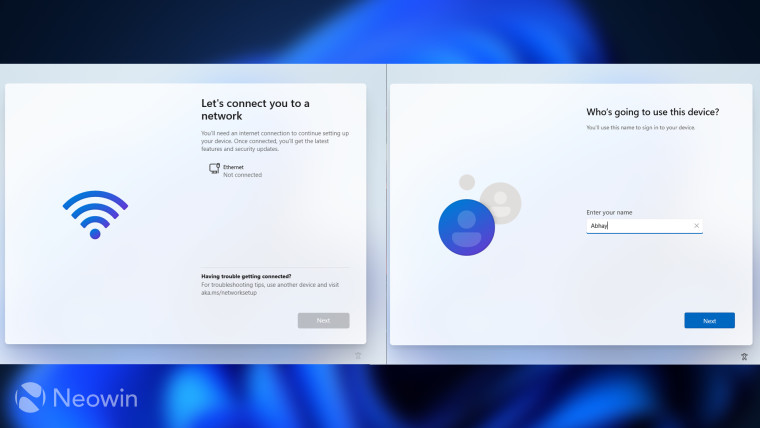 Microsoft plans to make it mandatory for Windows 11 Pro users to have a Microsoft account and an internet connection while setting up their device for the first time.
According to an update posted to the Build 22557 release page, Microsoft plans to make this mandatory in future Windows 11 updates. The Redmond giant posted the following update on the release page:
Similar to Windows 11 Home edition, Windows 11 Pro edition now requires internet connectivity during the initial device setup (OOBE) only. If you choose to setup device for personal use, MSA will be required for setup as well. You can expect Microsoft Account to be required in subsequent WIP flights.
As Microsoft notes, Windows 11 Home already requires users to be connected to the internet and have a Microsoft account in order to go through the initial setup. However, late last year we reported that there is a workaround which can allow users to setup their Windows 11 Home devices without internet connection. It will be interesting to see if the workaround will work for Windows 11 Pro devices as well.
As for the change, there is no clear indication as to why Microsoft decided to impose this on Windows users. It may be frustrating, especially for those who don't want to connect their Windows device to a Microsoft account or don't have an internet connection available at the time of the setup. Finally, the company has also noted that a Microsoft account will also be required in the future Windows Insider flights.
That said, the change applies only to new Windows 11 Pro devices. If you happen to be running Windows 11 Pro with a local account then you will not be forced to make the switch to Microsoft account as long as you don't reset your device.
Microsoft has not provided a timeline for the change to take effect but seeing it is live on the Windows Insider Program, one would assume that it will be shipped with a Windows 11 update later this year.