While many may know of Anker because of its popular chargers and power banks, the electronics giant also boasts a wide range of portable projectors. This division of the company carries the brand name Nebula, and it offers portable projectors at premium prices. The Nebula Capsule, for example, is about the size of a 12-ounce soda can and sells for around $349 on Amazon.
Today we will look at an Anker product leaning towards the larger and heavier range of portable projectors made by the company, the Nebula Solar Portable. The entertainment device retails at $599.99 and doubles as an Android TV with two 3W speakers to complete the cinematic experience.
Specs
Display
60in to 120in, HDR10, 1080p 1920x1080 native resolution, 16:9 aspect ratio, 400 ANSI lumens brightness, 3-second autofocus
30,000hrs of LED-life
Front / rear / front ceiling / rear ceiling projection mode
Auto (vertical ±40°) / manual (horizontal ±40°, Quadrilateral ±40°) keystone correction
Weight
1.4 kg / 49.4 oz
Dimensions
Length: 192.25mm / 7.6in
Width: 192mm / 7.6in
Height: 58.65mm / 2.3in
Connectivity
WiFi 802.11a/b/g/n/ac, Bluetooth 4.2 Dual Mode, Chromecast
OS
Android TV 9.0
CPU
Quad Core A55 Chipset
GPU
Quad Core Mali G31
RAM
2GB DDR
Storage
8GB eMMC
Battery
20,000mAh, 3 hours playback, 3 hours charge time with Power Delivery 20V-3.25A
Ports

(1) HDMI 2.0
(1) USB Type-A
(1) USB Type-C

Speaker
2 x 3W speakers with Dolby Digital Plus
Input
1 physical button, 3 touch buttons, IR/Bluetooth remote, Nebula Connect Android/iOS Bluetooth remote app
Modes
Projector Mode, Bluetooth Speaker Mode
Mount
Tripod, built-in stand for tables
Design
The Nebula Solar Portable projector has a pleasing minimalist design with rounded corners. It comes in a matte white finish that doesn't track fingerprints or marks of any sort. There are a total of four buttons, three touch buttons on the top and one physical button on the back. The buttons on top include volume up and down buttons plus a mode button which switches the entertainment device between projector mode and the Bluetooth speaker mode.
Meanwhile, located on the back, the one and only physical button on the Nebula Solar Portable which powers the projector on or off can be found. This is where you will also find the grilles for the 3W dual speakers, an LED light to indicate device status, an HDMI 2.0 port, a USB Type-A port for USB flash drives or hard drives, and a USB Type-C port for charging.
To keep the miniature home cinema system cool, there is also a fan inside. When you turn on the projector it is pretty noisy. According to Anker, it should be no louder than 30dB. But when I tested the noise levels my results fluctuated between 53dB and 71dB, with an average figure of 63dB.
Anker's portable entertainment system comes with a remote control to navigate the system. It has buttons for options such as power, home, back, settings, volume controls, up, down, left, right, autofocus and Google Assistant. There is a microphone in the upper left corner of the remote.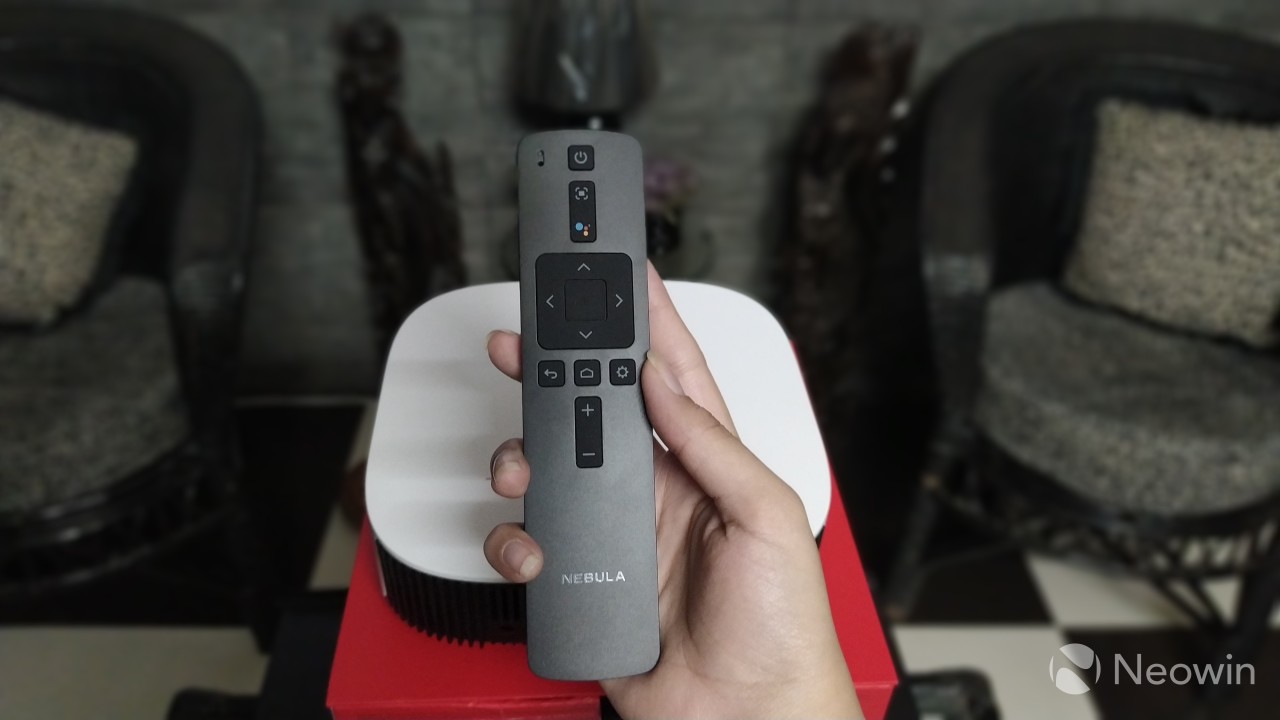 Although the projector has a small built-in flap underneath it, it doesn't serve much purpose from a functionality point of view. The Solar Portable does have keystone correction, it doesn't work well when using the flap. When I used it to keep the Nebula device on my table, the picture was tilted and I couldn't fix it for the life of me. The only solution was to put a piece of cardboard underneath it at an angle.
Display and Sound
With the lights turned off, the Anker Nebula Solar Portable could easily pass as a TV. The wireless projector has a display output size that can be anywhere between 60-inches and 120-inches according to the placement. It has a native 1920x1080 resolution, HDR10, a 16:9 aspect ratio, an LED-life of 30,000 hours, and rated to output 400 ANSI lumens.
In order to ensure a perfectly aligned and straight projection, it also features keystone correction and three-second autofocus which is extremely fast. All of this translates to a bright, crisp, and colourful visual experience without any observable colour distortion.
Furthermore, the Nebula Solar Portable has an option to adapt its display to the colour of the wall for accurate colour-correction which is really handy if you don't have white walls.
When you turn on the lights, the picture quality still isn't half as bad as one would expect. In fact, I would go so far as to say it is quite nice with the lights on and incredibly good in low light. The whites and blacks are very solid.
The Anker Nebula Solar Portable has a pair of decent 3W speakers with Dolby Digital Plus. I was satisfied with the loudness of the duo. For medium to large-sized bedrooms, they work excellently and are perfect for movie nights with friends and family. The sound quality is very crisp and clear with good treble and okay bass, nothing exceptional. Vocals can be understood very well. It doesn't hold its ground against a full-blown home theatre system, but for movies and videos, it gets the job done.
In trademark Anker Nebula fashion, the Solar Portable can also function as a standalone Bluetooth speaker. All you've got to do is press the mode touch button on top of the portable projector to toggle the Bluetooth speaker mode.
Software
It was a new experience for me to encounter a projector that runs Android TV. The Nebula Solar Portable runs the latest version and supports all the apps you could ever want on your TV in my opinion. There's an HDMI 2.1 port that can connect to a laptop or even a console. The remote has a Google Assistant button which enables voice controls for the mini home theatre.
It also has Chromecast built-in and can pair with any smartphone, iOS or Android, via the Nebula Connect mobile app. Users can manage their projector through the app or use it as a mouse or remote control for the Anker device. The end result is that you can browse or view any sort of content from any platform of your choice on the Solar Portable without hassle or inconvenience.
Feel like watching a YouTube video that you just discovered on your phone on a bigger screen? No problem. Want to continue that show you were watching last night on Netflix or Amazon Prime? No problem. Need to share some family photos from your flash drive at a dinner party with guests? Again, no problem at all. It literally works as a substitute for a modern television set.
Performance and Battery Life
On paper, the 20,000mAh battery life of the Nebula Solar Portable is touted to be enough for three hours of usage. Unfortunately, with heavy usage, this is reduced to about two hours in my experience. While this is enough for an average length movie, it does not satisfy the requirements for binge-watching TV shows. So if you plan on having a Queen's Gambit marathon, you'd have to plug it in to be safe.
On the bright side, the official charge time, given to be three hours, is an overstatement. The Nebula Solar Portable comes with an Anker PowerPort III 65W charger and a 3m USB Type-C to USB Type-C cable out the box. Charging up the portable projector from zero to max took me almost exactly two hours and twenty minutes.
Conclusion
To wrap things up, let's weigh up all the pros and cons of the latest portable Nebula device. On one hand, the audio and visuals are excellent, the projector runs Android TV, it has Chromecast and versatile ports. On the other hand, battery life is not satisfactory, and the fans are a bit too loud when nothing is playing.
Compared to the previous Nebula gadget that we reviewed, the Solar Portable has many improvements that are just enough to make me want to recommend it to people. It's basically a portable smart TV with a screen size that can change according to your preference or needs. I think Android TV was a very wise decision as it enables the user to install any compatible app from the Google Play Store.
Previously, the Nebula smartphone app was still in beta. This has changed now and the app works very smoothly with the projector. It even has a live chat option which answers most queries almost immediately. Starting from installing the app to pairing it, the entire process takes only about five minutes.
The picture quality is really great and the colours look vivid. The clarity, sharpness and hues are all balanced very nicely. I watched a bunch of BBC nature documentaries with my family and the display quality was very well received. As I mentioned before, with the lights off or even in low light, it is really easy to forget that you're not watching TV. I was pleasantly surprised by the impressive visual output capabilities of the projector.
The last point to factor in would be the price. If you're looking to purchase a Nebula Solar Portable, the miniature makeshift home cinema will cost you a hefty $599.99. That's a lot of money for something that only stays alive for only about two hours!
I think the Solar Portable is suitable for a very specific crowd such as tech lovers who like unconventional gadgets, people who like to have impromptu movie nights when they're out and about or startups who need to have meetings or share audio/visual presentations on the go. So if you fit in any one of these groups, have deep pockets and the concept of a smart TV with an adjustable screen size tickles your fancy, this would be a great buy.
As an Amazon Associate, Neowin may earn commission from qualifying purchases.
Anker Nebula Solar Portable
Pros
- Android TV - Chromecast - Picture quality - Portable
Cons
- Battery life - Price - Noisy fan