I would not label myself a hardcore audiophile, but I do love good quality sonic performance from audio gear whether I am sat at home, or on the move, and find it easy to find flaws in poor quality speakers, earphones, and other source equipment. Clear highs, mids and lows with natural separation of instruments and vocals make all the difference between just listening to music versus being immersed by it.
It is hard to put into words how music makes me feel when a cracking track comes on the playlist and I am wearing my personal reference points, the Sennheiser HD 650 and Samsung Galaxy Buds Pro, but what I can say is that it is clear to my ears where other headphones or earphones I listen to often excel or fail.
Having never owned or heard a pair of Huawei earphones before, I just had to jump on the opportunity to check out their latest FreeBuds in their fourth generation to see what these are all about. Just like with all my reviews, I will be giving my impression as a heavy smartphone user and a music listener going about his day to day, I will also test these out on my computer which has Bluetooth 5 capabilities.
At the time of writing, the FreeBuds 4 have hit European retail channels priced at £129.99 / €149. It is worth noting that there are two versions available. The non-wireless charging version is the one that is featured in this review. The wireless charging version will be available mid-July 2021 for an extra £20 on top.
Specs
Size & Weight

Per bud: H 41.4 mm / W 16.8 mm / D 18.5 mm / 4.1 g
Case: D 58 mm / H 21.2 mm / 38 g (without buds)

Colours
Silver Frost & Ceramic White
Fit type
Open-fit
Driver
14.3 mm LPC dynamic driver capable of up to 40KHz
Microphone
Triple mics with 48 kHz HD recording
Touch control
Gesture based, 3 configurable presets
Connectivity

Two devices simultaneously
Bluetooth 5.2
USB Type-C (charging case)

Latency
90 ms on Harmony OS 2 phones
150 ms on EMUI phones
Noise Cancellation
Yes, via ANC 2.0 (Active Noise Cancellation) at up to 25dB noise reduction
Battery life
ANC off:
Fully charged case: 22 hours
Fully charged buds: 4 hours
15 minute charge: 2.5 hours

ANC on:
Fully charged case: 14 hours
Fully charged buds: 2.5 hours
Special features
IPX4 water resistance
Price
£129.99 / €149 (£149.99 / €169 for the wireless charging version)
Design and materials
Out of the box what immediately stuck out to me was the solid quality feel of the charging case. The finish is glossy but was not a fingerprint magnet at any point during my usage. Flip the hinge over and you are treated to a strong magnetic hinge that locks when open and closed which was a welcome surprise.
Flipping the case over reveals just a single LED that shows the charging state. On the side of the case is a hidden button to activate the pairing mode when the lid is open. It is not obvious there is a button there at all and I only discovered this by accident before reading any instructions!
Taking a closer look at the buds themselves I had flashbacks of the original AirPods. These FreeBuds do look uncannily like Apple's buds at first glance, but that is where any similarities end.
The buds themselves feel just as robust as the charging case. There are no silicone or memory foam ear tips to be found in the packaging though, these are open-fit earbuds by design and Huawei say this removed any built-up air pressure that you might typically find with earbuds that create a tight seal by use of silicone ear tips.
It was nice to see some high-quality finishing on the buds too, the metal mesh grilles are flush to the casing, as is the sensor window. The long stem houses the touch gesture sensor.
Initially I had some difficulty getting the buds out of the case before discovering a trick to it. I guess everyone will find their own method, but my fingers could not grip the buds directly without slipping so just pushing one bud's head forwards allowed it to pop up from the magnet and be readily available to pull out fully.
Speaking of magnets, the FreeBuds 4 are well secured in the case. I could not force them out even with some medium to major levels of Flossy Carter shaking.
The wear sensor activates each bud as you put them in your ear. Like most true wireless (TWS) buds these days you can use just one at a time whilst the other charges in the case.
I also wanted to try out the IPX4 rating in the field but during my time of testing the sun was out although I did manage to drop them in some dirt which gave me the opportunity to test how they fair when being rinsed under a tap. Since IPX4 means they are splash proof from water coming from any direction, having the tap set to low pressure was ample enough to simulate rain to clean them off and resume full working order.
Comfort
My ears are not exactly big, but typically I wear the large size memory foam ear tips on earbuds where available, silicone ones do not seem to give a good seal and slip out. The FreeBuds 4 match the large size of foam tips but due to their head design I found no issues with a snug fit and as a result, they were very comfortable, even for two hour listening sessions.
Even when active they did not work loose, however the fit does need slight adjustment when you go to use the touch gestures on the stem as I found I was accidentally pushing them out slightly as I tapped or slid my finger on the stem to adjust volume or skip tracks.
Normally I am used to having touch zones on the top head part of the buds not on the stem, so this might just be something I need more time to get used to.
Performance
I tested how quickly the FreeBuds 4 reconnected to my phone after I opened the lid to the charging case. Connection happened within two seconds, which is excellent.
I was impressed with the FreeBuds 4 for initial sound quality. In one word I would describe them as cinematic. The highs and mids were detailed enough to be enjoyable, with a wide soundstage giving an open feeling to music and movies only helped further by the open-fit design in the ear. The cinematic aspect comes from the volume of bass these kick out. It is very heavy and whilst for movies and other multimedia this works out nice, I would have preferred slightly less bass for the music that I mostly listen to currently consisting of acoustic, jazz, jazz-rap and classical hip-hop.
Thankfully, most phones on the market these days have built in EQ options that can be adjusted regardless of what brand earbuds are connected. I was able to adjust a custom EQ within my Galaxy S20 but of course doing it this way only allows any EQ tweaks to be relevant to that phone.
There is no detail on what codecs and Bluetooth profiles are used. Huawei also state different audio latency times between Harmony OS 2 and EMUI, so it may well be that when connected to either of these OSes, that a different codec or method is being used.
Having said that, I saw no issues with audio latency paired to my Samsung Galaxy S20 5G but as a non-mobile gamer, I cannot comment on the low latency mode in this area which Huawei claim a delay of 90ms. There was no audio delay in videos that I noticed at all which was excellent.
For music, if you are a person who likes bassy music, then there may well be right up your street with no EQ tweaking needed. They are fairly neutral but detailed in sound, just with emphasis on bass.
Taking phone calls (VoLTE) was an excellent experience. Not only was my earpiece loud and clear, but callers on the other end told me I was naturally clear and had I not told them I was on earbuds, they would have assumed I was using the phone's built-in mic. Noise and wind control seemed to be particularly good too during calls with or without ANC.
The AI Life software detailed below has an option called HD Voice. I toggled this on and off multiple times during a call and neither myself or my caller could tell any difference, so I am not sure under what specific conditions this setting works as both of us were on 4G and/or Wi-Fi calling at the time.
Battery life seemed to meet the specifications. I should note that with ANC turned on, a little over 2 hours is what you can expect. More battery is drained on long voice calls I found too as the mics are active. 2 hours may be enough for many but do expect to do multiple 15-minute top-ups to reclaim those hours. I did expect more out of the battery in this regard considering the price. Competing earbuds seem to be ranging in the 3-4 hours per charge at the minimum with active features enabled.
Software
I installed the Huawei AI Life app from the Google Play Store first but was unable to add the FreeBuds 4 from within to customise and tweak any settings. With the advice of Huawei, I needed to install a newer version of AI Life via Huawei's own store called AppGallery. AppGallery is installed via side-loading from the AppGallery website on non-Huawei phones such as my Galaxy S20. It was only then that AI Life was able to add the FreeBuds 4.
At the time of writing, even though the FreeBuds 4 have been out in the UK since the 21st of June, the Google Play Store version of AI Life still has not been updated to the latest version supporting the FreeBuds 4. This could be a concern for some as not everyone has a Huawei phone, and most users do not know how to, or even want to mess around with side-loading apps they are unfamiliar with.
With the correct version of AI Life installed I was able to tweak several settings and enable features like ANC. The main home screen to AI Life shows core information about added Huawei devices.
The app shows the battery status of each bud and the case, tapping through shows the settings and features available.
Here we are given several useful options to check and tweak as needed. Most are self-explanatory and things we have all come to expect from wireless earbuds in this price range, but a couple remain missing, more on these a bit later. The first thing I did was to check for any firmware updates, but it appears that everything was already up to date.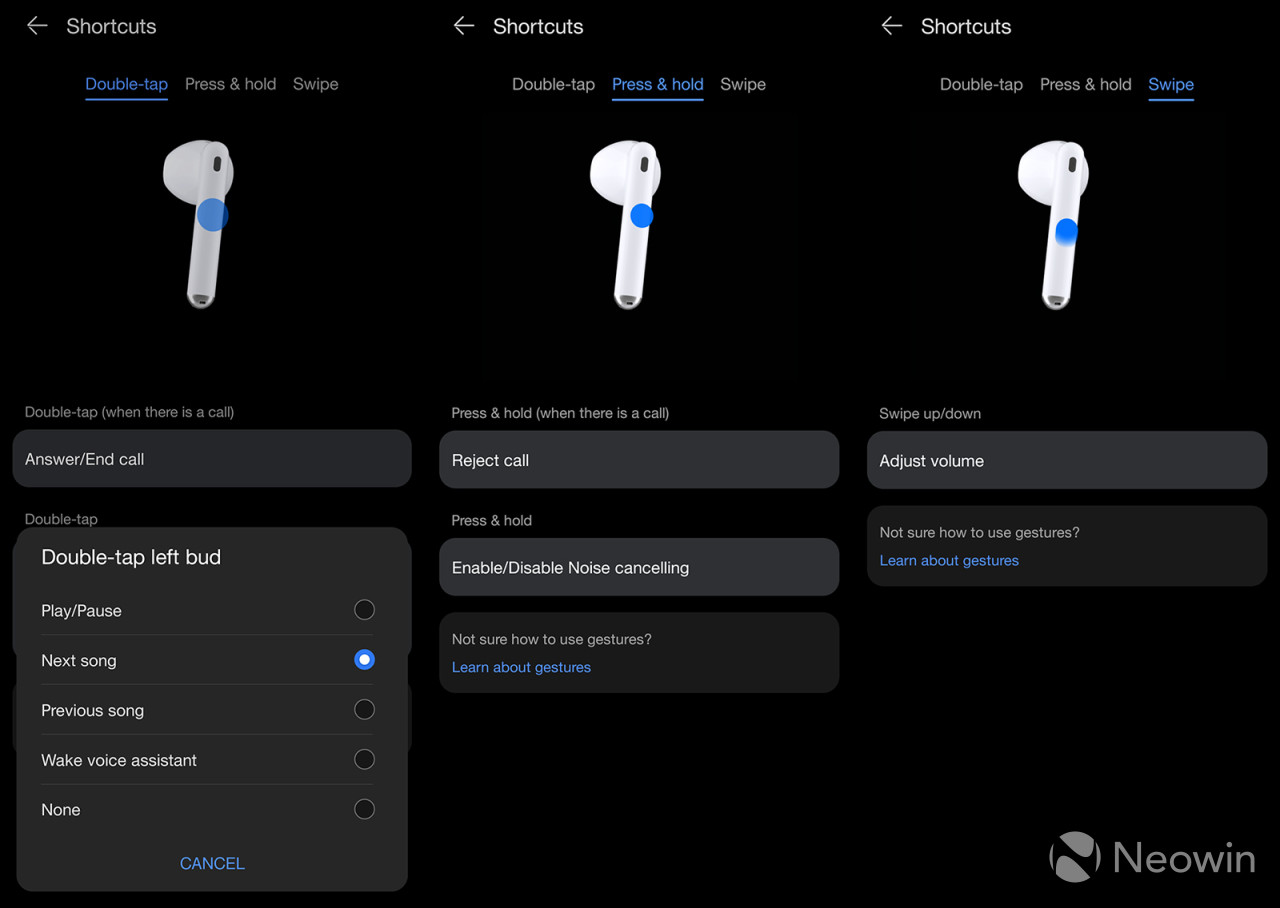 The Shortcuts menu allows customisation of the touch gestures. I found some limitations here, however. Whilst you can assign double tap gestures to a function such as skip songs or play/pause, you cannot have play/pause as well as skip tracks assigned in a combination of double/triple gestures.
The Press & hold and Swipe gestures cannot be customised at all either. I found this frustrating in practice because I wanted to be able to have full control of playback via the touch gestures but the lack of triple gestures or the ability to change the hold gestures and swipe meant I could have one or the other.
There were also no custom EQ settings that could be saved to the earbuds like you can on others on the market in this price category. There is a sound quality menu within AI Life, but this only has one option to enable HD Voice for voice calls. This makes multi-device usage a pain. Using my personal usage as an example, I listen to music on my phone and PC, so whilst I can adjust the EQ to my liking within the phone itself, I cannot change the EQ to the FreeBuds 4 connected to my PC so still have the heavy bass. The Galaxy Buds Pro, Cambridge Audio Melomania 1+ and Jaybird X3 that I also have allow me to save the whatever EQ pre-set is set on the app to the buds so whatever source I listen on, the EQ stays put.
I reached out to Huawei on this issue and was told that an update to AI Life is due soon which adds some pre-set EQs within the app. This is promising news as this update will put the EQ on similar standing to the Galaxy Buds Pro which also has a list of predefined pre-sets you can select which then saves to the buds. Whether the AI Life update will do the same though remains to be seen but is well worth pointing out.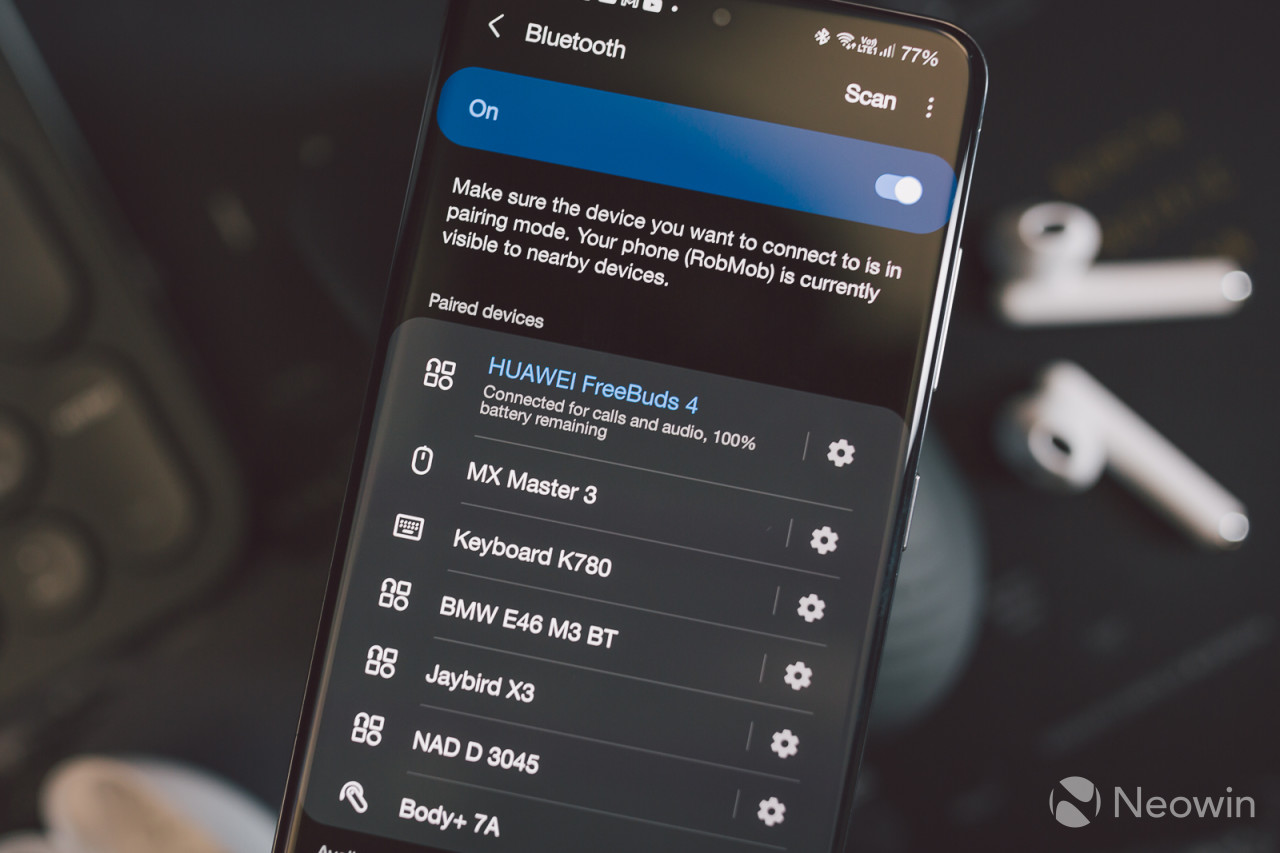 For those who wish to skip using the AI Life altogether, you do get battery status of the buds from within Android's Bluetooth screen. Not as detailed as individual battery status, but it is better than nothing.
Conclusion
Huawei hit the mark in several areas with the FreeBuds 4. The cinematic bass is lively, whilst the mids and highs being detailed. The bass out of them may be too much for those like myself, but one way or other there is a way to tweak the EQ to preference It is a shame that there is no baked in EQ however where a custom one can be defined which follows the buds between devices. This is a feature I am used to in this price range so is something I expect as standard.
Huawei have promised an update to AI Life to add predefined pre-sets for EQ tuning, but this update may well only reach a limited audience due to only being on the latest version of AI Life whish resides within Huawei's own AppGallery store only available via side-loading for non-Huawei phones and tablets. Not something novice users will be wanting to do.
The lack of full gesture customisation is also an annoyance and I believe this can also be fixed with a firmware/software update.
I feel what could have been a truly excellent experience right from the get-go has been slightly tarnished by a lack of software development from a user's point of view. At around £130 (on Amazon) there are a lot of options out there for us consumers, and missing features like this could be deal breakers for some.
The FreeBuds 4 are very well built and designed, they are comfortable for long sessions, and whilst the battery life might not compete with others, a quick top up in the case will regain a couple of hours.
Excellent voice call experience and a cinematic media experience alone are not enough to earn top marks at this price. The software must marry the hardware and at this state I think the FreeBuds 4 will satisfy a small audience out of the box but will need a decent software update to grab the attention of everyone else.
Update
Huawei has reached out to me to confirm a new update to the AI Life app and FreeBuds 4. There are a suite of new features available which to my eyes and ears now make these wireless earbuds very good. It is also reassuring to see a brand request feedback from a review and then implement some of those changes so quickly.
The new features are:
AEM EQ (Adaptive Ear Matching)
EQ effects
Voice hearing enhancement
The first feature, AEM, sends a tone signal when each earbud is inserted into the ear. The tone is then reflected back and picked up by the inner mic. This allows each bud to determine the shape of the ear canal and define the best processing EQ for that ear.
Huawei also state that AEM adjusts the EQ through the entire frequency range per ear shape and they make note that this offers better performance than the Airpods Pro. I cannot verify this as do not have access to any Airpods Pro.
The second feature update is EQ effects. Three new presets are available, Default, Bass boost and Treble boost.
Finally, the third feature is Voice hearing enhancement. This is very similar to other phones fine-tune the sound they output to your specific hearing abilities via a hearing test mode. Those who have used Samsung's Adapt Sound will know exactly what this entails, the process is the same in AI Life and offers you the flexibility to add save your tuning for both calls and media or individually.
From my personal experience, hearing enhancement features should be explored by everyone who uses earbuds to listen to their media regardless of whether hearing is good or bad. I have always found an audible benefit in tuning the sound specifically to my ears.
The update brings the app version to V1.0.0.200 and as noted earlier in the review, should be updated through the Huawei AppGallery store. The Google Play Store version remains on a late 2020 version.
With the inclusion of these new features I am happy to adjust the scoring to a very good mark as the sound quality has been improved. The Treble boost preset EQ reduces the overly bassy sound to something more neutral now. There is still no additional customisation for gesture controls however, and the battery life remains unchanged.
As an Amazon Associate, Neowin may earn commission from qualifying purchases.
Pros
Good mids and highs Strong cinematic bass Excellent build quality Comfort Voice calls
Cons
Side-loaded app needed Gesture customisation Battery life