After a golden streak of reviewing high-end, flagship smartphones I find myself taking a step back and looking at the other end of the spectrum; after all, there are a lot of people out there who don't desire something so big or so expensive. The HTC One V with me today is one of these mid-to-low range devices that tries to pack the best hardware possible while still keeping the price down.
I've used the One X in depth and the One S shortly, so I already know that HTC has set the bar high for the One Series when it comes to quality. HTC's offerings of yesteryear were, needless to say, average and I'm really happy to see that HTC have lifted their game despite somewhat disappointing sales. I really hope that they can continue the trend and round out a great series of smartphones.
Let's get straight on to it and look at what is inside the One V.
Specifications
Don't expect anything too fancy in the One V, as the low price point and target market mean HTC hasn't gone out of their way to set performance records. You get a modest Qualcomm Snapdragon S2 MSM8255 chipset which has become the centerpiece of second-generation Windows Phones with its 1 GHz single-core Scorpion processor plus Adreno 205 graphics chip.
Surprisingly HTC has included a 3.7-inch WVGA (480 x 800) Super LCD 2 display, and while neither the size or resolution are outstanding, I know Super LCD 2 means quality from my experience with the One X. A 5-megapixel camera is welcome, as is Beats Audio enhancements and an aluminium unibody case.
Full specs can be seen below.
 
HTC One V
Product Codes
N/A
GSM Bands
850 / 900 / 1800 / 1900
3G/4G Bands
HSPA 850 / 900 / 2100
Display
3.7-inch Super LCD 2 at 800 x 480
252 ppi pixel density
Corning Gorilla Glass 2
Processor
Qualcomm MSM8255 chipset
1.0 GHz single-core Scorpion CPU
Graphics
Adreno 205
RAM
512 MB
Storage
4 GB internal user storage
microSD slot
Connectivity
Wi-Fi 802.11 b/g/n
Bluetooth 4.0
A-GPS
Wi-Fi Direct/Wi-Fi Hotspot
Camera
5 MP rear camera with f/2.0 28mm lens and LED flash
720p/30 video recording (rear) 
Ports
MicroUSB
3.5mm audio jack
Battery
Li-ion 1,500 mAh non-removable
Launch OS
Android 4.0 "Ice Cream Sandwich"
Sense 4.0
Launch Date
May 2012
Size & Weight
120.3 x 59.7 x 9.2 mm
115 g
Price
Unlocked & Outright: ~$299
Also available on carriers worldwide
Design
The chin is back! Used on some of HTC's original Android devices such as the G1 (Dream), Hero and Legend, the chin is an iconic feature of HTC designs and it teams up in the One V with another: a unibody metal design.
The results are surprisingly good. Where the One X used a light, soft-touch polycarbonate design, the One V's aluminium body feels sturdy, solid and at a class above what the device is actually in. There are some portions of the device, namely a small removable portion on the chin and around the camera, that use soft-touch plastic; it looks somewhat out of place but doesn't detract too much from the good looks of the device.
I'm not sure the chin serves much of a function other than to add interest to the design, as it doesn't really add grip or have any special features embedded. That said I do like the return of the chin, and it helps hide the considerable bezel there would be had the front profile of the device been completely flat.
Apart from the metal unibody HTC has used, the front sees a Gorilla Glass 2 panel that is amazingly smooth and very protective of the screen beneath. It's set a fraction above the metal casing below which gives a slight ridge, although it still remains very ergonomic. Below the display are the three capacitive buttons of choice: back, home and recent apps; above is the HTC logo and speaker - note there is no front-facing camera in the One V.
The back is mostly the unibody and prominent HTC branding, but you'll see a small 5-megapixel camera and flash peeking through its plastic surrounds. The bottom section featuring a Beats audio logo and the speaker grill can be removed to access the SIM card and microSD slots, but there is no user-removable battery to be found.
The left hand side features a microUSB port and the right has the volume rocker, however when it comes to ports the top is the most interesting. Here you'll find the power button and 3.5mm headphone jack, but also interestingly there is a thin plastic strip that functions as a notification light: perhaps one of my favorite One V design decisions.
At 9.2mm the device is also reasonably thin, nothing remarkable but slimmer than some of the low-end devices I have seen over the years. This just adds to the very polished design of the One V; a definite improvement to the low-end and a worthy successor to the Legend.
Display
I was surprised but very pleased to see HTC has gone with a 3.7-inch Super LCD 2 display on the One V, as the technology behind these IPS TFT panels is simply unrivaled in the mobile space at the moment. In my HTC One X review I've already mentioned a few of the advantages to using a Super LCD 2 display, so I'll relay them here for those who missed it:
I never imagined that you could make an LCD display look this good... the S-LCD 2 is so vibrant yet so accurate with colors it puts AMOLEDs to shame. In fact nearly everything about the Super LCD 2 display is better than an equivalent Super AMOLED: the colors are vibrant but at the same time accurate, the white levels are pure and bright, the contrast is surprisingly good, the display combats glare well in direct sunlight, the viewing angles are fantastic and the black levels are really good for LCD.
All of that rings true for the One V as well, because the display is simply stunning for such an inexpensive device that rounds out the One Series. Any other non-S-LCD 2 3.7-inch panel will pale in comparison especially in this class, which makes the One V's display a great reason alone to purchase the smartphone.
At 800 x 480 (WVGA) the resolution is not particularly outstanding - only 252 ppi - but I never expected anything more. At a glance you probably won't notice the density is not as good as HD displays (you'll be too busy admiring the colors), but upon a closer inspection you can make out some things that are not as crisp as they could be. Luckily you don't get any PenTile nonsense here, which would be noticeable at this resolution.
Sure 3.7-inches is not big when you place it against mammoth devices like the Galaxy S III, but some people prefer a smaller, more accessible design. One advantage to a smaller display is you don't need to shift around the whole phone to access different parts of the screen, making it (at times) more comfortable and more ergonomic to use.
At the end of the day, the One V sits at the bottom of the stack with a class-leading display - and that's a beautiful thing.
Software
Luckily for you I have a full, in-depth look at HTC'S Sense 4.0 skin and Android 4.0 - the One V's software combo - already prepared for your reading consumption. You can check those out via the links below.
→ HTC Sense 4.0 UI review
→ Android 4.0 "Ice Cream Sandwich" review
Of course it should be mentioned that while many things available in the One X's version of Sense make the jump to the lower-end One V, not everything makes the cut. For one, many elements have been downsized to appropriately fit on the WVGA display, and features requiring a lot of processing power have naturally been removed.
Here is a list of omissions I noticed while using the One V's operating system:
The app switching menu uses the ICS style as opposed to the Sense skin
There is no cool 3D world clock globe in the Clock app
The Movie Editor and Watch apps are completely missing
The keyboard is missing the arrow keys (a good thing)
Apart from that everything else is included, which is a great effort considering the large performance gap between the One X and One V. The OS is also very smooth to use, which I'll go over more in the next section, and disappointingly the Optus device I received for this review contains a lot of bloatware.
Performance
To be honest, you can't expect a great deal of performance from the single-core Qualcomm Snapdragon S2 MSM8255, but as I mentioned earlier this very chipset has been serving the second-generation Windows Phones well. The MSM8255 packs a 1.0 GHz Scorpion CPU plus the Adreno 205 GPU and 512 MB of RAM; there's also 4 GB of internal user storage, tri-band HSPA, 802.11n Wi-Fi and Bluetooth 4.0 inside the HTC One V.
I was pleasantly surprised with the system performance of the One V. Back in the bad old days of Android where single-cores dominated, it was expected there would be a significant amount of lag and slowdown as you go about everyday tasks like sending texts, browsing contacts and viewing the latest news on Neowin.net. This is actually not the case at all with the One V - in fact it seems to perform just like its older One Series brothers around the OS.
Again, despite the older processor used in the One, apps performed smoothly and I had no problems using social networking apps such as the official Twitter and Facebook apps. Using the browser on intensive websites such as The Verge and Engadget there was noticeable slowdown that you wouldn't get with a multi-core CPU, but apart from that I found the chipset's performance to be quite good.
I can't give the same praises to the chipset in terms of gaming as the Adreno 205 is simply no longer capable of pushing out acceptable frame rates in popular games. Despite the fact that Grand Theft Auto and Max Payne are both available for the One V, anyone who purchases these games for the lower-end smartphone will surely be disappointed by the in-game performance. Of course the One V is not designed as a gaming smartphone, so we can give some leeway to HTC in this respect.
Below are the results of the five benchmarks I conducted on the One V. Nothing here surprised me at all as I knew the MSM8255 wouldn't get close to the performance behemoths like the Tegra 3 and Exynos 4 Quad.
As Vellamo is a Qualcomm benchmark it's not surprising to see the single-core MSM8255 "outperforms" the 1.2 GHz dual-core CPU found in the Galaxy Nexus. In real-world usage you'll almost certainly find the Galaxy Nexus to be faster.
Storage-wise you get 4 GB inside the One V, although 1 GB is taken up by app storage space and another few gigabytes or so is used by the phone's operating system and other partitions, so at the end of the day you actually only have 100 MB of user accessible space. Luckily once you insert a microSD card into the slot in the device, it replaces the internal storage as the main storage partition and you can dump application data to there as well as photos and other things.
Finally, I had no problems with the HSPA, Bluetooth or Wi-Fi performance, which is no surprise.
Camera
The HTC One V packs a 5-megapixel rear camera with a f/2.0 28mm lens, LED flash and the ability to record 720p video. Like with the One X, there are a lot of cool camera features available such as HDR shots, panorama mode and live-camera effects. I was glad to see the live effects make the transition to the lower-end One V, and although they are slightly laggy in some circumstances, they do work.
The 5 MP shooter here is not as good as the One X's, but for a low-end device I am still remarkably impressed with what the camera achieves. Sure, the colors are not particularly awesome and it suffers from the same auto-exposure issues as the One X on cloudy days, but you can get some great results, particularly in low light.
Here are some of the best photos I took with the One V.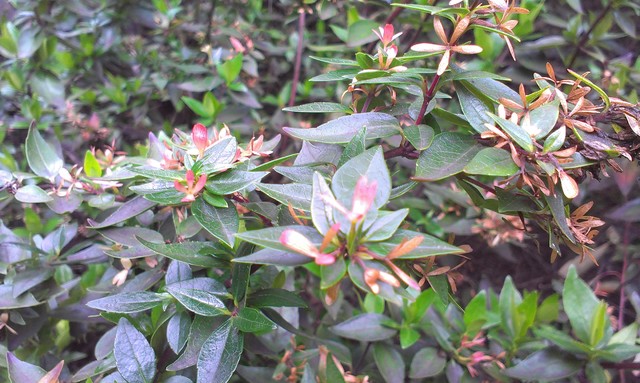 I have seen some pretty shocking cameras on low-end devices, and the results above are in no way shocking or terrible, so I think anyone that goes out and purchases the One V will be pleasantly surprised with the camera. It's good in low light, it produces crisp photos with reasonable colors and there are a great deal of features in the camera application that should satisfy people who need to take a quick shot.
Media Playback
Beats Audio is back with the One V, and that means you're going to get great music playback results. Somehow Beats Audio is still the only software sound enhancer that actually makes music sound better through headphones, turning songs that might sound a bit flat by default into lively and more enjoyable tunes.
Naturally the rear speaker sucks for anything other than ringtones and using it as a speakerphone, but it is reasonably loud so you shouldn't have any problems hearing it in your pocket. Also, the front speaker is crisp and audible while in a call, so that shouldn't present a problem if you enjoy calling people often.
Now for the video playback test - as the chipset is only capable of 720p decoding/encoding I don't expect the One V to be capable of playing back the 1080p files in the test smoothly.
Medium
Native Playback
3rd-Party Playback
Cordy Gameplay (.wmv)
640x360 WMV3 video @ 3046 kbps
WMA2 2ch audio @ 96 kbps
Perfect playback, although seeking doesn't work
Perfect playback, although seeking doesn't work
The Big Bang Theory (.avi)
624x352 XviD video at 1082 kbps
MP3 2ch audio at 128 kbps
Perfect playback
Perfect playback using hardware decoding
Epic Rap Battles of History 7 (.mp4)
1280x720 H.264 video at 2531 kbps
AAC 2ch audio at 128 kbps
Perfect playback
Perfect playback using hardware decoding
TRON Legacy (.mp4)
1280x720 H.264 video at 2461 kbps
AAC 6ch audio at 401 kbps
Recognized, but wouldn't play
Audio decoding seems to work, but the video is laggy
Black Swan (.mkv)
1920x800 H.264 video at 17025 kbps
DTS 6ch audio at 1536 kbps
Shown in the app as a corrupt file
Very laggy and no audio playback
THX Amazing Life  (.mt2s)
1920x1080 H.264 video at 9011 kbps
AC3 6ch audio at 640 kbps
Not recognized
Horribly laggy
MysteryGuitarMan  (.mp4)
1920x1080 H.264 video at 2701 kbps
AAC 2ch audio at 128 kbps
Shown in the app as a corrupt file
Laggy, with out-of-sync audio
The results of this are pretty much as expected, with the One V completely failing to play any 1080p video and any other videos with more than two audio channels. This means if you want to watch videos on your smartphone you might need to convert them to a format that works with the chipset, although it is good to see that Xvid AVI files work.
Battery Life
To be blunt, the battery life of the One V is great. It's only a 1,500 mAh battery, and it's not removable, but that doesn't stop it from lasting at least two days with moderate usage. Long battery life is often a bonus of getting a lower-end device and this is no exception with the HTC One V, so you shouldn't need to carry a charger around with you or even charge it every night.
At best, I managed over three days of life with barely any usage and not connected to Wi-Fi, and with heavy usage featuring a lot of web browsing I still managed a respectable eight hours of life. I don't imagine you'll be doing a huge heap of gaming considering the mediocre GPU performance of the One V, but you should manage to eke out more life than the One X for sure.
Also worthy of a mention is that under stress, the metal casing of the One V doesn't heat up a huge deal so you won't find it uncomfortable to hold. 
Conclusion
The thing that impresses me most about the HTC One V is that for the cost and the performance bracket of the device, it punches well above its weight. The display is first-class thanks to the Super LCD 2 used, the design is well-made, solid and functional and the battery life is simply outstanding despite the battery not actually being that big.
Also, while the camera is not particularly amazing, it's impressive for this range thanks to the large aperture lens; and while the Qualcomm MSM8255 is outdated when compared to flagship smartphones like the Galaxy S III, the fact that there is no lag throughout the operating system is impressive.
At the end of the day the only really bad thing about the One V is that HTC's Sense user interface is slapped on, but I've already heavily panned that in a separate review. Anyone who buys the One V, which retails outright for no more than $299, will definitely be happy that their cheap, lower-end device performs exceptionally for the class it's in.