The Nokia Lumia 720 was announced way back at MWC 2013, and it's one of those mid-range smartphones that simply slipped through the reviewing cracks here at the Neowin offices. But never fear, as I managed to source myself the unibody Windows Phone in red thanks to the folks at Nokia, and a review will be delivered!
When it was announced, the device turned heads for being a phone from Nokia with a microSD card slot designed into a slim polycarbonate unibody, two features missing from many other Nokia smartphones released in recent times. For under $300 you can also snag yourself other decent features including a 6.7-megapixel camera with a Carl Zeiss lens, a 4.3-inch IPS LCD display and a Snapdragon S4 processor.
In the past Nokia has delivered serious value with their lower end phones, especially including the Lumia 520, so let's find out whether the Lumia 720 presents a similar value proposition.
Specifications
Nokia haven't crammed their best technology into the Lumia 720 - for example optical image stabilization in the camera like with the Lumia 925 - but there are still some very nice features for buyers at this price point. It's especially great to see Nokia bringing their high-sensitivity touch digitizers to the mid-range, as it can be very handy for those of us who live in cold climates and require gloves on a regular basis.
If you want to know what else is found in the Lumia 720, check out the specifications sheet below.
 
Nokia Lumia 720
Product Codes
Lumia 720
3G/4G
HSPA+: 21 Mbps ↓ 850 / 900 / 1900 / 2100
LTE: N/A
Display
4.3-inch IPS LCD at 480 x 800
217 ppi pixel density
Processor
Qualcomm Snapdragon S4 MSM8227
1.0 GHz dual-core Krait CPU
Graphics
Adreno 305
RAM
512 MB
Storage
8 GB internal storage
4.6 GB user accessible
microSD card slot
Connectivity
Wi-Fi 802.11 b/g/n
Bluetooth 3.0
A-GPS and GLONASS
NFC
Camera
Rear: 6.7 MP | 720p30 video | 1/3.6" sensor | f/1.9 26mm Carl Zeiss lens | LED flash
Front: 1.3 MP | 720p30 video | f/2.4 lens
Ports
MicroUSB
3.5mm audio jack
Micro-SIM
microSD
Battery
Li-ion 7.6 Wh (2,000 mAh) non-removable
Launch OS
Windows Phone 8
Launch Date
April 2013
Size & Weight
127.9 x 67.5 x 9 mm
128 g
Price
$300
Design
Out of all the Nokia phone designs I've had the pleasure of using since the Lumia line was introduced, the Lumia 720 is by far the nicest. Until now, Nokia hasn't been particularly known for thin or light smartphones, but they've bucked the trend with this phone, which is simply a pleasure to hold and use thanks to a fantastic polycarbonate unibody that, for the first time, allows a microSD card slot.
Phones just feel nicer when they aren't made of slippery, cheap-feeling plastic, and I applaud Nokia for going down a plastic route that features slight texturing. As the Lumia 720's plastic isn't as slippery as, say, Samsung's plastic used on the Galaxy S4 and similar devices, it has less chance of sliding out of your hand while also being less of a fingerprint magnet.
The front of the device features edge-to-edge Gorilla Glass that curves wonderfully to each side, meaning your fingers simply whoosh off the sides when you're using the touchscreen, giving the display a much nicer feel than the usually-ridged glass panels. The glass panel is also very smooth, indicating that some sort of coating has been used to make the phone easier to use, and I'm not going to complain whatsoever about it.
Complementing the design of Windows Phone itself, the phone is fairly rectangular, although all corners and edges have been rounded to help the ergonomics.  The end result is a smartphone that's aesthetically pleasing, in keeping with the design of the OS it runs and comfortable to hold. As a unibody design has been implemented, the phone also looks great without any change of materials (except for the transition to glass).
The display on the Lumia 720 is only 4.3-inches, but overall the profile of the phone isn't that much smaller than the Lumia 920, although it's definitely shorter than recent flagships packing 5-inch displays. As the display isn't one of the largest going around, there is a reasonable amount of screen bezel at the top and (especially) the bottom, although thankfully the capacitive button placements are in just the right place in this section to make the phone easy to use.
The right hand side of the 720 features Nokia's traditional Lumia button arrangement, which sees the volume rocker above the power button followed by a two-stage camera button lower down. I'm not a huge fan of having the power button just higher than half way up the side, as it's usually easier to hit the power button if it's in the position Nokia has reserved for the volume rocker. It's definitely more convenient than if the power button was on the top left hand side, so it's not hugely annoying.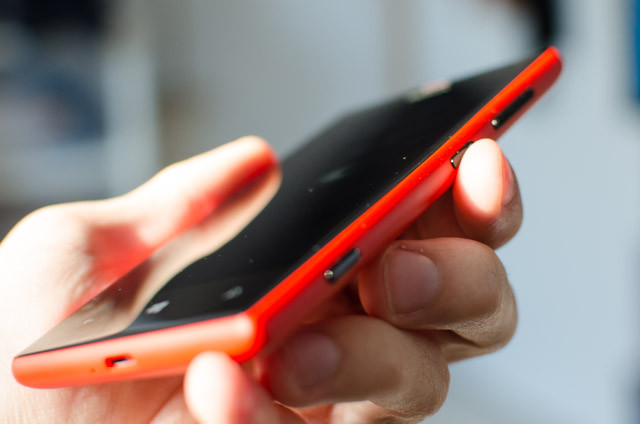 The top of the phone features the micro-SIM slot beside the 3.5mm headphone jack, and the left side has the microSD slot towards the top. Both slots require you to use Nokia's included pin tool to get the trays to come out, and after inserting the respective cards the slots are reasonably well hidden and don't detract from the pleasant visuals of the phone. As I mentioned before it's great to see Nokia implement a microSD card slot into the unibody design, especially as this phone only comes with 8 GB of storage.
Another point of interest on the design of the Lumia 720 is the three small connector dots on the rear pane, which are to enable the connection of the optional wireless charging cover to the battery. Wireless charging is of course a cool technology, and it would have been nice if Nokia had included it into the shell of the 720, but if it adds considerably to the weight, thickness or cost I'm glad Nokia left it as an optional extra.
The Lumia 720 also comes in a vibrant range of colors, as we've all come to expect from Nokia's smartphones: the device I received was a stunning shade of red similar to the Lumia 520 I reviewed, and if you purchase the phone the red, yellow or blue models are sure to turn heads when you pull it from your pocket. White and black models are also available for those opposed to vibrancy.
It's a little surprising that, for a phone that costs just $300 outright, Nokia has implemented clearly their best design for a Windows Phone, but it's certainly nothing to complain about. Kudos to Nokia for the attractive Lumia 720 design that uses cues from past designs to go above and beyond.
Display
With the Lumia 720, Nokia has used a fairly decent quality display, opting to use IPS LCD technology combined with their sensitive-touch digitizer that allows you to use the smartphone while wearing gloves. At 800 x 480 you're not getting the most pixel-dense display, and the lack of density is noticeable around text and using the Start screen, although you can't expect a particularly expensive display when the phone itself isn't very expensive.
The IPS technology works wonders to improve some aspects of this LCD display, most notably the vibrance and color quality. Looking at photos on the display looks generally pretty good, although not quite the same quality as I've seen on competing IPS screens. The 720's display also has very respectable view angles, with only slight deviations when looked at off center.
I was also impressed with the white levels of the display, which are bright and without any noticeable color tinting; on the other hand black levels aren't as amazing as I've seen, with some of the backlight visibly coming through. The screen quality isn't really up there with the Lumia 920 or Lumia 925, but nevertheless it's good for the price bracket.
Brightness is very good with this LCD display, ramping up where necessary and providing decent visibility when there's lots of external light. It's also helped by a "sunlight visibility mode" that you can find in the Lumia 720's settings, which appears to boost the contrast when it detects you're using the screen in direct sunlight, making it easier to read text on the display.
It's not the best IPS display I've seen, with most of the cons falling in the density department, but luckily for the price you shouldn't find yourself wanting anything more. It's also once again great to see Nokia bringing their glove touchscreen technology to mid-range devices, which is something other OEMs are yet to do.
Software
Like with every other Nokia Lumia phone of late, the Lumia 720 runs Windows Phone 8, and that means a lot of the software of this phone has already been covered in our Windows Phone 8 review. Between the release of Windows Phone 8 in October last year and now, only a small amount of fixes have been introduced into the operating system, with Windows Phone Blue still months away.
As with other Nokia Windows Phones, an exclusive range of applications are available on the Lumia 720. While Here Maps is now an application available to all Windows Phones, there are still a number of great apps only for Nokia phones, including some great camera 'Lenses' and a few exclusive games. Having a Nokia Windows Phone undoubtedly gives you the best selection of apps on the platform, but is this selection up to scratch?
The simple answer is no, the Windows Phone app selection is still a major issue for the platform. Since I first had hands-on with Windows Phone 8 with the Lumia 920 and HTC Windows Phone 8X, the app selection has grown considerably, bringing across popular games and apps from other platforms. Unfortunately, quality is still a huge issue with these apps and others in the marketplace; there is a staggering lack of polished apps available for Windows Phone when you compare it to Android or iOS.
It's hard for Microsoft to convince developers to produce apps for an operating system with such small market share, and the app problem will still persist for some time. In some aspects it still feels like Windows Phone 8 is a brand new platform despite its roots in Windows Phone 7 from way back in 2010, with work still needing to be done on the app front to make it appealing for buyers.
If you are willing to try out the platform and put up with an app market that isn't the same standard as the Google Play Store or iOS App Store, then by all means the generally great features of Windows Phone 8 will be enough to satisfy. But if apps are a huge part of your smartphone usage, and especially if you have favorites on Android or iOS that aren't available on Windows Phone, then the Lumia 720 is a much harder phone to recommend.
Performance
Like with other low-end Windows Phone devices, the Lumia 720 packs a Qualcomm Snapdragon S4 MSM8227 chipset, which includes a 1.0 GHz dual-core Krait CPU as well as an Adreno 305 GPU, and you also get 512 MB of RAM. Even though this is one of Qualcomm's slower chipsets from their previous generation, it's very capable of running Windows Phone fluidly, which still makes the performance of this device very good.
Microsoft continues to make sure that Windows Phone runs smoothly on all variations of hardware, so when using the operating system you won't find yourself frustrated by slowness. Animations are still rendered at a solid frame-rate, and basic functions such as using the keyboard, browsing your contacts and panning/zooming photos are as fluid as the experience on the high-end Lumia 920.
While it isn't the fastest browsing experience going around, using Internet Explorer 10 on the Lumia 720 is still quite decent, all things considered. Loading up Neowin, the best destination on the internet, and apart from a few moments of checkerboarding, panning and zooming about the homepage is quite smooth. More intense websites present more of a challenge, but overall I never felt like I was crying out for more power.
One area where you notice the performance difference between the Lumia 720 and some of the higher-end devices on the market is in app loading and multi-tasking. Comparing the 720 directly to the HTC 8X or the Lumia 920, the MSM8227 loads apps around one second slower on average, while multi-tasking is definitely hindered by only 512 MB of RAM. Often I'd find myself switching between apps only to have to wait several seconds as the app resumes, which can get a bit tedious with time.
512 MB of RAM is also occasionally restrictive when it comes to choosing games from the Windows Phone Store, as some (but not many) require at least 1 GB of RAM, despite the generally very good graphics performance of the Adreno 305. As I discovered in some of my past reviews of Windows Phones with the MSM8227, the Adreno 305 powering a WVGA display like on the Lumia 720 is actually as fast as the (technically faster) Adreno 225 powering a WXGA display like on the Lumia 920.
If you want to compare the performance of the Lumia 720 to other Windows Phones on the market currently, check out the benchmarks I performed below. WPBench is the standard all-purpose Windows Phone benchmark that tests a range of aspects of the device's performance, while Peacekeeper is run in the browser and can be used to compare the phone to Android and iOS devices.
Unfortunately the Lumia 720 doesn't feature dual-band Wi-Fi, so if you're in an area with 2.4 GHz congestion you're left out in the cold, but otherwise the connectivity options are quite good. NFC makes a return after being dropped from the Lumia 520, and you also get the usual good Bluetooth and GPS options. The 720 doesn't feature LTE radios, but HSPA+ performance was very good during my testing, passing 10 Mbps down occasionally.
The Lumia 720 also includes 8 GB of storage with around 4.6 GB available to the user out of the box, which is ample room for installing apps and taking a few photos. As I've mentioned previously, there's a microSD card slot in this device, so you can bump the storage up considerably if you add in an expansion card. I added in my 32 GB card loaded with music, and Windows Phone recognized the contents and added it to the Music app like you'd expect.
As Windows Phone is optimized so well for the hardware it runs on, you really can't complain about the phone having just a 1.0 GHz dual-core on board. Throughout my use of the phone the experience was very smooth, and apart from a few slowdowns when multi-tasking, I never really desired a faster chipset.
Camera
It shouldn't really be surprising considering Nokia's track record with cameras, but the Lumia 720's camera is very, very good for a phone that slots into the mid-range. The main camera is a 6.7-megapixel sensor with a Carl Zeiss 26mm effective f/1.9 lens, which happens to be one of the largest apertures I've seen on a smartphone camera and allows bucketloads of light to hit the sensor.
In good lighting conditions, the Lumia 720 captures vivid color - just like their marketing material states - that accurately represents the scene your photographing. It also seems to have decent dynamic range for this class of phone, and very good sharpness thanks to the Carl Zeiss optics. At 6.7-megapixels you're not getting the largest shot for producing great scaled-down images, but looking at a 100% crop reveals above average detail.

This photo is a 100% crop, check out the full image here
Unfortunately the camera, at times, experiences odd tinting issues like I found with the Lumia 920's camera. If you have a subject that is particularly vibrant in one color, such as the yellow of the lemon below, the software seems to saturate this color at the expense of others in the background. You'll notice below that the ground and stalks of the lemon tree are heavily tinted blue, which isn't ideal.
When you get into situations with moderate amounts of light, such as indoor shooting, the quality of the photos are still very good thanks to the f/1.9 lens that lets in lots of light, facilitating low ISOs and quick shutter speeds. Even in a room which may appear to be dim compared to the bright outside world, the Lumia 720's camera can take some good photos.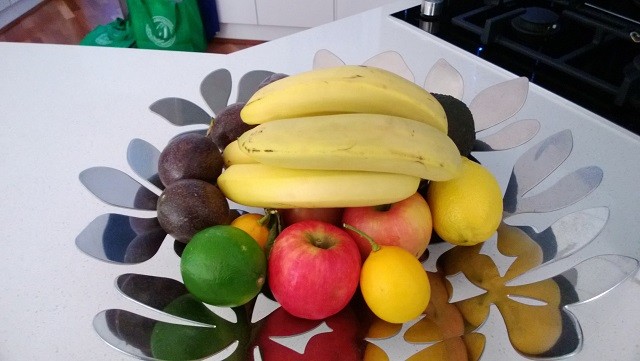 In photos with varying light, the dark areas are often grainy as a result of processing, but this isn't a huge concern. What's more of a concern is the dodgy focusing, which often appears to focus on close objects only to snap away at the last minute. The preview sometimes clearly shows the subject in focus, but then then camera doesn't take the photo at this point for whatever reason, which can be very frustrating. Also, apart from in situations with perfect lighting, it often takes quite some time for the shutter to activate.
In low light the Lumia 720 performs decently, but not to the standard of other smartphones with larger pixels or optical image stabilization. When it gets dark, the large aperture works to an extent, but sometimes the flash is needed to properly illuminate an object so you can actually see it.

This photo was taken with the flash
The Lumia 720 also features a front facing camera, which has a wide-angle lens and captures 720p images. It's acceptable quality, but nothing stunning, falling into the usual bracket of front-facing cameras.
The MSM8227 chipset can only manage 720p video recording, so that's the best we can get from the Lumia 720's camera. The footage is reasonably sharp, has quick autofocus and fast adaptive dynamic range, but often likes to change its color tint like with the photos. Audio quality is decent from the microphones in the body, but not outstanding.
As for camera features, there aren't a great deal of options to control the quality and look of photos from the stock Windows Phone camera app, so you're basically stuck using auto settings for most things. However, there is the Lenses feature which extends the capabilities of the camera outside the standard app: it can take a long time to transition to other apps, but the results can be quite good.
Included out of the box with the Lumia 720 are the Cinemagraph, Panorama and Smart Shoot lenses, but more can be found in the Windows Phone Store including a range of Nokia exclusive ones that you can load on the phone.
Battery Life
With a 2,000 mAh (7.6 Wh) battery having to power just a 4.3-inch display and a 1 GHz dual-core processor, it's fair to say this phone is going to last a long time in regular usage - after all, flagship devices like the Xperia Z and HTC One carry roughly 2,300 mAh (8.7 Wh) batteries for much more powerful internals.
During my testing and usage of the device, the Lumia 720 will last you well over a day with little ease, although it's not quite up to delivering two full days of usage. If you really needed to overnight without a charge, the Lumia 720 will let you use the phone for some time the next day, but I would still want to charge it every night.
With so much juice in the battery, I never found myself needing to closely monitor my battery usage to ensure it didn't dip into dangerous territory at the end of a day. I could happily snap some photos, make phone calls and browse the web with only a small impact to the battery, and that's great to see from a mid-range smartphone. The battery isn't removable this time due to the unibody design, but I doubt this will matter as life is very decent anyway.
Comparing the Lumia 720's battery life to other smartphones on the market, I run the standard battery rundown test, which features a 720p video looping at 'medium' (~75%) brightness in airplane mode until death.
A score of 8 hours in this test is considered par, and phones that score above this generally have great real world battery life
Conclusion
For a mid-range phone, the Nokia Lumia 720 ticks many of the right boxes. The design is one of the best I've seen from Nokia in recent times, incorporating a slim design with great feeling polycarbonate that also manages to fit in a microSD card slot, as well as smooth Gorilla Glass protecting a decent quality 4.3-inch IPS LCD panel.
The camera is a real standout, with the Carl Zeiss optics delivering crisp photos even when lighting became less than ideal. If Nokia could tweak the settings a little to prevent aggressive color tinting in some situations, it could just be the best camera for a phone in its class. And let's not forget the performance, which (as usual for Windows Phone) is very good despite not packing the most recent specifications.
Unfortunately the only major downside to this phone is its apps selection, which still is a persistent problem for Windows Phone. You're spending $300 on a phone with a great design and great camera, but it doesn't have access to the same quality app selection as you will get from an Android smartphone at the same price. It may be forgiven with a budget smartphone, but it's more of an issue when you start getting into the mid-range.
That said, the Store is improving all the time, and if you're willing to try out Windows Phone, the Lumia 720 is one of the best smartphones you can get in the mid-range.

The Nokia Lumia 720 was reviewed from a fully-updated unit provided by Nokia
→ The Nokia Lumia 720 official website
→ Follow me on Twitter