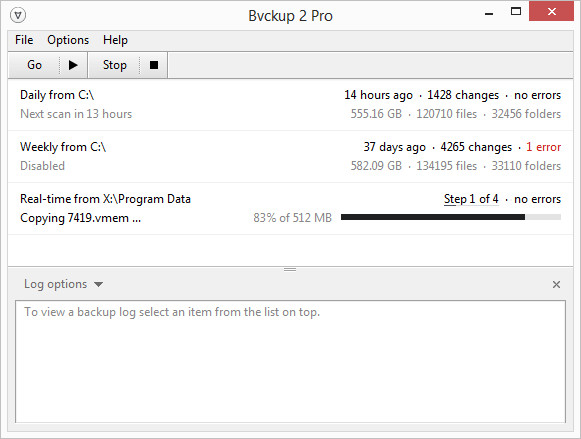 Bvckup 2 is a mirroring data backup software notable for its use of delta copying, speed of operation, small resource footprint and a "beautifully functional" user interface. The software replicates files from one location to another in their original format and purposefully does not include options for compressing or encrypting them. It does however include a comprehensive list of supporting features including periodic and real-time backup scheduling, removable device tracking and shadow copying support. Ideal for making local backups, backups going to external and removable drives as well as to NAS devices.
Bvckup 2 features:
Real-time, scheduled and manual backups
Very fast, delta file copying
Excellent user interface
Backup of locked files with shadow copying
Removable device tracking
Move/rename detection
Full 64-bit support
Run-as-a-service mode
Symlink and junction support
Ownership, group and DACL copying
Fully asynchronous I/O
Multi-core processing where required
Optimized throughout for no run-time bloat
Software update notifications
Bvckup 2 Release 82.9 changelog:
Patched 3 UI issues in the Advanced section of backup settings - certain fields were editable, but it wasn't possible to actually save the changes. Most notably this included the "Errors and retries" section values.
Patched scanning thread count sometimes being capped at 1 - if you've noticed your scans getting longer, this might've been the cause.
Patched an issue when the config folder runs out of disk space - the condition wasn't caught early enough and caused some unnecessary noise in the logs.
Patched an issue with rapid-fire "remove device ?" events - this is a rare issue that was triggered when the program received a string of removal queries _for the same device_ in a rapid succession. In theory this should not be happening, but in practice it does. The program wasn't prepared for that and panicked. Resolved now.
Revised scanning logic to accommodate various edge cases.
One change is the handling of malformed . and .. entries in the folder content list. These entries are always present, but some random storage provider reported them with a NUL symbol appended. Being a pedant that it is, the scanning module saw these .\0 and ..\0 entries, treated them as regular items and attempted to scan them, leading to errors. It knows better now.
Another change is that running into a files or folders scheduled for deletion (error code 0xC0000056) will no longer abort the scan.
Similarly, running into subfolders that got deleted _after_ being picked up for the scan (error code 0xC000003A) will also no longer abort the scan.
Finally, error code 0xC00000D0 ("Request not accepted") is now a retryable error as is stands for "No more connections can be made to this remote computer at this time because the computer has already accepted the maximum number of connections."
Download: Bvckup 2 Release 82.9 | 3.2 MB (Free trial)
View: Bvckup 2 Home Page | Discounts | Release Notes
Get alerted to all of our Software updates on Twitter at @NeowinSoftware