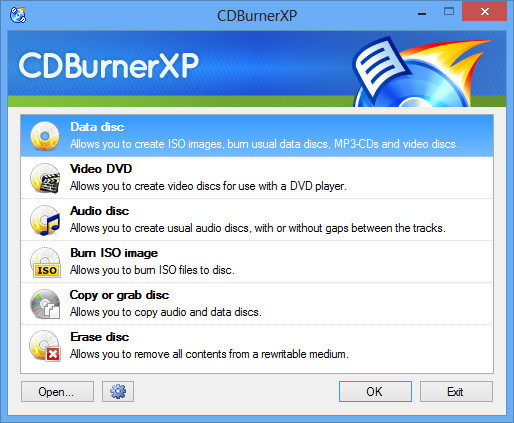 CDBurnerXP is a free application to burn CDs and DVDs, including Blu-Ray and HD-DVDs. It also includes the feature to burn and create ISOs, as well as a multilanguage interface. Everyone, even companies, can use it for free.

Key Features include:
burn all kinds of discs
audio-CDs with or without gaps between tracks
burn and create ISO files
data verification after burning process
create bootable discs
multi-language interface
bin/nrg to ISO converter, simple cover printing and much more!
CDBurnerXP 4.5.5.5642 changelog:
Added support for custom gaps between tracks (pregap / postgap)
Adjusted copy disc dialog for RTL
Adjusted video DVD disc dialog for RTL
Updated link in audio track recognition dialog
MSI installer does not upgrade previous versions correctly
Fixed missing text in startup dialog after minimizing (for RTL languages)
Download: CDBurnerXP 4.5.5.5642 32-bit | 5.4 MB (Freeware)
Download: Portable CDBurnerXP 32-bit | 6.1 MB
Download: CDBurnerXP 4.5.5.5642 64-bit | 5.5 MB
Download: Portable CDBurnerXP 64-bit | 6.4 MB
View: CDBurnerXP Features | CDBurnerXP Website
Note: Offers to install a 3rd party program that you can easily opt out of during install.