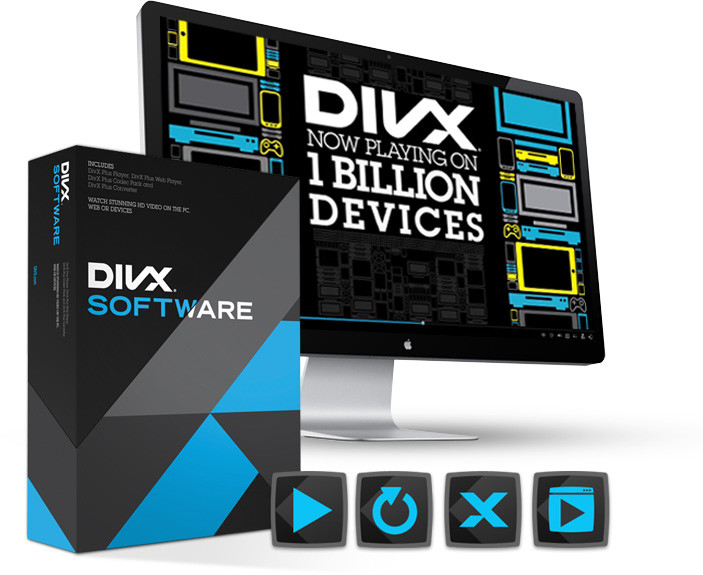 DivX lets you convert video between popular formats, including HD files, and enjoy an enhanced playback experience across all your devices, at home and on the go. It is all you need to create, play and stream high-quality video.
What's Included:
DivX Player delivers high-quality playback of videos in popular formats, including HEVC up to 4K. Transfer videos to disc or USB with DivX To Go or easily stream videos to nearby devices with "Stream To" and "Cast To" functions.
DivX Converter is an easy video converter that creates videos in the web's most popular video formats DivX, MKV, MP4 and HEVC to 4K. Converting videos into DivX ensures your files will play on more than 1 billion DivX devices.
DivX Web Player is a simple cross-browser web extension that streams all popular video formats, including HEVC video up to 4K, with progressive playback, adaptive bitrate and experimental live streaming technologies.
DivX Media Server can stream videos, music and photos to any DLNA-compatible device or Chromecast in your home. Accessible through DivX Player, choose "Stream To" for your DLNA devices or "Cast To" to stream to Chromecast.
DivX 10.8.4 changelog:
Components
Converter 10.8.4
Player 10.8.4
Web Player 3.8.4
DivX To Go 3.8.4
Media Server 10.8.4
DivX Installer System 3.8.4
DivX Control Panel 3.8.4
What's New
DivX Converter now provides new option to trim a file which comes from combine mode
User Interface of the DivX To Go module was refined for better support of the High Density displays
Support of the Dolby Digital format was improved in DivX Player
DivX Player now supports High-Efficiency Advanced Audio Coding (HE-AAC) format playback in media streaming in DASH protocol
DivX Media Server is able to cast video accompanied with FLAC audio tracks
DivX Media Server provides more robust and feature rich casting which is based on HLS protocol
VTT subtitles support has been added to DivX Media Server
DivX Media Server supports casting to Roku Streaming Stick and Roku Express hardware
Fixed
DivX Media Server now properly displays image titles when casting multimedia from DivX Mobile
Overall support of the audio playback in DASH protocol was enhanced
DivX Player delivers a fix for proper item selection from DivX Library in Cast mode
DivX Converter contains a workaround for failed/incomplete installation of the Windows Visual Studio 2015 redistributable component
DivX Converter has updated Portuguese translation
Set of minor bugfixes and improvements
Known Issues
Dropbox import/export functionality might not function properly on Windows XP.
DivX Web Player doesn't work in Chrome/Chromium and Opera Web browsers due to NPAPI API removal.
For Mac OS X versions prior to 10.7 (Mac OS X Lion), contact DivX support for assistance
Download page: DivX 10.8.4 | 2.3 MB (Free, ad-supported version, ad-free available)
View: DivX Home Page | DivX Support
Neowin has no affiliation with the above mentioned companies or software.