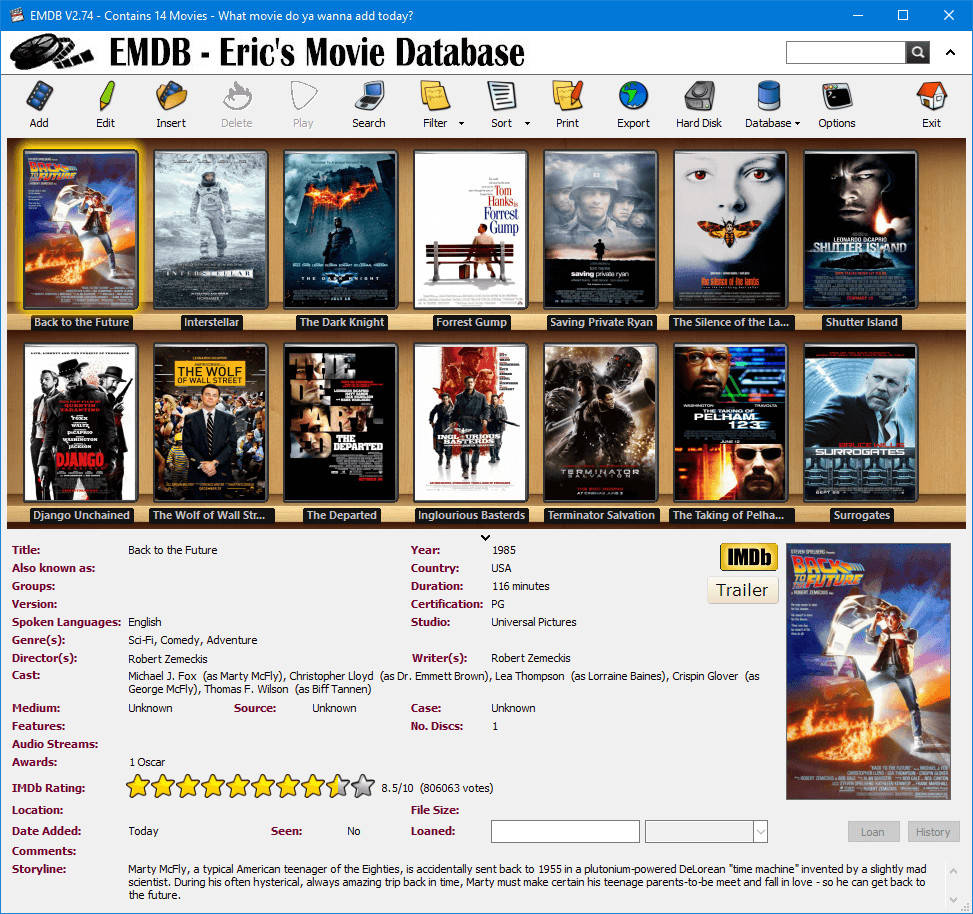 EMDB is an application to keep track of your movie and TV Series collection. Both physical discs and media files are fully supported. With an automatic import from the database of IMDB, export to csv, text or HTML, thumbnail cover preview, a loan tracker, advances search and filter functions and multi-language user interface. EMDB doesn't need a .NET framework or any other external libraries and is therefore fully portable. And best of all... it's free!.
EMDB 4.07 changelog:
IMDb Import: Fixed importing titles with & in the new dark mode pages (e.g. Fast & Furious).
IMDb import: Fixed importing of Metacritic scores in the new dark mode pages.
IMDb Import: Fixed importing of durations shorten than 1 hour in the new dark mode pages.
User interface: Added an option in the Add/ Edit screen to view, add, update or remove the backdrops.
User Interface: Show IMDb Metascore setting was not saved.
Rotten Tomatoes: Update for TV Series was not working.
Translations: Translated the Help screen in TV Mode.
TV mode: Fixed font size when setting a large font size on a not that high resolution (e.g 150% @ 1920x1080).
TV mode: Fixed playing media files on external disks.
Translations: Fixed the translations of bit depth the items in the dropdown in the Add / Edit screen.
Add from hard disk: Year is now removed from folder name when using folder name to query IMDb / TheMovieDb.
Rename media files: The root folder of TV Series was renamed by accident.
TV Mode: For now help is shown when TV Mode is started as a lot of users don't know how to use it yet (even showing the help ;-).
User interface: Added bit depth as selectable column.
Export / Print: Added bit depth as column to export / print.
Add movies: Improved detection of duplicates if new movie has TheMovieDb Id and existing ones in the database still have IMDb Ids.
User interface: Fixed detection of HD / 4K movies based on resolution didn't always work.
Database: Added 2160p to the predefined resolutions.
Translations: Updated the German, French, Swedish, Simplified Chinese, Arabic and Dutch translations.
Changes in EMDB 4.08:
User Interface: After adding a movie EMDB was moved to the background.
Database: When Cutting and Pasting a movie the artwork got lost.
Database: When adding a movie the cast was not added if update cast was not enabled in the batch update options.
User Interface: fixed screensaver was not starting.
User Interface: Prevent Ctrl-X when Delete is disabled.
IMDb / TheMovieDb import: Improved downloading and updating of the cast. Switching between IMDb and TheMovieDb works better, the whole cast is now always replaced on update, different actors with the same name are detected better.
TV mode: added an exit button clickable by mouse.
User Interface: Added a dedicated toolbar button for TV Mode and removed TV Mode from the View Button / Alt-Tab.
Translations: Updated the German, French, Simplified Chinese, Arabic and Dutch translations.
Download: EMDB 4.08 | 5.3 MB (Freeware)
Link: EMDB Home Page
Get alerted to all of our Software updates on Twitter at @NeowinSoftware