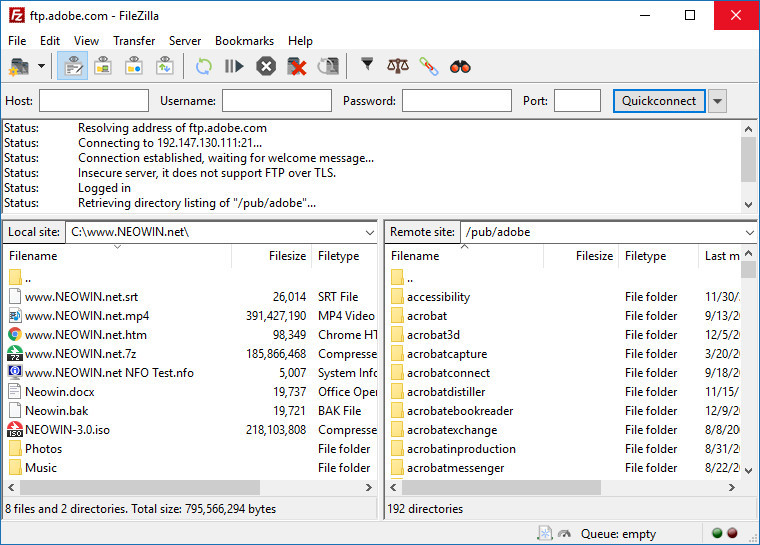 FileZilla is powerful Open Source FTP/SFTP client with many features. It includes a site manager to store all your connection details and logins as well as an Explorer style interface that shows the local and remote folders and can be customized independently. The program offers support for firewalls and proxy connections as well as SSL and Kerberos GSS security. Additional features include keep alive, auto ascii/binary transfer, download queue, manual transfers, raw FTP commands and more.
FileZilla 3.40.0 bugfixes and minor changes:
Official binaries are now linked against GnuTLS 3.6.6
FileZilla 3.40.0 RC2 changes:
Fix regression introduced in rc1 where adding files to queue creates extra server items if the connection was established through the Site Manager
New features​ in FileZilla 3.40.0 RC1:
Added TLS 1.3 support by linking official binaries against GnuTLS 3.6.5
Refactored how sites and servers are being represented internally to fix issues trigged by renaming sites in the Site Manager
v3.40.0 RC1 bugfixes and minor changes
Fix display of server names containing ampersands in several dialogs
Fix regular expression filter in the quick search panel
Fix a crash if files are added to the queue when there are already files for multiple different servers in the queue
Fix a crash applying filters when there are no selected files and the focused item is past the new file count
Fix a crash if emptying the queue while a directory creation item is active
Fix a potential crash if FileZilla is being closed the moment a delayed dialog has already been created but before it is shown.
Download page: FileZilla 3.40.0 | ~10.0 MB (Free, paid upgrade available)
Links: FileZilla Home page | Documentation
Get alerted to all of our Software updates on Twitter at @NeowinSoftware