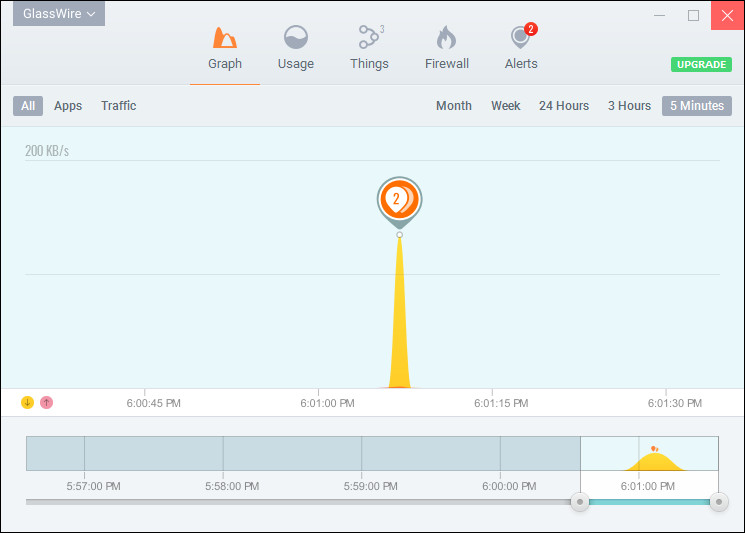 Visualize your current and past network activity by traffic type, application, and geographic location, on an easy to use graph. GlassWire lets you see what applications are sending out data over the Internet and shows you what hosts they are communicating with. The program also looks for; domains or IP addresses that are known threats, networking system file changes, unusual application changes, ARP spoofing and more.
GlassWire shows you what network activity occurred while you were away or logged out from your computer. No more wondering what your computer was doing while you were out. Just go back in time with GlassWire's graph and see exactly what happened in detail.
GlassWire visualizes what current and past applications are accessing the Internet. If you don't like what you see you can instantly block network access to specific apps with GlassWire's firewall manager.
GlassWire 2.3.318 changelog:
Major "Things" improvements including a completely redesigned user interface. Click the top right "settings" icon to use the new different "Things" options. Also, mouse over a device name and click the three dot menu (...) on the right side to add custom information for devices. You can also see old devices that are now offline and scanning is much faster!
GlassWire now has a new notice in "Block All" mode that some Windows Security features may have network access to avoid virus false positives.
GlassWire now has a loader animation when the firewall is switched on/off.
The GeoIP database we use for hosts is now updated.
Fixed a bug that could cause GlassWire to crash when the mini viewer is moved between multiple monitors.
Fixed a bug that could cause the GlassWire Windows Service to crash.
Fixed Chinese translation errors.
Fixed a bug that could cause some people to be unable to create firewall profiles.
Fixed a bug that caused artifacts to appear on the GlassWire main graph.
Fixed German translation errors.
Added more contrast to blue colors in the user interface so the text is easier to read.
Improved notifications about new "Things" that joined the network so it has more useful information.
Fixed a bug where publishers would not update correctly when "traffic" is changed in GlassWire's user interface.
Many miscellaneous bug fixes and stability improvements.
Download: GlassWire 2.3.318 | 55.8 MB (Shareware)
Links: GlassWire Website | Android
Get alerted to all of our Software updates on Twitter at @NeowinSoftware