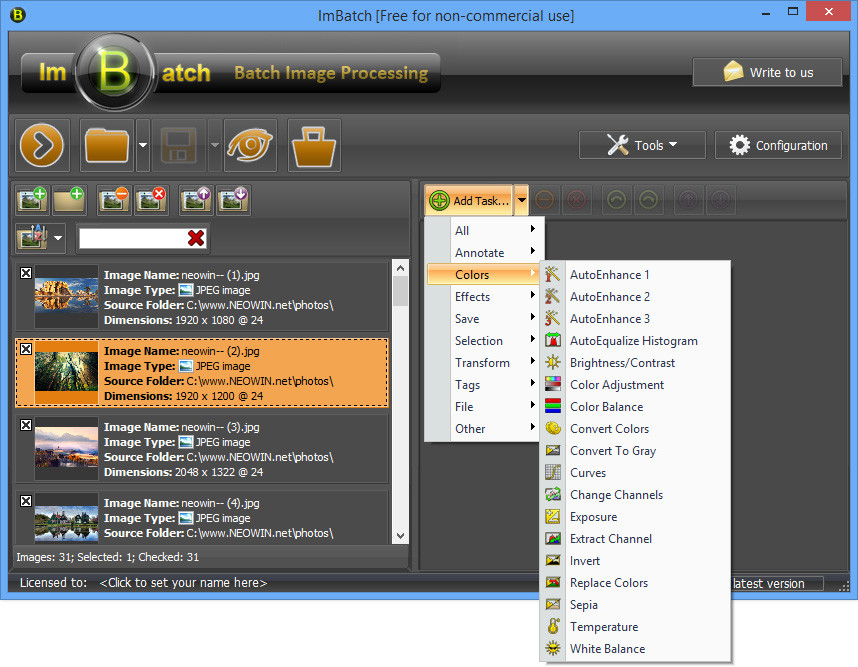 ImBatch is a free image processing tool for your Windows PC. With the help of ImBatch, users can perform a variety of complex image editing tasks; applying those changes to hundreds of images at once. Whether you're looking to crop, resize, rotate, add/remove tags or convert image format, ImBatch provides users with dozens of editing tools.
ImBatch key features:
Batch Resize Image
Batch Image Rotate
Batch Image Soft Shadow
Batch Image Flip task
Batch Image Round Corners
Batch Image Convert Colors
Batch Image Convert To Gray
Batch Image Set EXIF Tag
Batch Remove EXIF Tag
Batch Image Shift Tim
Batch Add To PDF task
Batch Watermark Image
Batch Resize Canvas
Batch Color Adjustment
Batch Gaussian Blur
Batch Inner Shadow
Batch Publish on Facebook
Batch Inner Shadow
Batch Reset To Original
Batch Watermark Text
Batch Frame task
Batch Crop Image
Batch Color Balance
Batch Brightness and Contrast
and much, much more....
ImBatch 5.5.0 changes:
Added Set DPI task.
'White Balance' task: added the ability to select a color for white color.
'White Balance' task: added the ability to select white color in Preview.
'Resize Canvas' task: added the ability to set the cropping frame on the 'Before' tab of the Preview window.
'Save To Animated GIF' task: added the ability to optimize the file.
'Save To PDF' task: added the ability to save the pages in order (only for multithreaded processing).
'Save As' task: fixed saving to DDS with multithreaded processing.
Added the ability to turn off replacement of spaces with underscores in file names.
Preview window: Now when you update, it does not automatically switch to the "After" tab.
'Optimize for Web' task: updated interface.
'Resize canvas' task: fixed setting of height in the "Borders" mode, if you select "%" for units.
'Watermark' task: Corrected the watermark movement in the Preview window, if selected non-pixels for the units.
Task processing: now disabled tasks do not perform the initial processing.
Image list: Corrected sorting by name for names with numbers.
Image list: fixed image movement.
Download: ImBatch 5.5.0 | 14.3 MB (Freeware)
View: ImBatch Home Page