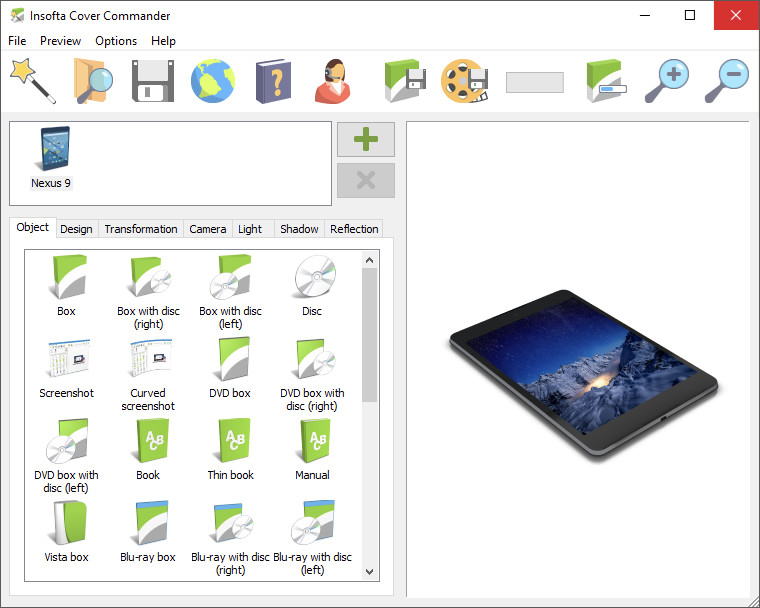 Cover Commander creates professional, custom-designed three-dimensional virtual boxes for your software, e-books, iPhone/iPad apps, manuals, DVD and CD boxes, CD disks, cards, and even screenshots. Just a few mouse clicks - that's all it takes to get the job done. Extensive light, shadow, and reflection controls at your disposal will enable you to create an image of just about any complexity and view the final picture as it is being made in the real-time preview window.
Reasons to go with Cover Commander:
Get your cover designed in just a few mouse clicks - Box, Box with disc, Disc, Screenshot, Curved screenshot, Book, Thin book, Manual, Vista box, Card, Spiral book, Monitor, TV, iPhone 5s/5c, iPad, iPad with cover, Blu-ray box, Blu-ray with disc, DVD box, DVD box with disc, CD box, CD box with disc.
Let the built-in wizards do the dirty work for you and focus on the artistic details of the cover.
Create multiple projects, parse multiple images - with a single command (batch mode).
Save the result image with transparent background and use the picture for the complex web or print designs.
Save the light, shadow, and reflection settings under a unique name and use those settings in other projects.
Set the result image size (up to 4000x4000) and margins in pixels.
Draw your customer's attention with an animated box, cover or screenshot.
Cover Commander does not require 3D accelerator to render 3D objects.
Don't pay more than what it actually costs to create a great cover. Create additional covers at no cost at all!
Cover Commander 5.5.0 changelog:
New 3D mockup added: iPhone X.

DVD box improved.

Book improved.

Disc new options added.

"New Wizard" DVD box, Books, multi-objects templates added.

The settings for dimensions, position, rotation 3D texts are moved to the "Transformation" tab.

Depth of field added.

Reflection blur added.

High DPI support added (per monitor).

New command-line parameters (image size) added.

Memory usage optimized.

Draft render faster.

Render progress bar on the taskbar button added.

History to color control added.

The custom colors in the "Color" dialog are saved.

Changed the initial camera/lighting settings.
Changes in Cover Commander 5.5.1:
Fix saving large images and animations.
Download: Cover Commander 5.5.1 | 25.4 MB (Shareware)
Link: Cover Commander Home Page
Get alerted to all of our Software updates on Twitter at @NeowinSoftware