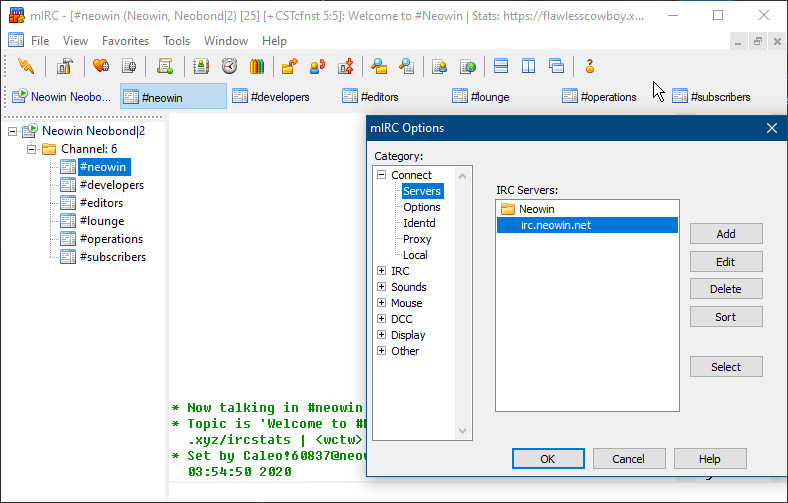 mIRC is a full featured Internet Relay Chat client for Windows that can be used to communicate, share, play or work with others on IRC networks around the world, either in multi-user group conferences or in one-to-one private discussions.
It has a clean, practical interface that is highly configurable and supports features such as buddy lists, file transfers, multi-server connections, SSL encryption, proxy support, UTF-8 display, customizable sounds, spoken messages, tray notifications, message logging, and more.
mIRC also has a powerful scripting language that can be used both to automate mIRC and to create applications that perform a wide range of functions from network communications to playing games. mIRC has been in development for over a decade and is constantly being improved and updated with new technologies.
mIRC 7.75 changelog:
Fixed SSL certificate verification not loading Windows certificate store.

Added channels file location to mirc.ini [files] section for custom favorites.

Fixed identifiers not correctly handling %var/&binvar names with spaces.

Updated OpenSSL library to v3.0.10.

Updated CA root certificates cacert.pem file.

Fixed arrange icons bug that caused mIRC to crash for some users.

Added loading of custom fonts on startup from "fonts" folder.

Fixed clear history on close bug that was not clearing non-marked URL items.

Added support for SSL "legacy sigalg disallowed" connections.

Updated list of servers in servers.ini file.

For a full list of recent changes, please see the versions.txt file.
Download: mIRC 7.75 | 3.5 MB (Shareware)
View: mIRC Home Page
Get alerted to all of our Software updates on Twitter at @NeowinSoftware