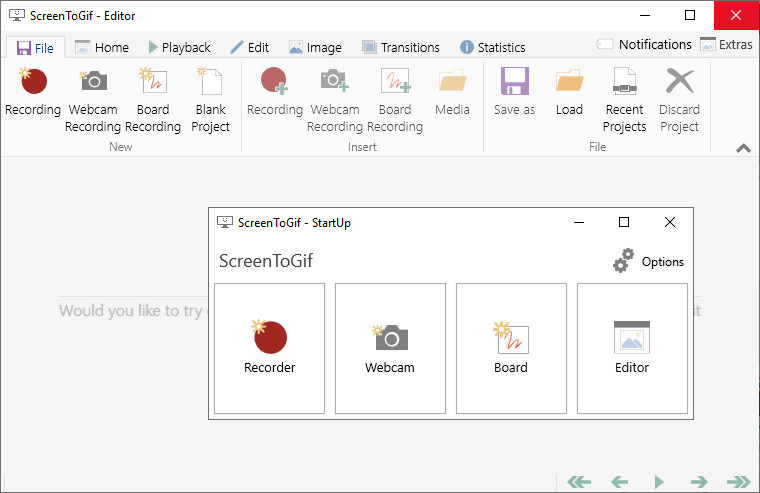 ScreenToGif is an open source program that lets you to record a selected area of your screen, live feed from your webcam or live drawings from a sketchboard. Afterwards, you can edit and save the animation as a GIF or video. Also there's the Webcam Recorder and the Board Recorder.
Features:
Record your screen and save directly to a gif looped animation or a video.
Pause and continue to record or start over by discard the recording.
Move the window around to record what you want, it stays on top.
You can add Text, Subtitles, Title Frames, Borders, Watermarks, Drawings, etc.
Crop and Resize.
Remove frames that you don't want.
Select a folder to save the file automatically or select one before encoding.
Add the system cursor to your recording.
Very small sized and portable executable.
ScreenToGif 2.21 changelog:
You can now import Apng's files.
Option to run the app on startup.
Option to allow only one instance of the app, switching to the already opened app when trying to open another instance (single instance per user and executable).
Bug fixes
If the SharpDX libraries were not in the same folder as the app, it was not possible to load them.
The editor window was not receiving focus upon loading.
Sometime, the button to select a region in the new recorder was not working.
The Accept/Retry/Cancel controls were not getting positioned correctly when the whole right side of a screen was selected.
When the folder path of the SharpDX was empty, the options window was displaying an error while checking the external tools.
The video importer (MediaPlayer) was not respecting the selected scale.
Changes in v2.21.2:
The app was not being able to load the SharpDX libraries.
The DirectX capture mode could fail when finishing the capture of a frame.
Download: ScreenToGif 2.21.2 | Portable ScreenToGif | ~3.0 MB (Open Source)
View: ScreenToGif Home Page | User Guide
Get alerted to all of our Software updates on Twitter at @NeowinSoftware