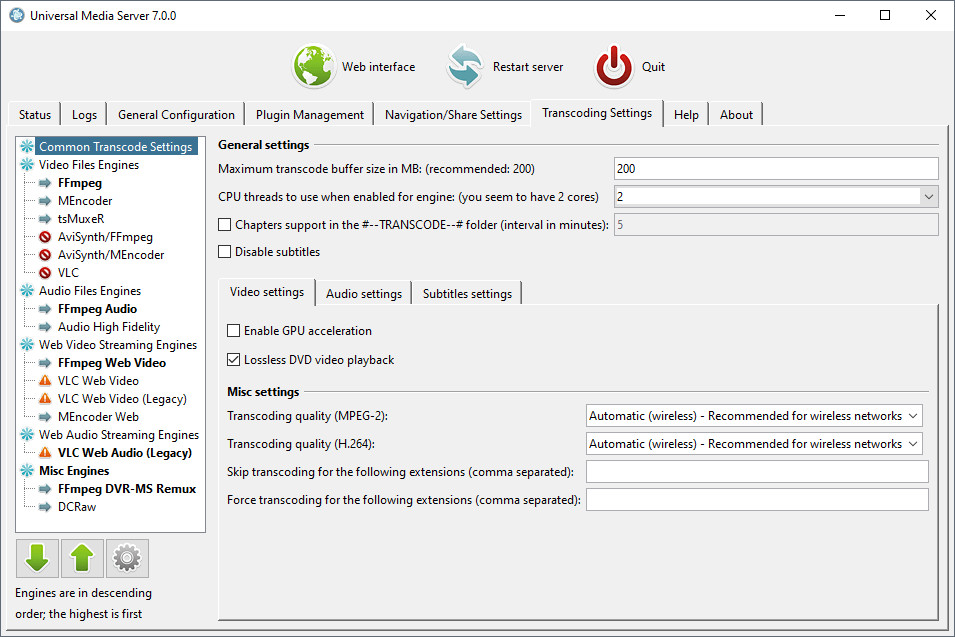 Universal Media Server is a DLNA-compliant UPnP Media Server. UMS was started by SubJunk, an official developer of PMS, in order to ensure greater stability and file-compatibility. The program streams or transcodes many different media formats with little or no configuration. It is powered by MEncoder, FFmpeg, tsMuxeR, AviSynth, MediaInfo and more, which combine to offer support for a wide range of media formats. Because it is written in Java, Universal Media Server supports all major operating systems, with versions for Windows, Linux and Mac OS X.
To see a comparison of popular media servers, click here.
Changes since 7.4.0:
General
Added animated Restart Server button when a restart is needed to apply a new setting (thanks, Nadahar!)

Added hover and push effects to buttons (thanks, Nadahar!)

Added Docker build files (thanks, atamariya!)

Added ability to specify supported framerates in renderer configs (thanks, Nadahar!)

Improved support for Windows XP (thanks, Nadahar!)

Improved support for DFF, DSF, MP4 and WAV files (thanks, Sami32!)

Updated the GUI for FFmpeg options

Fixed duplicate hardware acceleration options

Fixed the state of scan buttons while startup scan is running

Fixed the display of the web interface on Safari

Fixed MEncoder not transcoding to H.264 on macOS​

Fixed a lot of minor bugs
Languages (translations updated via Crowdin)
Chinese Simplified translation completed

Czech translation completed and validated

Portuguese (Brazilian) translation updated

Slovak translation updated

Spanish translation completed
Renderers
Added detection of more Samsung mobile devices (thanks, Sami32!)

Improved support for Onkyo audio receivers

Improved support for Samsung UHD (4k) TVs (thanks, SurfaceS!)

Improved support for Samsung Galaxy Note Tab (thanks, Sami32!)

Fixed FLAC playback on Xbox One (thanks, 25233Guyver!)
Dependencies:
Updated Maven Assembly plugin to 3.1.0
Updated Maven Compiler plugin to 3.7.0
Updated Maven Enforcer plugin to 1.4.1
Updated Maven Findbugs plugin to 3.0.5
Updated Git Commit ID plugin to 2.2.3
Updated gson to 2.8.2
Compatibility notes: These releases work on all versions of Java 7 onwards. The Windows releases work on Windows Vista onwards.
Download: Universal Media Server 7.5.0 | Other Systems | 82.6 MB (Open Source)
View: Universal Media Server Website
Get alerted to all of our Software updates on Twitter at @NeowinSoftware