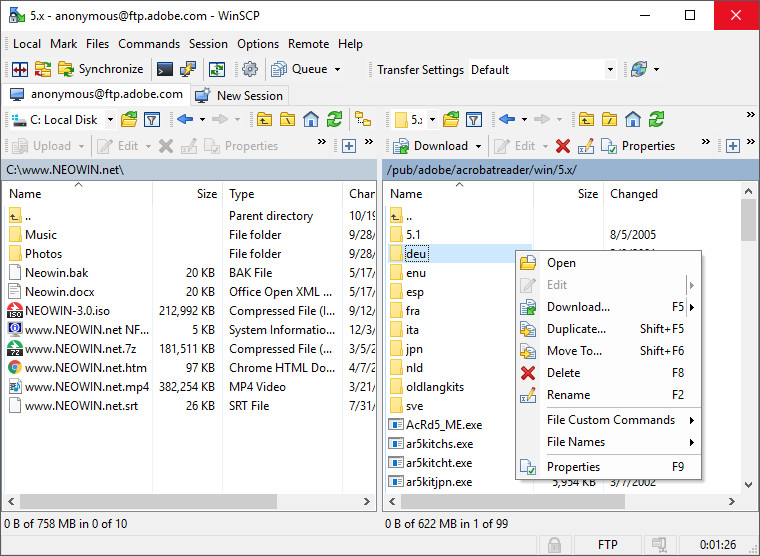 WinSCP is an open source free SFTP client, FTP client, WebDAV client and SCP client for Windows. Its main function is file transfer between a local and a remote computer. Beyond this, WinSCP offers scripting and basic file manager functionality.
WinSCP features:
Graphical user interface
Translated into several languages
Integration with Windows (drag&drop, URL, shortcut icons)
U3 support
All common operations with files
Support for SFTP and SCP protocols over SSH-1 and SSH-2 and plain old FTP protocol
Batch file scripting and command-line interface
Directory synchronization in several semi or fully automatic ways
Integrated text editor
Support for SSH password, keyboard-interactive, public key and Kerberos (GSS) authentication
Integrates with Pageant (PuTTY authentication agent) for full support of public key authentication with SSH
Explorer and Commander interfaces
Optionally stores session information
Optionally supports portable operation using a configuration file in place of registry entries, suitable for operation from removable media
WinSCP 5.15.3 changelog:
Back-propagated SSH security fixes from PuTTY 0.72:
Integer underflow parsing SSH-1 packet length. vuln-ssh1-buffer-length-underflow
Buffer overflow in SSH-1 if server sends two tiny RSA keys. vuln-ssh1-short-rsa-keys
Windows Pageant client code does not check response length field. vuln-win-pageant-client-missing-length-check
SSH private key tools (PuTTYgen and Pageant) upgraded to PuTTY 0.72.
Using recommended sizes of icons when installed from Microsoft Store. 1754
XML parser upgraded to Expat 2.2.7.
Translations updated: Hungarian, Simplified Chinese and Spanish.
File panel incremental search can be disabled using raw configuration setting. 1742
Retrying deleting fake temporary folder created when pasting remote files to Windows File Explorer. 1765
Bug fix: With every start on a monitor with different DPI than the primary monitor, dimensions of the window and some of its components change slightly. 1750
Bug fix: Speed limit does not work with S3 protocol. 1755
Bug fix: Site folder loses names of its sites. 1756
Bug fix: Compare Files extension cannot handle paths with spaces. 1760
Bug fix: Local recycle bin is unintentionally scanned, slowing down browsing. 1761
Bug fix: .NET assembly debug log file timestamps shows as GMT, while they are actually local times. 1762
Bug fix: Cannot upload files over 50 GB to S3. 1764
Bug fix: When using a local custom command from Synchronization checklist window, opened from a command-line, the connection was closed.
Bug fix: When saving an edited site or default settings, WinSCP prompted for the master password, even when the site does not have any password to protect.
Bug fix: When opening a connection from a command-line, which does not have a local directory set yet, local panel is opened empty.
Download: WinSCP 5.15.3 | 9.4 MB (Open Source)
Download: Standalone Executable | 7.5 MB
Link: WinSCP Home page
Get alerted to all of our Software updates on Twitter at @NeowinSoftware