7 Days is a weekly round-up of the Editors' picks of what's been happening in the world of technology - written with a dash of humor, a hint of exasperation, and an endless supply of (Irish) coffee.

After the Windows 10 announcement, Apple launches and the rollout of Android 5.0 Lollipop, it's been a much more 'even' news week in terms of coverage, with no one company dominating the headlines. But it's still been another seven days packed full of speculation, official confirmations and intriguing new devices at very appealing prices.
Samsung announced a new version of its flagship Galaxy S5 handset this week. It refers to the Galaxy S5 Plus as the "world's fastest Android smartphone", with a 2.5GHz Snapdragon 805 chipset. However, the rest of the specs will be familiar to owners of the 'ordinary' S5, with a 5.1-inch Full HD (1920x1080px) Super AMOLED display, 2GB RAM, 16MP camera with 4K video recording, 16GB storage, 2800mAh battery and a dust- and water-resistant body.
OnePlus disappointed many last week when it shot down suggestions that it was considering launching a new Windows Phone. It wasn't, and it made that pretty clear, but the company is focusing on getting its One handset into the hands of more buyers. As anyone considering a OnePlus One knows, you need an invite in order to be able to buy the handset, thanks to its frustrating and idiotic 'invite system'.
However, as promised, the company announced this week that it will open pre-orders for the OnePlus One this Monday – but this being OnePlus, of course, there is a catch…
Amazon posted its latest quarterly financial report this week, and buried deep in the pages of figures, an interesting detail was uncovered. It turns out that Amazon took a $170m write-down on its Fire phone, which it announced in June, but which has turned out to be a spectacular consumer failure since going on sale in July.
The Fire phone has been widely panned across the tech industry as being little more than a seriously expensive, unpolished product scanner and personal tracker for Amazon's store and ecosystem, and its chances of success were limited even further by the decision to offer the device exclusively on AT&T in the US and O2 in the UK. So the Fire phone has been a complete disaster – and after the company announced major price cuts to the Fire phone last month, we don't think it's too unfair to say that literally everyone saw this coming.
Still, that Fire phone write-down is nowhere near as much as the $900m that Microsoft was forced to write down last year against the failure of its Surface tablets. But it looks like Surface's luck is changing.
This week, as part of its quarterly financial report, Microsoft disclosed a gross positive margin for its Surface line across the last fiscal quarter. In fact, Surface revenues leapt to $908m in those three months – a dramatic reversal of fortunes, which puts Surface in line to be Microsoft's next billion-dollar business.
Our friends in the UK may well be familiar with Bush, the electronics brand that has been a domestic favourite for video recorders, DVD players, Freeview boxes and other devices for many years. This week, Bush became the latest brand to launch its first Windows Phone, priced at just £69.95 off-contract, alongside a £129.99 Windows 8.1 tablet. Both devices are exclusively available at Argos.
Buyers on a budget in the UK are spoilt for choice at the moment, as Microsoft's new entry-level handset has fallen to its lowest price yet. The Lumia 530 is now available for just £49.99 at Carphone Warehouse on a new pay-as-you-go connection (although you will have to buy a £10 PAYG top-up as well). For those already on PAYG, the 530 can be picked up for just £29.99 – an astonishingly low price.
Those on O2 in the UK got some love this week, as the carrier began rolling out the latest OS version, Windows Phone 8.1 Update 1, to some of its devices. For now, the update is focusing solely on the Lumia 930, and will introduce features such as app folders on the Start screen, Internet Explorer 11 improvements, and official support for Cortana in the UK.
Microsoft rolled out an update to its Skype app on Windows Phone this week, and introduced a new feature which, for now, remains exclusive to its mobile OS. Windows Phone users can now open the Skype app and sketch a quick doodle or note on the screen, before sending it to a recipient. The update also comes with a few very welcome improvements that bring it in line with other platforms.
If you're not immediately familiar with Alcatel One Touch, you may remember them as the company to launch the first Windows Phone with a 64-bit processor – the Qualcomm Snapdragon 410 – earlier this year. The company's vice-president, Dan Dery, made numerous comments this week in an interview, including many praising Microsoft's efforts with Windows 10, such as the convergence opportunities that it will bring with one OS and one store for all classes of device.
However, he was also very firm on his position that Windows Phone's future success lies at the lower end of the market, and that that is where the platform should focus its efforts in order to grow. Dery said that he had heard his own comments echoed by carriers across the world. It is certainly telling that of the almost thirty new brands that have joined Windows Phone this year, virtually all of them are focusing on entry-level handsets.
Earlier this week, the first official indications began to appear of Microsoft's plan to phase out the Nokia name from its devices. It's been a slightly farcical situation recently, since everyone has known that Microsoft would ultimately give up the Nokia name (it was only licensed to use it for eighteen months after its takeover of the Nokia devices and services business was completed).
And yet Microsoft has remained tightlipped about its plans to drop the Nokia brand, and for some time, you often couldn't get a straight answer from Microsoft executives and reps about whether it was even happening, even while the company was launching its first MS-branded phone charger, and after launching three new Lumia handsets without at any point drawing attention to the Nokia logos on them.
But finally, this week, Redmond made its intentions clear, signalling the end of 'Nokia Lumia', with future devices becoming 'Microsoft Lumia'. An official device render confirmed that future handsets will carry the Microsoft logo – given how much everyone everywhere just loves Microsoft, that should go down an absolute treat. 
Microsoft will continue to use the Nokia brand for some years to come on its ultra-low-cost 'dumbphones', like the Nokia 130 that it unveiled in August.
Microsoft pushed out a 'critical' Windows Phone update this week, for those on its Preview for Developers program who are using the very latest OS versions ahead of their official public release. The update stated that "your phone will update automatically if you don't install" it by a certain date and time.  
Microsoft said that the update contains its "usual scope of fixes and improvements", but it also clarified that the update had been labelled as 'critical' so that Microsoft could perform a live test of its critical update infrastructure.
On Tuesday, Microsoft pushed out its first full update for Windows 10, with the release of a new Technical Preview build, pushing the latest version up to build number 9860. Along with the new build, Microsoft also introduced a new rapid-release cadence option, where users can opt in to receive newer but less stable OS builds more quickly.
Since the release of build 9860, more and more new features in Windows 10 have been coming to light this week, including:
Remember that you can easily find all of our in-depth Windows 10 coverage by bookmarking this page, and don't forget to follow us on Twitter @NeowinFeed so that we can keep you updated when we publish new articles.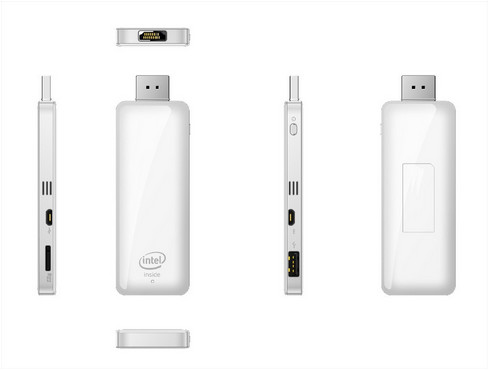 Windows 10 will be a converged OS for devices of all sizes and classes – from TVs and tablets, to phones, PCs, portables and wearables. But Windows 8.1 is pretty flexible too, and has been seen on all sorts of devices in recent months.
One of the latest is a new PC the size of a HDMI dongle, which can plug into a display, and squeezes in an Intel Bay Trail processor, 1GB RAM, up to 32GB storage, a memory card slot, Wi-Fi, Bluetooth 4.0, full USB, two microUSB ports and a HDMI port. All of this remarkably tiny goodness has gone on sale in China for just $110. Delicious.
Another similarly compact Windows 8.1 PC also went on sale this week: the forgettably-named ZOTAC ZBOX PI320. The device is about the size of a (very) chunky smartphone, and features an Intel Bay Trail processor with 32GB storage, along with 2GB RAM, HDMI and Ethernet ports and three full USB ports. The whole package is now on sale for as little as $194. Perhaps not quite as delicious as the HDMI mini-PC mentioned previously, but still reasonably tasty.
One of the more interesting new form factors that has sprung up in recent years is the convertible tablet with a fully adjustable hinge, most famously found on Lenovo's Yoga notebook range. Toshiba this week unveiled the Satellite Radius 11, which features a similar hinge, allowing the display to fold back 360 degrees to be used as a sort of big, very bulky and extremely heavy tablet.
With an 11-inch display, HDMI port, 32GB SSD and up to 4GB RAM, this $329.99 convertible may well find some appeal among those looking for something a bit different on a budget.
The dashboard of the Xbox One has been anything but different since its launch, with only minimal customization options available. But, as it recently promised, Microsoft has now confirmed that the November Update for its console will include support for custom backgrounds, finally allowing users to make their Xbox One feel a bit more personal.
On Tuesday, Microsoft's new Digital TV Tuner for the Xbox One, which it first announced in August, finally went on sale in the UK and parts of continental Europe. Priced at £24.99 in the UK and €29.99 elsewhere, the device can take a coaxial input from free-to-air TV services – like Freeview in the UK – and integrate it with the Xbox One's features, including the OneGuide EPG, Kinect voice support, and SmartGlass features, such as streaming live TV to smartphones and tablets.  
Xbox Video got an update on Windows Phone on Friday, but the more significant news had actually been announced by Microsoft on the day before. The company revealed that it will discontinue its free ad-supported Xbox Music streaming service in December, meaning that Xbox Music will now be available exclusively for those that pay a subscription.
But over in China, Xbox owners – as well as users of other Microsoft and Apple services – will need to keep a close eye on their credentials. It emerged this week that the Chinese government has been redirecting users to fake websites that look identical to their real Apple and Microsoft counterparts, in a phishing scam that attempts to gain access to these users' accounts. It's particularly interesting that these efforts to target these users comes in the wake of the launch of the Xbox One and iPhone 6 in China.
The Chinese government, it seems, really wants to know who's beating it at Titanfall and Words With Friends.

Image credits: 1) Samsung; 3) Amazon; 5) Bush; 11) Microsoft; 14) aliexpress; 15) ZOTAC; 16) Toshiba; 18) Microsoft