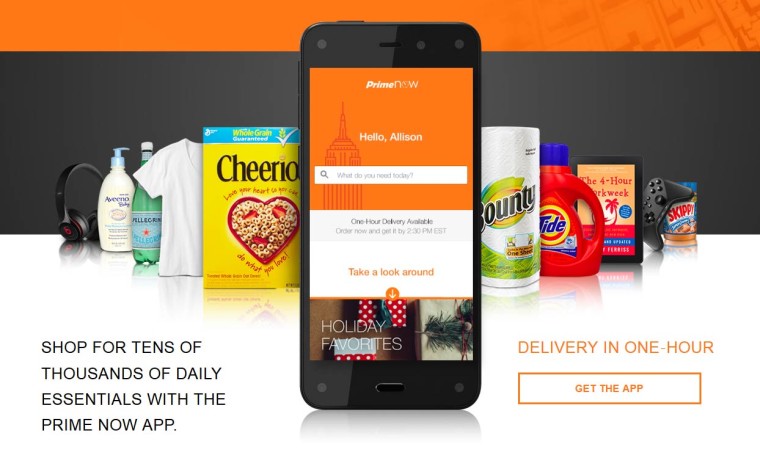 Amazon has launched a super speedy delivery service for its Prime members called Prime Now. The roll out of the service starts in Manhattan today, offering one-hour delivery "on tens of thousands of daily essentials". Amazon Prime members in this part of the Big Apple can now use a mobile app to select and buy urgent essentials such as paper towels, shampoo, books, toys and batteries – delivered to their doors with great haste; the service runs from 6am til midnight, seven days a week.
Explaining the need for this swift delivery service, Amazon senior vice president of worldwide operations, Dave Clark, said "There are times when you can't make it to the store and other times when you simply don't want to go. There are so many reasons to skip the trip and now Prime members in Manhattan can get the items they need delivered in an hour or less." Clark went on to boast of the improvement to Amazon Prime's subscriber offering and told us that the company will be pushing out the one-hour delivery service to "additional cities" in the coming year.
Two hour delivery is free; one hour delivery costs $7.99
Amazon Prime members don't necessarily have to fork out extra fees to benefit from Prime Now. All it requires, apart from geography, is the Prime Now app for Android or iOS. Interested Prime subscribers in other areas/cities can even download the right app now and be notified when the Prime Now service becomes available to them.
Unfortunately the speediest on demand delivery isn't free, even for the paying Amazon Prime subscribers. For items you are really desperate for – within the hour – a fee of $7.99 is charged. However, slightly more patient or thrifty folk can get free two-hour delivery.
Source: BusinessWire via Liliputing |Images via Amazon