Six and a half months ago, Google officially launched Android 6.0 Marshmallow, beginning its rollout to several of its Nexus devices. BlackBerry said in November that the Priv - its one and only Android handset, which has continued shipping with Android 5.1.1 Lollipop onboard since then - would be upgraded to Marshmallow sometime this year.
The company began its Marshmallow beta program earlier this month, and said it would last "4-8 weeks", but today, it announced that the update is now officially available.
Amusingly, BlackBerry described itself as "an early Marshmallow adopter", despite half a year having passed between the release of the OS and its arrival on the Priv. The company justified that claim by pointing out that just 4.6% of Android devices are running Marshmallow so far.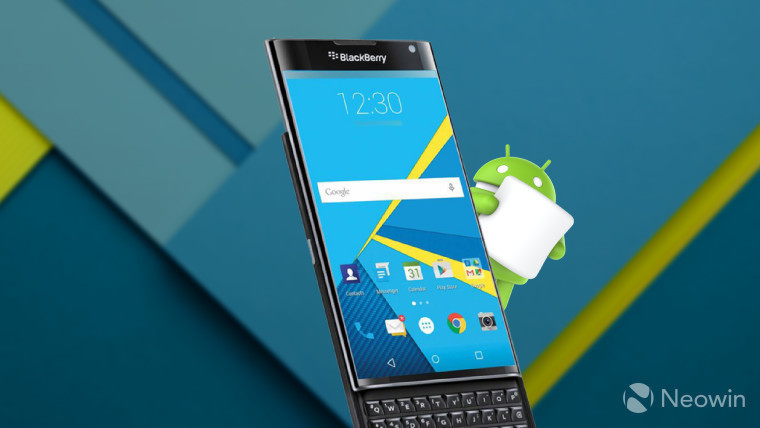 BlackBerry says that its update offers "more ways to monitor and control your privacy and better protect [the device] from malware, hacks and data breaches", including:
Customized Personal Data Permissions – Apps demand access to personal data, even when it's not necessary for the app to function properly, but DTEK now gives you the power to control what to share and when. You can turn permissions off at any time and still continue to use the app.
Clearer Notification Settings – You'll only see notification controls for sensors that an app has specifically requested access to. For example, if an application doesn't request microphone access, it will not appear in the list.
S/MIME Support – The new S/MIME feature in BlackBerry Hub lets you digitally sign and encrypt your emails, adding another level of security to your communications.
The Priv's slide-out keyboard - which includes capacitive touch support - has also gained new features, such as additional gestures, better cursor control and improved word prediction, along with new emoji.
Along with battery performance enhancements, there are other improvements too:
Mute Indicator – See the phone's mute status at a glance via the floating phone indicator that appears when a call is active. You'll see yellow when your call is muted and green when it isn't.
New Apps in BlackBerry Hub – Now view notifications from even more of your favorite social media apps – including Instagram, Skype, Slack and Pinterest – directly in BlackBerry Hub to easily manage all your messages in one place.
Updated BlackBerry Launcher – Better organize apps and widgets into Recent, Personal and Work sections, and you can set a default home screen, delete a home screen and remove apps with a flick.
BlackBerry also says that it's made improvements to the camera, allowing users to record videos at 24 frames per second (fps) in 4K, 1080p or 720p resolutions. Slow-motion video capture is also available, so that videos can be recorded at 120fps and played back smoothly at 30fps.
The update is beginning to roll out today for unlocked Privs, and BlackBerry says that it is "coming to all major carriers" starting May 3.
You can find out more about BlackBerry's Android 6.0 update for the Priv in the video below:
Source: BlackBerry