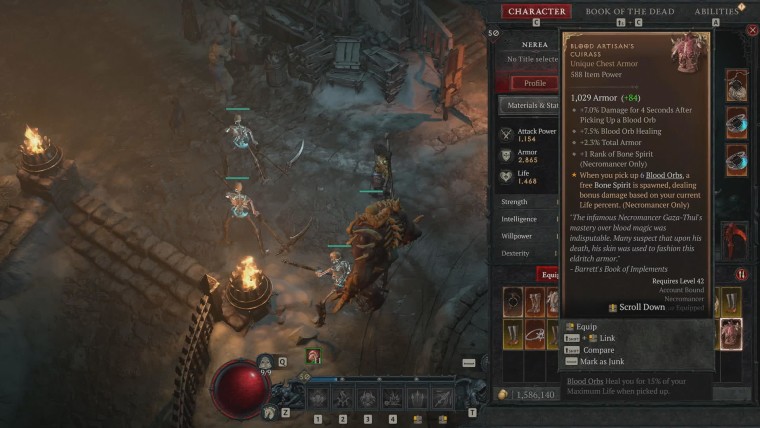 We have been waiting (and waiting) for another PC game to announce it would add support for Microsoft's DirectStorage feature, and now it looks like it will be Blizzard's hit action-RPG Diablo IV.
PC Gamer got a quote from an unnamed member of the game's development team, who stated:
MS DirectStorage is currently not enabled, but we are planning on enabling it in the future.
The DirectStorage API was first revealed for Windows back in March 2022. It used technology that was first developed for Microsoft's Xbox consoles that used SSDs for storage. The idea was that Windows game developers could also access features for its titles with PCs that had SSDs, which would result in faster loading times, more frames per second and overall better performance.
Right now, the only PC game that supports DirectStorage is Square Enix's Forspoken. The PC version launched in January 2023, which included its support only for Windows 11- based PCs. Post-release info showed that at lower 1080p resolutions, the game ran at a much higher frame rate compared to PCs without the DirectStorage feature.
Recently Microsoft launched DirectStorage 1.2 which added, among other things, buffered IO mode. This would allow DirectStorage games to use old-fashioned hard drives as well as SSDs for improved game performance.
Hopefully, when Diablo IV adds DirectStorage support in a future update, it will take advantage of the new 1.2 version's new feature for hard drives and SSDs. We would also hope that we will get more games that will include support for this feature now that it will work on a wider variety of PCs.
Besides Diablo IV, the only other game that has indicated it will support DirectStorage in a forthcoming update is Crytek's Hunt: Showdown. That's because the game will get a major engine update to CryEngine 5.11, which will also add support for DirectX 12 and more,