At Computex today, AMD took to stage to share some of the details on its highly anticipated FidelityFX Super Resolution (FSR) technology. AMD's FSR is an image upscaling technique similar to Nvidia's Deep Learning Super Sampling (DLSS) but doesn't require dedicated Tensor cores. In fact, Team Red announced today that its FSR is available to all AMD GPU users from the Polaris based-RX 500 series up to the latest RDNA 2- based Radeon RX 6000 series GPUs. The supported list also includes integrated Vega graphics. Oddly, the RX 400 series GPUs are missing out even though it is essentially the same architecture as its succeeding 500 series cards.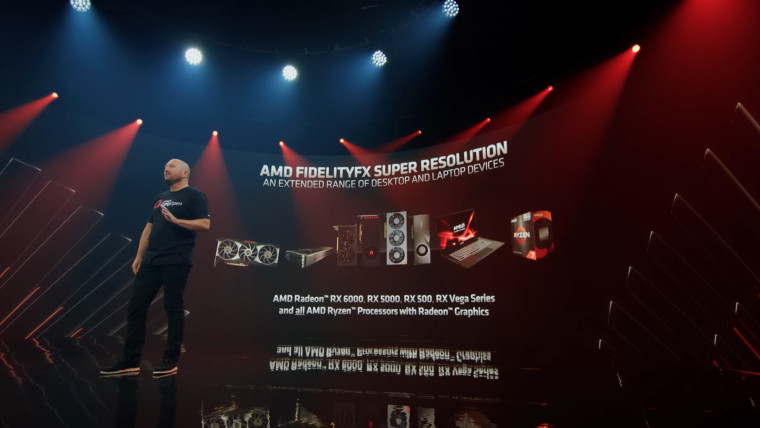 When it comes to the performance, AMD provided some numbers for the action RPG looter-slasher Godfall. According to AMD's performance numbers, FSR could provide more than three times the performance over native resolution using the Performance preset. Talking about the presets, there are in total four different FSR presets that gamers can choose from. They are:
Ultra Quality
Quality
Balanced
Performance
As is evident from the name, the Ultra Quality offers the highest-fidelity image while the others sacrifice more fidelity in order to provide a higher framerate. That said though, even the Ultra Quality mode promises to offer close to a 60% improvement in the FPS output over native.
Also unlike Nvidia's DLSS, AMD's image upscaling tech will work with GeForce cards as well, including non-RTX ones. The company demoed Steam's most popular graphics card, the Pascal-based GTX 1060 running FSR, and it gets up to a 41% improvement using the 1440p Epic preset.
It was anticipated that AMD's FidelityFX Super Resolution will be arriving with its mega yearly driver update, but as we know, that did not happen. The wait is almost over though as the company has finally announced an arrival date for FSR today. The technology will be launching on June 22nd this year.
The company is asking gamers for feedback on the games they wish to see FSR in. For developers interested in FSR, AMD has announced that more information including source code and such will be made available on the GPUOpen website very soon.
Source: AMD