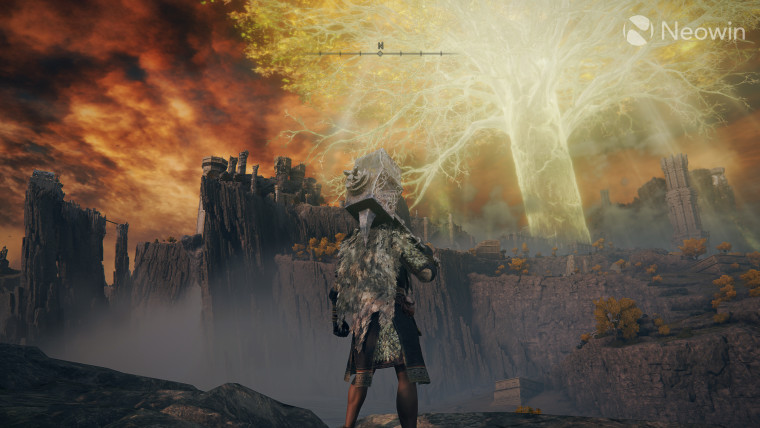 Elden Ring is a staggering achievement and features a complex open-world setting. The title combines Dark Souls-like combat with unprecedented exploration in a game of this scale. While Elden Ring runs smoothly on PC with a wide range of customizable settings, it has a few issues on Xbox Series X.
Elden Ring allows you to Prioritize Frame Rate or Resolution. However, there are subtler changes in both modes. When you select Prioritize Resolution, the game renders at 4K resolution and 30 frames per second (FPS). However, the lighting appears to receive an upgrade as well. Shadows are more pronounced and the game looks better in general. If you want to record footage or take screenshots, you want to choose Prioritize Resolution because Elden Ring looks absolutely stunning when this option is selected.
When you switch the game to Prioritize Frame Rate, the title appears slightly blurry and the lighting quality takes a hit. The resolution is lowered so that Xbox Series X can render Elden Ring at 60 FPS. Unfortunately, the game only hits 60 FPS once in a while. In reality, Elden Ring hovers around 50 FPS. This is disappointing, to say the least, but the increased frame rate – even though it's not stable – allows for a more responsive experience. This is of paramount importance because Elden Ring requires a lot of last-minute dodging and precise movements.
Even when you venture into Legacy Dungeons, traditional Dark Souls-like levels, the performance is the same. Developer FromSoftware needs to issue a patch to fix this. However, it's not frustrating because the gameplay is stellar and somewhat forgiving if you have enough healing potion handy.
In his review of Elden Ring, my colleague Pulasthi Ariyasinghe said the following.
Considering the secrets FromSoftware has hidden in earlier games, I am expecting entire dungeons and hidden lands to be discovered by the fanatical community in the months to come, keeping me attached to this masterpiece for even longer. I can't remember the last time a game reached the absolute peak of hype levels seen for Elden Ring, and somehow FromSoftware has delivered on it.
Hopefully, the team will issue a patch soon because it'll make a near-perfect game even better. Aside from some minor texture pop-in, I haven't come across any major problems during my 40 hours with Elden Ring. It's a triumph for open-world games and every Xbox Series X owner should pick it up if you enjoy challenging adventures.
---
Elden Ring launched on February 25, 2022 for PC, Xbox One, Xbox Series X|S, PlayStation 4, and PlayStation 5 for $59.99. You can purchase the game on the Xbox Store or the platform of your choice.
Bandai Namco Entertainment provided a review code for Elden Ring. The game was played on Xbox Series X.