HMD Global has announced a fairly wide range of new products at IFA in Berlin, including, of course, smartphones. Some of the devices were expected if you've followed the rumors, but others were somewhat surprising.
The highest-end model announced today is the Nokia 7.2, which, as you'd expect, is the successor to the Nokia 7.1. It's powered by a Qualcomm Snapdragon 660 chipset, has either 4GB or 6GB of RAM, and 64GB or 128GB of storage with microSD card support. It has a 6.3-inch Full HD+ display (2280x1080) with HDR support and real-time conversion to HDR. It has a waterdrop notch, which is much smaller than the one on the Nokia 7.2. There's a 3,500mAh battery that Nokia should last up to two days on a charge.
The phone ships with Android Pie, but it shouldn't take long for Android 10 to be released. There's also a dedicated Google Assistant button, which HMD has been adding to more of its phones this year.
The highlight of the Nokia 7.2 is the rear camera setup, which is comprised of three sensors. The main shooter is a 48MP sensor with Quad Bayer technology, a 5MP depth sensor, and an 8MP wide-angle camera. The setup is ZEISS-branded, and HMD says the phone will offer "DSLR level" bokeh styles in portrait mode. It also lets users blur either the foreground or background of a picture.
It'll be available in two variants, one with 4GB of RAM and 64GB of storage, and another one that bumps the RAM up to 6GB, costing €299 and €349, respectively. It's unclear if the model with 128GB will be available in other markets. It'll be available from the end of September and come in one of three colors: Cyan Green, Charcoal, and Ice.
Then there's the Nokia 6.2, which is powered by a Snapdragon 636 chipset, either 3GB or 4GB of RAM, and between 32GB and 128GB of internal storage. The display and battery are essentially the same as the ones on the 7.2, and there's still a triple-camera setup, but the 48MP sensor is replaced by a 16MP one, and it's not ZEISS-branded, so the DSLR bokeh features aren't present.
Just like the 7.2, it ships with Android Pie and has a Google Assistant button. In Europe, it'll only be available in 3GB/32GB and 4GB/64GB models, costing €199 and €249 respectively. Again, it's unclear if the 128GB model will be available elsewhere. The phone will be available in October and come in Ceramic Black and Ice color models.
Moving on from smartphones, HMD Global announced its first "military-grade" phone, the Nokia 800 Tough. It's rated IP68 for water and dust resistance and it's also compliant with the MIL-STD-810G, so it's also shock-resistant and should be able to withstand extreme temperatures. It has a safety loop so you can strap the phone to anything else, a 2100 mAh battery that can last up to 43 days on standby, and a loudspeaker capable of up to 103 phons of loudness.
It's powered by Qualcomm 205 chipset and has 4GB of internal storage and 512MB of RAM. It has a 2.4-inch display and it's running KaiOS, so it has some apps like the Google Assistant, Facebook, and WhatsApp. It'll be available in early October for €109.
Another new feature phone is the Nokia 2720 Flip, another one of HMD Global's reimagined classics that now has 4G support. The internals are very similar to that of the Nokia 800 Tough, except the battery, which is just 1500mAh and should last up to 28 days on standby.
The outside is significantly different, being a flip phone design with a 2.8-inch display on the inside and a 1.3-inch panel on the outside to display the time. It has an emergency button, which will not only send a message to a selected contact, it will ring five contacts chosen by the user until it makes a connection to an emergency contact.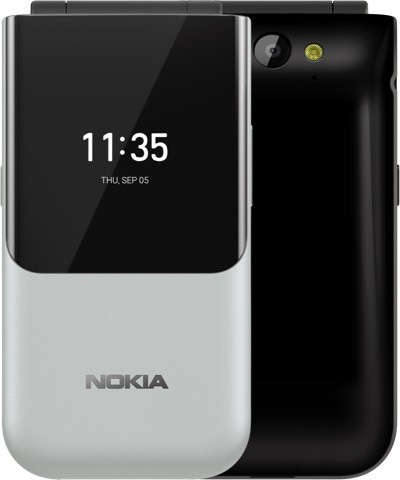 The Nokia 2720 Flip will be available this month in Ocean Blue, Black, and Pink for €89.
Finally, HMD introduced another ultra-low-end feature phone, the Nokia 110. It has a 1.77-inch display QVGA display, a QVGA rear camera, an FM radio, an MP3 player in case you want to insert a microSD card. The 800mAh battery should last up to 18 days on standby.
It'll be available in mid-September in Ocean Blue, Black, and Pink, and cost $20 around the world.
Aside from smartphones, HMD announced a pretty interesting set of true wireless earbuds. The Nokia Power Earbuds last 5 hours on a single charge, but they come with a massive 3000mAh charging case, which Nokia says can charge the earbuds a whopping 30 times over, adding up to 150 hours of playback time.
They'll be available in Charcoal Black and Light Grey and cost €79 when they launch in October.