I've reviewed Huawei's last few smartwatches, starting with the Watch 2. I hated it. It was big and bulky, it was over half an inch thick, it had massive bezels, and it didn't even have 4G LTE in the U.S. to try and make up for some of these issues. Then came the Watch GT, which ditched Android Wear (now Wear OS) in favor of Huawei's custom LiteOS, and in exchange for giving up some features, it promised two weeks of battery life. It also had smaller bezels, a thinner chassis, and was more comfortable to wear.
The Watch GT 2, which I reviewed last November, was the one that I really fell in love with. For the most part, it's been my go-to smartwatch on any platform. It kept the two weeks of battery life, but it added local music playback and an always-on display. What really won me over, however, was a more refined design. Gone was the raised bezel, as it was replaced by an all-glass top with angled edges. If you put the Watch 2, Watch GT, and Watch GT 2 next to each other, you can see how the design evolved; if you put the Watch 2 and the Watch GT 2 next to each other, you probably wouldn't even know they were made by the same company.
And now the Watch GT 2 Pro is here, as it was announced earlier this month. It further refines the design to make it a bit sexier, and it adds a few key features. While it seems minor, wireless charging is here, and it adds some workout modes like the driving range.
Specs
Body

46.7x46.7x11.4mm, 52g

Display
1.39 inches, AMOLED, 454x454
Storage
4GB
RAM
32MB
Processor

Kirin A1 + STL4R9

Battery life
14 days for typical use
Water resistance
5ATM
Material
Titanium + Sapphire glass
Colors
Nebula Gray, Night Black
Sensors
Accelerometer sensor
Gyroscope sensor
Geomagnetic sensor
Optical heart rate sensor
Ambient light sensor
Air pressure sensor
Capacitive sensor
Price
€349

Day one
Design and display
The Watch GT 2 Pro is made out of titanium instead of stainless steel this time around, and it's quite a bit heavier. Instead of 41g, it's 52g, so that's about 25% heavier. It's worth it though. One thing I noticed when I took off the Watch GT 2 and put on the Watch GT 2 Pro is that something about it felt more comfortable. The build feels solid, and the silicone strap feels nice.
The color of the model that Huawei sent me is called Night Black, and it also comes in Nebula Gray. Honestly, if I didn't check the color labeled on the box, I would have guessed that this one was Nebula Gray, mainly because very little about this product is actually black. It comes in a silver titanium casing that makes it look a bit more sophisticated than the traditional black case.
In fact, this is one of the few smartwatches that people (non-techies) have commented on. In fact, the last product that that happened with was the Huawei Mate 30 Pro, so it's worth pointing out that Huawei's designs catch eyes.
Obviously, the bezel around the round screen is black. Like the Watch GT 2, it does have an all-glass top cover without any raised glass, but the angled edges are less pronounced. The tapered edges of the glass are a bit more subtle, and it comes off nicely.
The bottom of the device is made out of ceramic instead of plastic, and while you'll still find the heart rate sensor down there, there's one thing that you won't find: charging pins. Yes indeed, the Watch GT 2 Pro finally has wireless charging. The thing that I hate so much about pin charging is that after wearing the device for a certain amount of time, those pins can get dirty, making charging a pain. With wireless charging, that's not an issue, and I'm glad to see the feature make its way to the Watch GT lineup.
The screen is AMOLED, and it's hard to see where it ends and the bezels begin. That's part of what makes the watch faces look so sleek. As I mentioned, Huawei did introduce an always-on display with the Watch GT 2 (it was back-ported to the Watch GT as well), but unfortunately, it still has limitations. If you try to turn it on, it warns you that your battery life will be cut in half, which is fine, but it also says that raise to wake will be disabled. In other words, you have to choose between raise to wake and an always-on display, which isn't cool.
LiteOS and battery life
Let's talk a bit about LiteOS, which is Huawei's smartwatch operating system that gives us those weeks of battery life. Actually, speaking of the battery life, 14 days hasn't been entirely accurate in my experience, with any Watch GT model. My experience is more like 10 days, which is obviously still way more than you'll get with anything else. Naturally, I use it for workouts and such, so GPS kicks on.
I also never have to let it get close to running out of battery. If I throw it on the charger while I hop in the shower for 20 minutes, that gets me two or three days of usage. Battery life is just so not a concern with this thing, and when you get to a point like that, you start to think lately. For example, I was able to go on vacation and not bring a smartwatch charger with me. I didn't even have to consider it.
LiteOS does what it does out of the box. There's no app store, like you'd find on a Wear OS watch or one of Samsung's Tizen-based watches. But a smartwatch is a personal thing, and you have to decide what you want from it. It's not like a smartphone where I can just point you in the direction of the device that does all of the things best. Obviously, Wear OS and Tizen have better app ecosystems.
But LiteOS is better at other things, mainly battery life and fitness. It also supports local music playback, as I mentioned above. I don't use it though, as it doesn't work well when you use a subscription music service.
Huawei also got a lot better at displaying notifications. In previous generations, I noticed a lot of strange text-wrapping issues, where words would be cut off and part of them would be on the next line. That seems to be fixed. I also absolutely love the way that the Huawei Health app handles notifications.
By default, they're all turned off. This is good, because notifications are a bad product. I can't stand it when I set up some new Wear OS watch and I start getting notifications on my wrist that I'd normally ignore on my phone. For example, I might start getting notifications that a photo is syncing to OneDrive, something that I can easily ignore on my phone, but feels annoying and intrusive on my wrist.
In Huawei Health, you just go through the list of apps and check off the ones you want to receive notifications from. This is contrary to how most other things work, where you have to uncheck apps that you don't want to receive notifications from.
Like I said, the two areas where I think LiteOS beats its competition are battery life and fitness. Honestly, I think Wear OS is awful for fitness, as I'm not a fan of Google Fit. I've always been a fan of Huawei Health.
One other thing that I absolutely love about LiteOS is that unlike with most smartwatch platforms, Huawei's watches let you switch between phones without having to do a factory reset. With the Watch GT 2 Pro, you can disconnect from a phone and reconnect to another without losing your fitness data.
Huawei Health and fitness features
As I mentioned, everybody uses smartwatches differently, as they're extremely personal devices. While I've always thought that Huawei Health was one of the better fitness services, I've never looked at fitness tracking as a top feature in a smartwatch for me. For me, it's about reliable notifications, battery life, and style.
But times have changed. Many of us are stuck working from home, and we're not as active as we once were. Our local gyms are closed, and we're gaining weight. Suddenly, fitness tracking is a feature that I care about greatly, because it just became a lot more important. If a smartwatch can be more proactive toward a user's overall health, helping them to stay healthy while being stuck at home and not needing special equipment, I'm all for it.
Huawei Health is really good at fitness tracking. As you can see from the image above, you can track your exercises, and the watch has GPS so you can see where you went. It also provides pretty detailed analytics.
There's one thing that I absolutely can't stand, and I haven't figured out a way to fix it - if there is a way. The Watch GT 2 Pro has these annoying voice prompts when you're using it for exercise. When you turn on exercise mode, it yells out, "Workout started". It gets worse though. After you go a mile, it tells you that you went a mile, what your pace is, what your heart rate is, and more.
Not only is this annoying, but it's flat-out embarrassing. If you're working out with people around, it's just awful. It gets worse. The watch has a 'Running Courses' workout option, and this thing doesn't shut up. Sure, you might be working out with headphones on like everyone else does, but guess what; that just means that the watch is yelling at everyone around you. Of course, if you're listening to music locally stored on the watch with headphones paired to the device, it will still yell at you. Personally, I use a streaming service, so my headphones are paired with the phone.
There might be a setting that I'm missing, because, for a simple device, settings are actually pretty complicated. There's the regular Settings app on the device, and then there are workout settings that you can get to by tapping the gear icon next to the workout. But that's not all, because both of those things exist in the Huawei Health app, and may have different options. One of our senior editors, João Carrasqueira, who reviewed the Honor Watch GS Pro (a similar product), suggested turning off the one-mile reminders in the workout settings, but this didn't work for me either.
At this time, I'm also reviewing the Huawei Watch Fit. It seems like this device has the solution, because there's actually no speaker.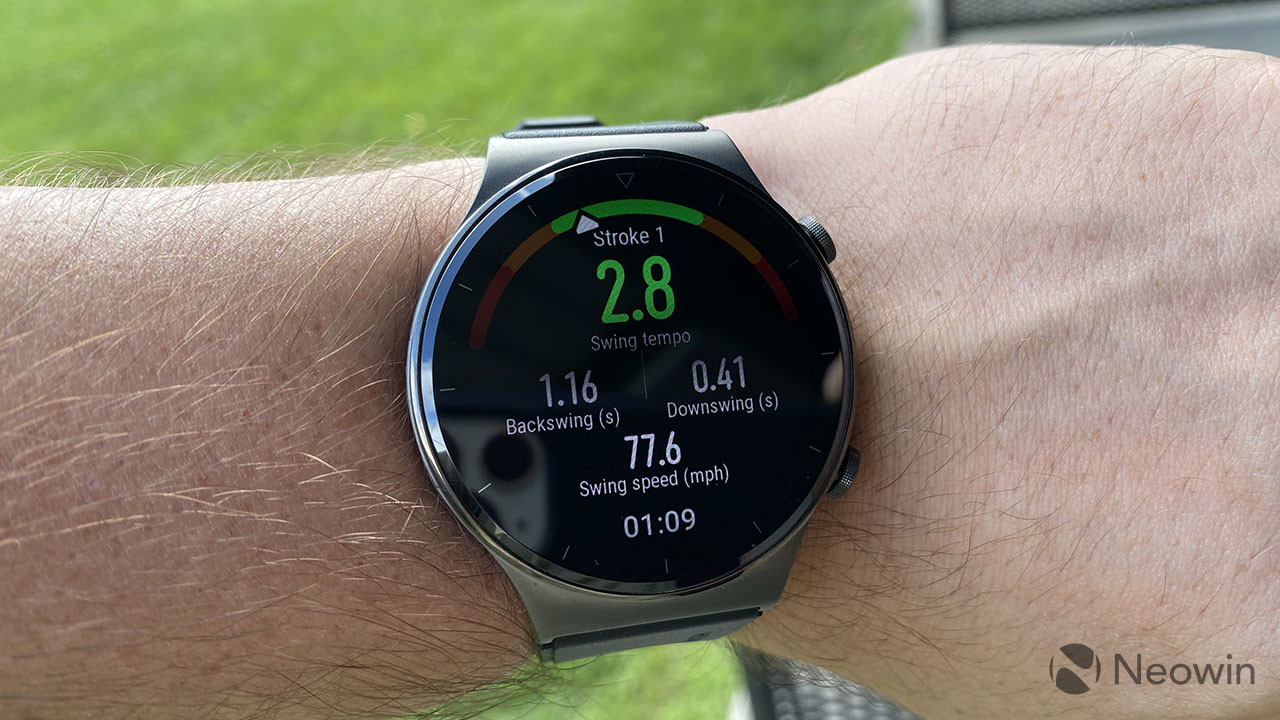 One new feature on the Watch GT 2 Pro is support for the driving range. It measures your backswing, your downswing, and your swing speed. One thing I found interesting is that it seems smart enough to know if I've hit the ball or not.
As usual, it does sleep tracking. Huawei does sleep tracking better than most though. For one thing, it's automatic, so you don't have to set sleep times like with an Apple Watch, or even worse, turn it on manually. Moreover, Huawei actually provides insights into your sleep, and how you can improve various aspects of it.
The Watch GT 2 Pro also tracks stress, which I guess is nice. It's never told me that I have high stress, not that I feel like it should.
The fitness tracking aspects of the watch are awesome. Given that I recently found myself caring about fitness tracking, I find myself caring more and more about Huawei's wearables. I just wish I could find a way to turn off that damn voice.
Conclusion
When I wrote the title for this review, I said it's the best smartwatch that you can use with an Android phone. Personally, this is my smartwatch of choice with an iPhone as well, but to be fair, there's stiff competition from the Apple Watch. No one is disputing that.
I've got two main gripes with the Huawei Watch GT 2 Pro. One is that you have to choose between the always-on display and raise to wake. I want both, like I can get with any other smartwatch. The other thing is the voice prompts when working out, which is incredibly annoying, frustrating, and embarassing.
But this is just a great smartwatch; it's my favorite smartwatch. The Watch GT 2 Pro gets weeks of battery life. You don't even have to consider if there's enough juice left to do a software update. Battery life just isn't something that you have to think about. Like I said, I just throw it on the charge for 20 minutes while I'm in the shower.
The other thing that's nice is the Huawei ecosystem. This was paired with a P30 Pro, and I was using FreeBuds 3 for headphones. Everything just works seamlessly together.
It also does exactly what I want a smartwatch to do. It handles notifications on an opt-in basis instead of an opt-out basis, and it tracks fitness really well. Like I've said, fitness tracking is something that I find myself caring more and more about. I'm looking for platforms that can be more proactive in helping with wellness.
The Huawei Watch GT 2 Pro, combined with Huawei Health, does just that. You can check it out on Amazon here.
As an Amazon Associate, Neowin may earn commission from qualifying purchases.
Pros
Crazy battery life Gorgeous design Huawei Health Wireless charging
Cons
AOD turns off raise to wake Annoying voice prompts