Introduction
For years, LCD panel technology has dominated the market. There are 3 core panel types with the technology, IPS, VA, and TN. I won't go into the ins and outs of each one, but to give you an idea, IPS panels are what you will find in the majority of LCD TV sets on sale today. TN is often found on entry level models, with VA being the middle ground. IPS offers the best image quality of the three.
So where does OLED fit in if IPS-LCD panels are so good? Here's where things can get a little confusing when browsing online or in the high street for a new TV.
LCD displays output their image through a panel illuminated by a backlight. Almost all LCD TVs today have an LED backlight that illuminates the entire panel. OLED displays do not have a backlight in this fashion, each pixel on an OLED panel has its own light source. When you display a black image on an area of such a display, those OLED pixels are essentially off, which results in unrivaled black levels.
Some LCD TVs have localised dimming technologies, where certain areas of the panel are shut down, but the feature isn't as effective as OLED, naturally.
The confusion comes into play when you read the titles and descriptions of LED backlit displays in stores. Manufacturers often like to call them LED displays instead of LED backlit displays. So hearing someone say they just bought an "LED TV" when it's actually an LCD, is not uncommon.
Today I am going to review LG's 65" OLED offering, the 65EG960V, which was very kindly sent to me by LG Korea.
Over the last few weeks I've noticed this model drop from £5000 (~$7500) online, to £3600 (~$5400). A considerable price reduction. I initially had reservations about the original price, as £5000 is what many would consider very expensive. You could buy a brand new Dacia Sandero for almost £100 more!
The revised price indeed makes it more affordable, as well as competitive. At the time of writing, the only other 65" OLED TV I can find on sale is from Panasonic, and while it is better specced, it costs £8000 ($12000).
Specifications
Panel type
Curved OLED
Size / Resolution
65" / 3840 x 2160 @ 60Hz
3D
Yes (Passive type, glasses included)
4K Upscaling
Yes
Speakers
Built in Harman Kardon speakers (10W+10W, 2 way 4 speaker config)
Inputs

2x RF, SCART , Component, Composite, PC audio, 2xUSB 2.0, 1xUSB 3.0, 2xHDMI (4K), 1xHDMI,

Outputs
3.5mm headphone, Digital (coax), Digital (optical)
DVR support
Yes, via USB drive
SmartTV OS
WebOS
Set-top box control over HDMI
Yes
Freeview Digital TV tuner & guide
Yes
Wireless Display
Yes, Miracast, WiDi, Bluetooth, Remote app
Connectivity
Wireless (2.4GHz/5GHz), Bluetooth, Simplink, WiFi Direct
Wall mounting
Yes
Dimensions (WxHxD)

Without stand: 1447 x 826 x 49.9 (mm)
With stand: 1447 x 884 x 237 (mm)

Weight
Without stand: 20KG
With stand: 25.1KG
First impressions
When the delivery men rocked up with the box, I was amazed at how big it was. The box is so substantial I have to flat pack store it under a bed!
The instructions on the ideal way to take the TV out of the box and assemble the stand were quite clear and everything assembled without issue. A cross head screwdriver is all that is needed to affix the stand to the base of the panel via 4 screws.
Once the stand is mounted, the bracket area is covered up by a plastic panel that attaches via Velcro strips.
Word of warning, the stand is 5.1KG, but feels quite a bit heavier due to its size and shape. once screwed on, it is very secure and I had no doubts with its abilities to keep a 65" display upright.
Sadly, there is no adjustment available, it would have been nice to see at least a pan or tilt feature.
The rear of the panel is covered in a white diamond pattern, I don't know if it's frosted glass, a metal or some heavy plastic, it feels solid whatever it is though. A nice touch, even if nobody is ever going to see it once the TV is set in place.
I was amazed at how thin the panel is. Here it is set against my Xperia Z3 (7.3mm thick).
Set-up and user interface
The remote control for modern high-end LG TV sets is really cool. Anyone that has used a Nintendo Wii will be familiar with how to use it.
Rather than using infrared to control the TV, the Smart Remote pairs itself to the TV over a dedicated wireless link, and displays a cursor on the TV set. The remote uses 2xAAA batteries (included).
An additional feature of the remote is that it also has a built in microphone for voice commands. I found to be quite handy at times and it had no problem translating speech to text on screen.
The power button on the remote will light up red when the microphone is active. The voice engine appears to be powered by Google. By default, voice commands can be used system wide, it works in the web browser on the Google homepage just as well as searching for content via the built in command menu, which slides in from the right when you press the mic button.
There are two banks of jacks on the back of the 65EG960V. The bank on side houses just the USB and HDMI ports, and the bank at the bottom houses the core in/out ports.
There is only a joystick button on the bottom centre of the panel, just behind the LG logo. Pressing it in shows an on-screen menu which can be navigated via the joystick.
The power cord is non removable, but the length is suitably long. Don't expect to be able to user service this should it get damaged, without voiding warranty.
Once I connected everything up and tidied up the cabling, I realised that the side mounted HDMI/USB ports were going to put a permanent strain on the cable plugs as they will be forever bending downwards.
With low quality HDMI and USB cables, this could lead to the strain relief splitting over time.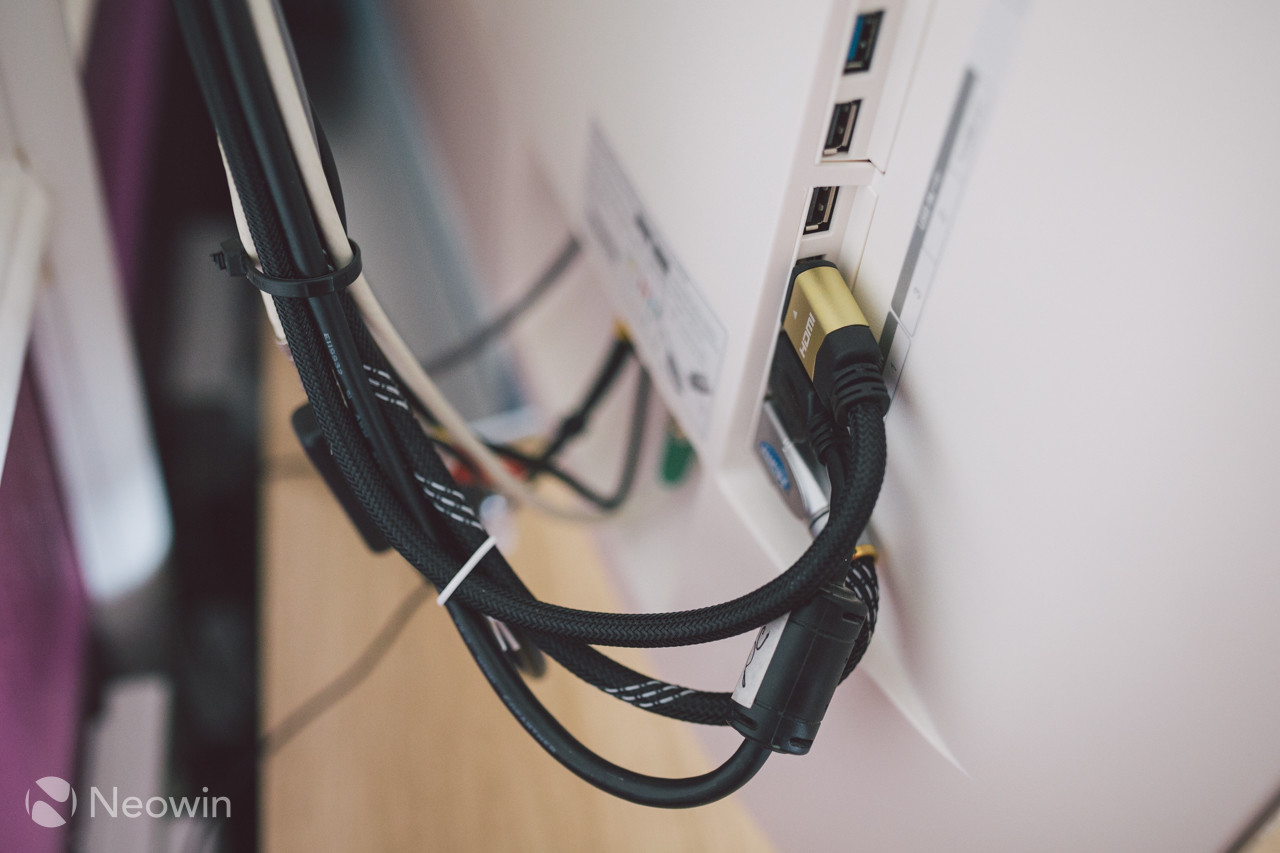 Overall I found the user interface to be very good and pleasant to use. All animations are smooth and reminiscent of how a modern smartphone or tablet works.
My only criticism here is that the cursor doesn't immediately appear on screen when the remote has been set down for a few seconds. Naturally the cursor disappears so your viewing experience isn't ruined by a pink pointer.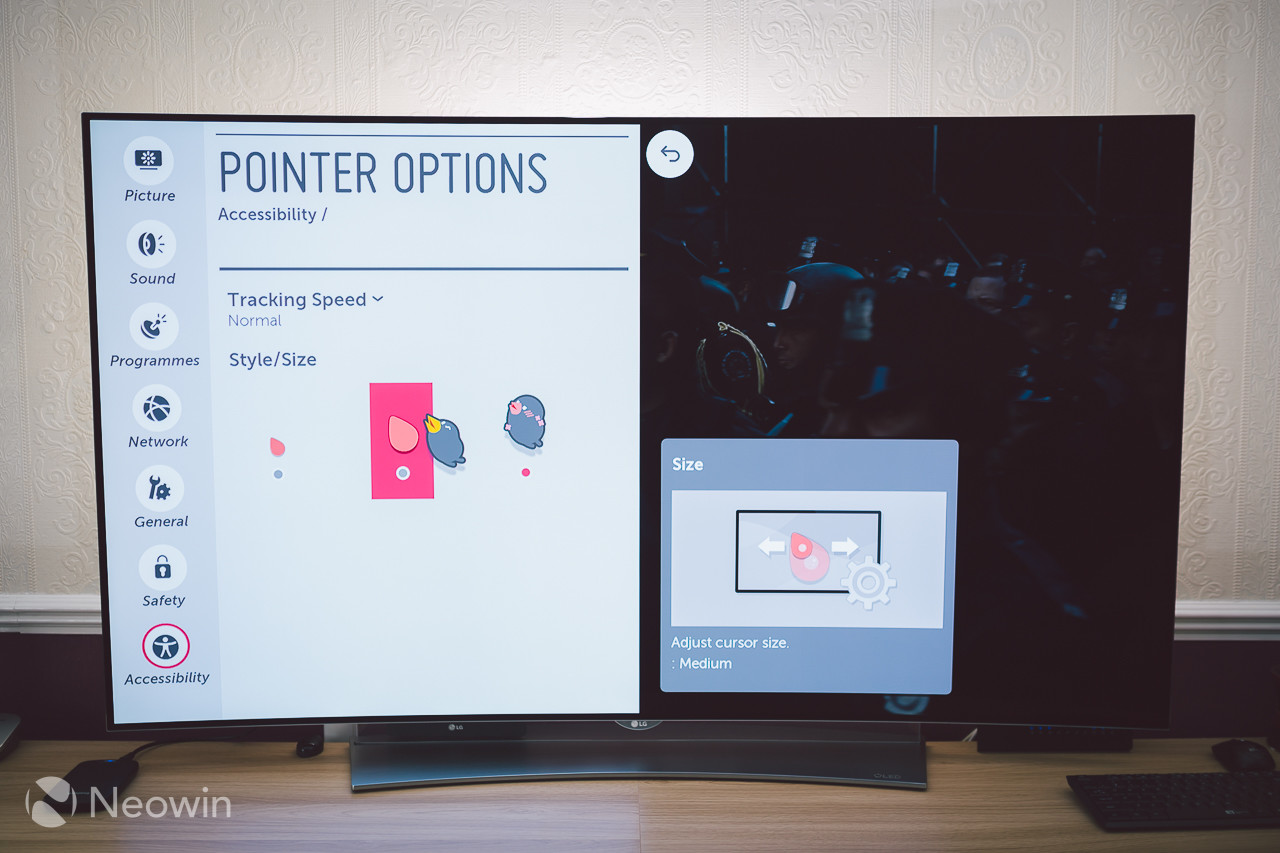 When you pick the remote up to do something, you have to press a button to make the cursor appear, otherwise it operates in physical button only mode.
The delay between waking the cursor, and it appearing on screen is less than a second, but still noticeable a delay if you just quickly want to change a setting and set the remote back down again. Comparing the Wii's cursor wake up to the 65EG960V makes the delay all the more obvious.
Content browsing
There numerous ways to access content on the 65EG960V. one such way is via the Device Connector tile from the main home screen. This tile gives you access to all the main connectivity methods available to the TV.
Colour and calibration
Out of the box, the colours are rich and vibrant, default sharpness is also very acceptable for the LIve TV and STB input sources, but for PC and local storage sources, I found I had to reduce the default sharpness from 25 to around 21.
I also changed a few other settings. I disabled the various dynamic backlight/contrast settings as well as MPEG noise reduction as I don't want to see these values annoyingly change when viewing different content.
There is a black level option too, setting it to "High" resulted in an image that looked like an LCD panel where pure blacks appear slightly washed out and the whole screen appears to have a traditional backlight because of it. The shadow details in films like Alien were more prominent in this setting though. Setting it back to "Low" restored the pure black levels OLED is famous for.
On some TVs you might experience some colour banding where a scene transitions from dark to light and contain a dominant colour, such as a blue sky. The OLED panel from LG had no such issue, even though there is a wide gamut colour option under Picture Settings (off by default).
I downloaded the AVS HD 709 HDTV calibration suite and ran through some basic calibration. One thing to note with calibrating the LG 65EG960V is that while there are some colour options available, there is no option to individually adjust the RGB values.
With a HTPC connected via HDMI, I fired up i1Profiler to take a colour measurement. The colour was measured at 6095K. A bit on the warmer side from the expected 6500K, but not enough of a gap to cause concern. If the TV offered direct RGB control, then I could have adjusted it during measurement to see which values get closer to 6500K. Oh well!
The values which worked best for me were:
Picture Mode: Standard (User)
OLED LIGHT: 50
Contrast: 95
Brightness: 54
Sharpness: 21
Colour: 55 (or 52 depending on your preference)
Sound
Enabling "ULTRA Surround" results in increased soundstage and better bass depth from the onboard speakers. This option is disabled by default. The other audio settings were fine at their default values, and some didn't apply to my configuration anyway.
Performance (motion)
I viewed as much content as I had available to me during my time with the 65EG960V. These ranged from downloaded OEM 4K demos and BluRay, to mkv/avi files stored on USB drives, Freeview HD, YouTube, web browser and various set-top boxes.
IMAX scenes in movies looked absolutely glorious, and there were no major deal breaking issues to note. Although it's worth mentioning that I did notice some vignette around both left and right edges of the panel when watching movies with dark scene transitions. Looking around online, it appears this is all too common on OLED panels, some worse than others. It's not immediately obvious though, but if you are looking for it, you will likely find it.
A few UI quirks such as sloppy playback controls for the built in player when viewed off a USB drive. It would have been nice to see dedicated playback buttons on the remote for this, as waking the cursor up to use the onscreen ones every time did get a bit tedious with the cursor delay mentioned earlier.
YouTube content can be viewed directly inside the browser, or from the YouTube app. I would recommend the app over the browser though, as it's just a nicer interface overall. 4K YouTube is really something great. There are already a lot of videos and trailers in 4K, but 2016 and beyond will certainly see this get even more popular. I found no problem streaming 4K. There did not appear to be any framedrops or stuttering issues either.
Both 720P and 1080P content, whether live TV or locally stored media, played exceptionally well and looked very crisp. The native upscaling appears to do a great job, as it was only up real close where I could notice some artifacts. Sat back on the sofa, it looked very sharp and immersive thanks to the curve.
What truly stands out, is in any video with Space (or a lot of dark scenes). I watched Gravity in 1080P and was wowed by how great it looked. Even though the film is 21:9 widescreen, the letterboxes were invisible in the dark against the blackness of space.
This is definitely where OLED is king.
I found ghosting to be very minimal, and only noticeable in very fast motion scenes, though only just. I don't have another OLED to compare against, but it was certainly as good as, if not better than an 55" LG LCD TV I also have.
Performance (stills)
I threw some of my own photos onto a USB stick and viewed them on the TV to see how the colours were represented. I knew they would have more saturated primary colours due to the nature of OLED, I just didn't know by how much.
Below is a photo of Amy, a bridal photo on the beach by Ryde Pier (Isle of Wight) during a low tide afternoon. And here is the proper version on Flickr to compare with.
Notice that the colours are more saturated, mostly the blue channel. For viewing purposes, I think this is fine. Colours certainly pop, and this is good for the entertainment and wow factor.
Here is another photo, along with the Flickr upload.
There are many more of my still photos at the end of this review for your viewing pleasure.
Input lag
Due to the low spec of the HTPC being used, and the lack of a fast TN panel to compare against in dual mode, I can't provide an exact input lag figure, but I can tell you that it didn't feel any better or worse than the 55" LG LCD TV I've used the same HTPC on before. It's not input lag free, but it's not high enough to be an issue for normal usage.
I would not expect to be playing high end PC shooters on such a TV though.
App Store
LG call it the Content Store. Their hub to gain access to movies, games, apps and other premium content. I was mainly interested in seeing what apps were available on this store.
I found myself quickly leaving it due to the severe lack of decent apps.
It's certainly a let down in this department, and a far cry from the app stores offered on Android or iOS powered devices. I suppose not every aspect can be perfect.
Live TV
All major TV sets these days have a built in digital TV tuner, some better than others of course. LG's one is a good one. If you're familiar with satellite or cable TV set-top boxes, then this will all be home to you. I found the Freeview HD channels to be excellent quality too in both 720P and 1080P.
The voice command function works here too, you can tell it to go to a specific channel, or run a search.
4K media
Native 4K media will show you what this panel is capable of. No matter how close to the screen you bring your eyeball, everything is shown in pixel perfect detail. The Hisense cityscape aerial shots were truly breathtaking.
Conclusion
With the only other competitor to LG's flagship 65" costing more than twice as much, I think the 65EG960V has a lot going for it.
As a PC gamer, I don't have a next gen console at hand to test gaming with, but I will be sure to update this review soon.
During the time I've had with it, I've been consistently impressed by the picture quality, most especially the black levels. I think it is easily deserving of a "Very good" 8/10 verdict. It's just a shame that a couple of marks cannot be awarded for a perfect score due to the lack of stand adjustment, poor appstore content, some vignette on certain video scenes as well as the delay in cursor wake up.
The curve isn't subtle, it is noticeable and having read comments on other reviews and forums, it is pretty clear there a near 50/50 split on whether it is a good or bad thing to have. Personally I'm on neither side, and feel that for certain films (especially IMAX ones like The Dark Knight), it works really well. From an angle it can look like the frame is expanding out in some instances as well, but on the whole it's fairly decent.
It isn't a TV without faults though. The lower price is welcome, but it's still an expensive set, and for that price you expect to have an adjustable stand, a delay free remote cursor considering a games console using the same system, that released almost 10 years ago has no such issue. There is also no excuse to have a poor appstore for a modern SmartTV like this.
The 65EG960V is certainly a great TV to spend many hours in front of, and at a respectable price. I'm not sure how much further the price will drop, but I can't imagine much, given the lack of cheaper strong OLED competition from other manufacturers.
Pros
Superb picture quality Very good speakers Useful voice commands Well laid out web browser Competitive price
Cons
No stand adjustment Cursor wake-up delay Weak appstore content Sloppy USB playback UI Vignette on some dark scenes