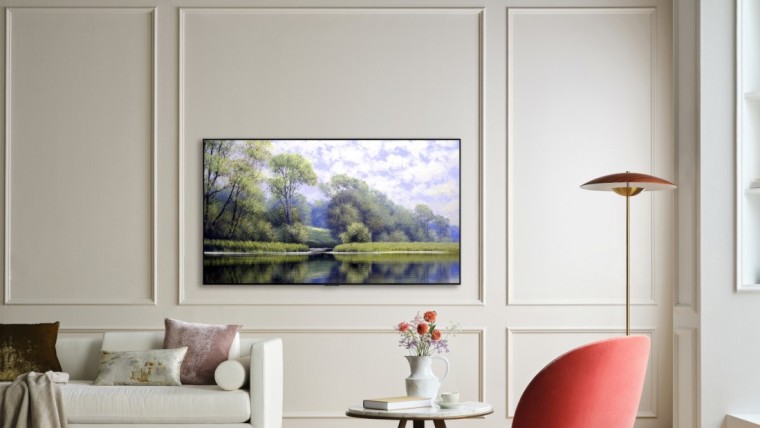 LG has announced the pricing and availability for most of its refreshed OLED TV lineup for 2021, which was originally announced at this year's CES. OLED TVs sit at the top of LG's range, since OLED panels are still the only viable way to get individual lighting per pixel, meaning you get true blacks and more vivid colors. The lineup includes the A1, C1, and G1 series, which succeed the AX, CX, and GX series.
Starting at the top of the range, we have the "Gallery" G1 series, which is the only one to feature LG's new OLED evo technology. These new OLED panels are more power-efficient, and thus promise a brighter image and more vivid colors compared to its previous OLED technology. The Gallery series is also designed to be used as a sort of digital frame, with smaller bezels and a wall mount that leaves very little space between the TV and the wall. The G1 series will come in three sizes: 55-inch, coming in April for $2,199; 65-inch, coming this month for $2,999; and 77-inch, costing a whopping a $4,499, also available this month.
The C1 series is the more mainstream offering and it spans the widest range of screen sizes. It starts at 48 inches for $1,499, coming in April. Then there's a 55-inch model for $1,799 this month, a 65-inch model for $2,499, and a 77-inch panel for $3,799, all available this month. Finally, an 83-inch variant will be coming in May for $5,999. Both the G1 and C1 series are valid options for gamers, featuring four HDMI 2.1 ports with support for 4K 120Hz, variable refresh rates, auto low latency mode, and eARC.
If you don't need all those gaming features, the A1 series is the cheapest of the bunch, though it also misses out on the new α9 Gen 4 AI processor. The 48-inch model will be available in June for $1,299; the 55- and 65-inch models will launch in April for $1,599 and $2,199, respectively; and the 77-inch model will also launch in June, for $3,199.
While LG didn't mention the Z1 lineup today, it did say that the ZX series, which it calls the Signature OLED TVs, is already available and will be available through the year. The 77-inch model costs $19,999, while the 88-inch goes for $29,999.