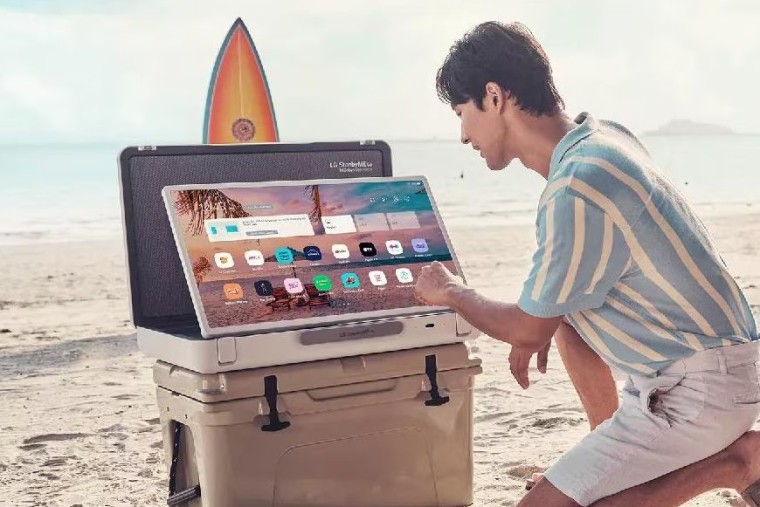 We have seen some different takes on making TVs portable in the past. However, the LG StanbyME Go might actually be one of the most unique smart televisions we have ever seen. It's a wireless battery-powered 27-inch touchscreen smart TV, running on LG's webOS, that you carry around in its own suitcase.
The TV, which was first announced earlier this year, is now available to pre-order on LG's US website. LG describes why this smart TV is inside a suitcase:
The briefcase design with handle makes the StanbyME Go the perfect product to take on the go to your next tailgate, camping trip, or wherever your travels take you. The hard sided case protects the screen while on the go and makes it easy to store when not in use.
The 1080p 60hz touchscreen display is not going to win any performance awards. However, the screen can be rotated to a vertical portrait mode. Even more interesting is that the display can be positioned to lay flat inside the suitcase. The promotional video shows that owners can use it to play touchscreen games like chess, or even used as a virtual record player.
The onboard battery inside the suitcase will keep the LG StanbyME Go running for about three hours on a single charge. Of course, you will need to be near a WiFi connection to use its smart TV apps. It comes with a remote so you can use it to launch the apps, or you can use voice commands as well. It also supports Apple AirPlay and smartphone screen mirroring.
Other key technical specs include support for Dolby Atmos, WiFi 5 wireless support, LG's α7 AI Gen5 picture processor, and AI Sound Pro audio processor.
We could definitely see this being used for an outdoor event like a tailgate party. However, the price of this 27-inch smart TV is pretty high at $999.99. LG is making things a bit easier for people who preorder. Until August 27, folks who buy the LG StanbyME Go will also get a LG XBOOM 360 Bluetooth Speaker, which normally costs $249.99, for free.