With this week's Windows Phone 8 launch, we finally got our first official info on pricing and availability for the first wave of devices running the new OS. In addition to launch info for the US, Microsoft also shared some pricing details for operators in the UK, highlighting what it calls 'unprecedented support' from carriers on this side of the Atlantic.
While operators, OEMs and retailers will be releasing more specific details in the days ahead, Nokia has revealed a few more details to WPCentral on the availability of its devices in the UK.
Those hoping to get their hands on a SIM-free Lumia 920 are going to be disappointed. Under its exclusivity deal with the EE network, Nokia has agreed terms that will initially restrict all UK sales of its new flagship handset to purchases made under contract through EE. However, if you're not a fan of EE's new 4G tariffs, the good news is that the 920 will also be available on tariffs through EE's 3G network brands, Orange and T-Mobile; the latter offers unlimited data with its Full Monty price plans, which are not available on its new 4G network, which launched yesterday.
The 920 will be available from 2 November, with black and white models available directly from EE, while Phones4U will offer these, as well as red and yellow colour options. While Phones4U is an authorised retailer of the Lumia 920, it will only be permitted to sell the device on contracts with EE brands. This exclusivity arrangement is set to expire at the end of the year, although Nokia told WPCentral that it may potentially be extended.
The Lumia 820, with its colourful interchangeable shells, will enjoy much wider availability when it goes on sale on 7 November. EE (including 4GEE, T-Mobile and Orange), O2 and Vodafone will all offer the device directly, while Phones4U, Carphone Warehouse and Tesco Phone Shop will also stock the new handset.
Excitingly, all UK buyers of the Lumia 820 will get a wireless charging shell included in the box; Nokia has previously indicated that in other markets, this shell will be sold as a separate accessory. There's no information yet on SIM-free UK pricing for the 820.
While the lack of off-contract sales will surely disappoint some, UK consumers still have plenty to celebrate here, with only a few days left to wait until the new Lumias are available to buy.
Source: WPCentral

Update: WPCentral have updated their article to clarify that Phones4U will offer the Lumia 920 SIM-free for £459.95. Many thanks to Neowin reader Giles Jones who pointed out this image showing in-store signage confirming the off-contract pricing: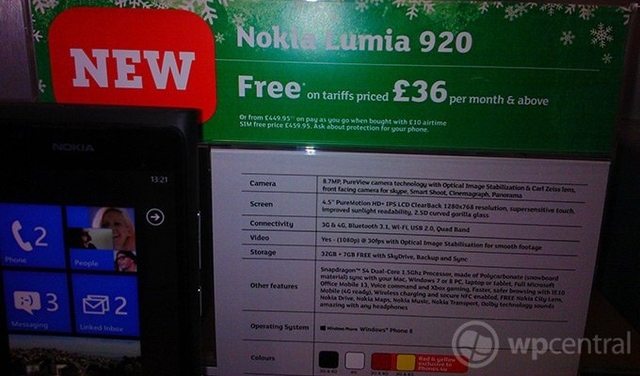 Update 2: In a Q&A session on Twitter today, Nokia UK clarified that, even if you purchase a SIM-free Lumia 920 from Phones4U, the handset will still be locked to EE:
RT @nokia_uk: @mrcfield Hi there, a SIM-free device bought from Phones4U will be locked to the EE network. We hope this helps. #AskNokia

— Scott Lovegrove (@scottisafool) October 31, 2012