In what may be frustrating for Outlook users on the desktop, a bug is preventing them from composing or seeing email content, rendering the service useless in some ways. The company has acknowledged the issue on Twitter and on the service status page. It has noted that it has found the root cause of the issue and is applying a fix. The message notes that the web and mobile versions are not affected.
We're investigating available data to isolate the root cause. Users with access to alternate protocols like Outlook on the web or Outlook mobile can use those as a potential workaround in the interim. More details can be found under EX255650 in the admin center.

— Microsoft 365 Status (@MSFT365Status) May 11, 2021
It is currently not clear what is causing the issue, though the problem seems to be affecting many users. We can confirm that the problem indeed exists on the desktop client where text in the compose box seems to vanish on hitting enter, making it impossible to draft an email. Content in the Inbox too either draws a blank or only displays the first line. Some Twitter responses seem to suggest that the issue affects those running perpetual license versions of the tool as well, in addition to Microsoft 365 versions.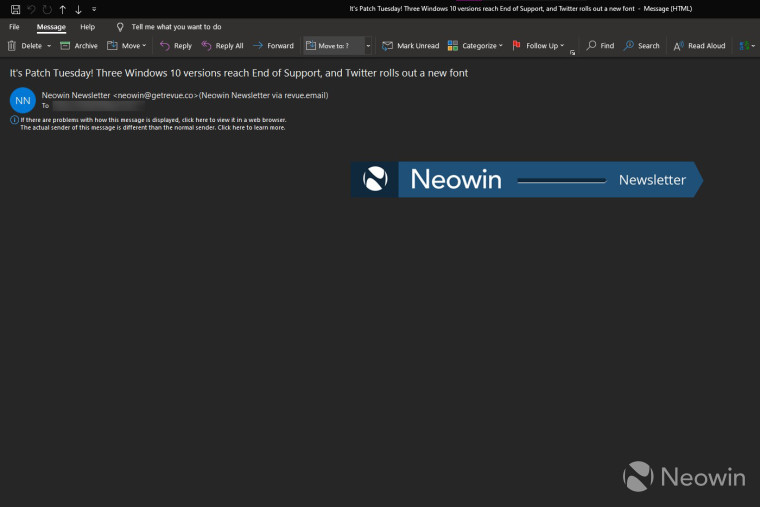 Folks over at BleepingComputer suggest that the problem might be caused by a recent update to the Office suite of apps. The publication, along with a few users on Twitter, has posted a workaround for the issue, which includes running a Command Prompt script to roll back to a previous version of Outlook, effectively removing the faulty update. However, Microsoft has already begun rolling out a fix and says that the update should gradually roll out to all users in the next few hours. Users will need to restart Outlook for the fix to be applied, the firm adds.
Update: Here's the complete statement from the firm:
We've identified the underlying cause of impact and are applying a fix. This fix will reach all affected users incrementally over the course of the next four-to-five hours. Once users receive the fix, they will need to restart their email client to apply the fix. In some circumstances, users may need to restart their client a second time for the changes to take effect. We expect to complete this process and restore service for all affected users by May 12, 2021, at 3:00 AM UTC.