The Philadelphia Police Department has admitted that a surveillance vehicle, which had been made to appear like a Google Street View car, is part of its fleet.
Details of the vehicle - which was spotted by numerous people, including University of Pennsylvania computer and information science professor Matt Blaze - were first reported yesterday morning by Motherboard.
The SUV had two automated license plate recognition (ALPR) cameras mounted on its roof, capable of reading thousands of plates per minute - information that Philadelphia police are permitted to retain for a year. Documentation on the vehicle's dashboard showed that it was registered with the Philadelphia Office of Fleet Management, but the city's fleet manager initially said that the SUV did not belong to the Pennsylvania State Police.
The vehicle had Google Maps logos clearly displayed on either side, in a somewhat crude attempt to disguise it as part of the company's fleet of Street View vehicles, which are used to gather road-level imagery for use on its mapping service.
The casual passerby, upon seeing a vehicle with two roof-mounted cameras sporting Google logos, might easily assume that it was indeed a Google Street View vehicle.
But for those familiar with the design of Google's mapping cars - which feature prominent branding, and a much larger and more prominent camera mounted high above the roof (as shown in the below) - the vehicle in Philadelphia stands out as a weak imposter.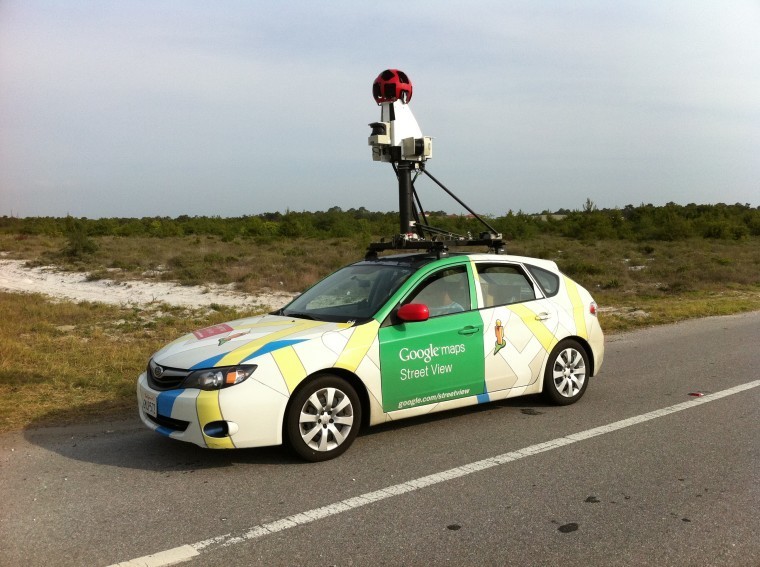 Today, in a statement to Motherboard, a spokesperson for the Philadelphia Police Department admitted that the vehicle is in fact theirs:
We have been informed that this unmarked vehicle belongs to the police department; however, the placing of any particular decal on the vehicle was not approved through any chain of command. With that being said, once this was brought to our attention, it was ordered that the decals be removed immediately.
Dave Maass, from the Electronic Frontier Foundation, said it would be "concerning if the city of Philadelphia is running mass surveillance and going out of its way to mislead people." He added: "If I were Google, I would be seriously rankled over the use of their logo to hide surveillance."
Google spokesperson Susan Cadrecha confirmed that the vehicle was not one of theirs, and said that the company is investigating the unauthorized use of its logo.
Source: Motherboard