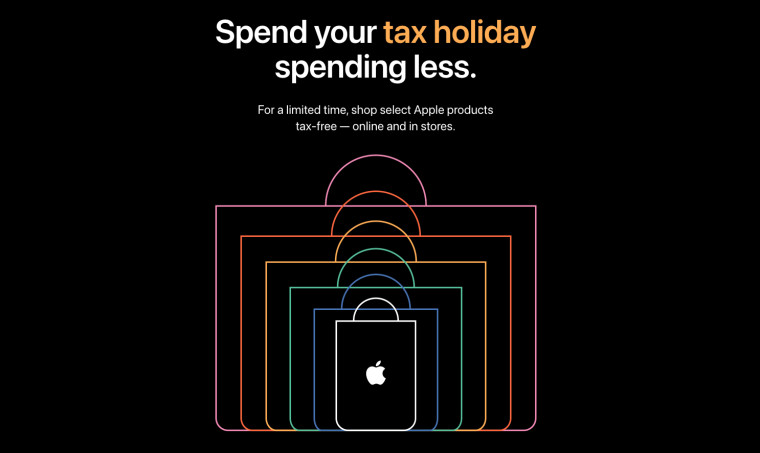 Apple has published an official list of its products that will be eligible for sales tax holidays in select states in the US. Depending on the state, buyers won't have to pay sales tax on various products and services such as iPhones, iPads, Macs, Keyboards, Mice, Apple Pencils, Monitors, and more.
As per Apple's website, the list of US states holding sales tax holidays includes:
Alabama (July 21-23)
Arkansas (August 5-6)
Florida (July 24- Aug 6)
Missouri (August 4-6)
Tennessee (July 28-30)
West Virginia (August 4-7)
Furthermore, South Carolina, New Mexico, and Massachusetts will also be holding their respective tax holidays in the coming weeks, Macrumors spotted. But Apple's website didn't list these states at the time of writing.
The iPhone maker said that you can shop for tax-free Apple products on its online store as well as offline in stores. It added that "your tax savings may not appear at checkout, but will appear on your final receipt."
It should be noted that each state has its respective terms and conditions to be eligible for tax holiday exemption. Different states have a different ceiling for the sales price and require buyers to make purchases during the sales tax holiday period to qualify for the exemption.
An Apple product or software which is tax-free in one state may not be eligible in another. For instance, if you live in West Virginia, the eligible products only include iPad models under $500. While there is no sales price limit for eligible products in Arkansas, Florida only allows purchases with a total price of $1,500 or less.
You can also get three months of free Apple TV+ trial subscription when purchasing eligible devices. Apart from that, Apple is running education discounts where student buyers can get freebies such as a $150 gift card, 20% off on Apple Care+, and more.