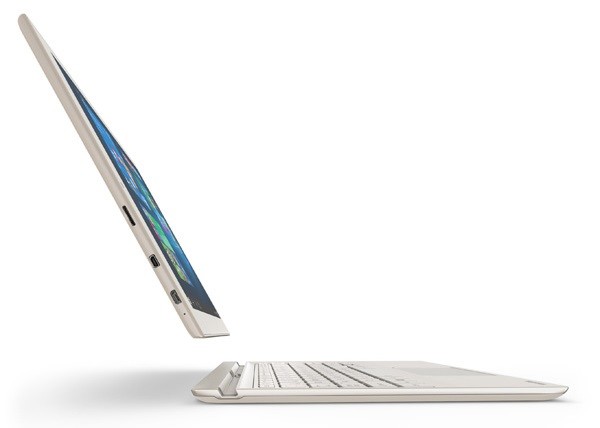 In October, Microsoft unveiled the Windows 10-powered Toshiba dynaPad tablet with a razor-sharp profile and 'natural' note taking capabilities. Now, the tablet is up for pre-order from Toshiba's US website and will go on sale towards the end of January.
The dynaPad tablet was first showcased at the IFA trade fair in Germany and managed to grab the media's attention due to its size and weight. The 12-inch tablet is just 6.9mm-thick and weighs 569g, making it the thinnest and lightest Windows tablet until now.
That said, Samsung's new 12-inch Windows 10 tablet - the Galaxy TabPro S, which it announced today - is even thinner, with a 6.3mm profile, but it's also a fair bit heavier, weighing in at just under 700g.
In addition to its design, the tablet's note-taking features have also been much talked about. The dynaPad features pen input technology developed by Wacom, which is said to give a 'natural' handwriting experience.
Toshiba has announced that the tablet will be sold through Microsoft Stores across the US in the latter part of January. Those who wish to pre-order the device can do so from the company's website for a price of $569.99 starting today.
Source: Toshiba via Windows Central