Sayan Sen contributed to this feature, and also provided the benchmark graphics.
Tech and gaming enthusiasts will swear blindly that their choice of OS is the best: wherever you look online you will find different results, on the one hand, Windows 10 is better, on the other, Windows 11 should be your choice. It's a hard question to answer with so many different variations of hardware and software being used with test results, so why not try to answer it with some of the best hardware currently at our disposal.
So to put it plainly, which is better, the eight-year-old Windows 10, or on the ongoing development of Windows 11? It is a question we, and other websites, have tried to answer before.
First up, here is a run-down of our test system, you may recognize it from the 14th gen Intel Core i5 and i9 CPUs review we did recently:
Test system
The ambient room temperature while testing was measured to be between 19C (66.2 °F) and 20C (68 °F), and our test rig was open plan.
In addition to the above, our Windows 10 Pro installation was clean installed, and ASUS Armoury Crate was allowed to install all the drivers that our system needed. It was also updated to the October Patch Tuesday update: build 19045.3570, and we had Nvidia driver 545.92 installed.
As you can see from the above images, we only installed the above programs, which included some benchmarks and games required for our testing. This will be important later. We felt it was important to show that the same programs were installed in the Windows 11 upgrade, which is important because different, as well as additional programs possibly running in the background, (as they do!) can affect the test results.
After running all the benchmarks on Windows 10, we did an in-place upgrade to Windows 11 22621.2428, which is the October Patch Tuesday update. Nvidia driver 545.92 remained installed.
Benchmarks
First up, the GPU bound benchmarks, where the RTX 4070 Ti was pushed to its limit.
In 3DMark, supplied to us by UL Benchmarks, Windows 11 clearly bests Windows 10 in both overall score and graphics scores. The above tests were run three times, and the highest scores were used. While Time Spy is based on the newer DirectX 12 API, Fire Strike is built on DirectX 11. Both Time Spy and Fire Strike Extreme run at 2560 x 1440.
Up next, we move on from synthetics to a couple of real games. The games were tested at their default settings (High preset) at our monitor's native resolution of 5120 x 1440.
It's the same story in Far Cry 6 (released 2021), with Windows 11 besting Windows 10 a touch in framerate (FPS) consistently (best score after three runs).
Shadow of the Tomb Raider's benchmark (released in 2018) does not differ in the stand-off between the two, with Windows 11 again coming out on top (best score after three runs).
Just like Far Cry 6, the Windows 11 system was consistently just a little bit faster. The differences are not perceptible, as you wouldn't notice them without a framerate monitoring overlay, but they are certainly measurable.
From gaming, we move to a bit of productivity testing next. Although not a massive difference, Windows 11 once again edges out Windows 10 by 38 points in Cinebench 2024.
If you recall, the new version of Cinebench introduces GPU rendering and uses the RedShift engine. This directly helps us compare CPU and GPU rendering as the rendering scene is the same, unlike on some earlier Cinebench versions.
It's clear that Nvidia is somehow managing to take advantage of the newer Windows 11, although the gains are uniform across the board, they are nothing to shout about, but we can at least confirm that Windows 11 is slightly better in the graphics department than Windows 10 in exactly the same testing conditions.
Next up, the CPU bound benchmarks.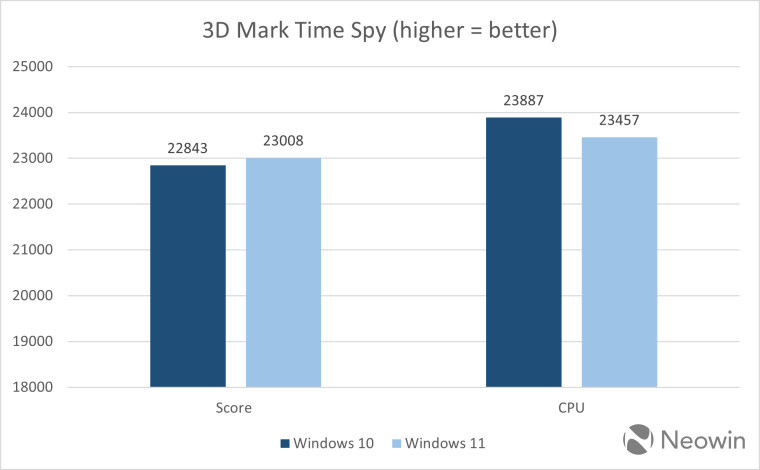 As you can see, it's a different story when it comes to CPU performance between the two Windows versions. With Time Spy, Windows 10 edges out Windows 11 in the CPU score by 430 points, but Windows 11 comes out on top by 165 points on the overall score (best score after three runs).
It's the same story with Fire Strike Extreme. Windows 10 edges out Windows 11 in Physics by 2,124 points, but Windows 11 scores better overall by 272 points (best score after three runs).
If you recall, the 4070 Ti was almost consistently (slightly) faster across the board on Windows 11 so that may well explain why we see Windows 11 winning out in the Overall category (in the 3DMark tests above), which combines the CPU and GPU scores.
But it is certainly somewhat surprising, considering Intel and Microsoft have both confirmed how the newer OS is optimized for the hybrid architecture.
Moving on from synthetics, we tested Shadow of the Tomb Raider to see if the same holds true in a real game as well; and indeed, Windows 10 comes out on top, edging Windows 11 ever so slightly in CPU scoring in all but one of the test scores that were recorded, this was based off the scores of three runs of the benchmark.
In the CPU Profile test, which tries to gauge how good the scaling is across threads, Windows 10 once again takes the crown, besting Windows 11 at every stage. The highest scores were used after running the benchmark three times.
In the PCMark 10 test, Windows 11 dominates in pretty much every test but video editing and writing, but the margins here are so small that you could safely say Windows 11 wins by a comfortable margin. The biggest win for Windows 11 comes in the Rendering and Visualization test, as the system was found to be 44% faster.
Once again, the results are a bit surprising but very interesting. Although PCMark 10, released in 2017, was originally designed with Windows 10 in mind, it's possible that certain optimizations in Windows 11 are helping it beat out the older OS. Perhaps Intel's Thread Director is doing a much better job scheduling the task to the appropriate threads.
Windows 11 again beat out Windows 10 by 58 points in the Cinebench 2024 CPU benchmark. But that is nowhere near the 44% performance bump we found in the PCMark 10 rendering workload.
We also ran the default 32MB 7-Zip benchmark, which shows once again that Windows 11 gets the job done quicker than its older sibling, although once again the gains are marginal.
So what have we proven here? It seems like we have at the very least answered the question of if your PC can suffer as a result of an upgrade instead of a clean install of Windows 11. It seems that, based on these benchmarks, Windows 11 still shows improvement over Windows 10, and that is coming from a guy who is no fan of Windows 11.
Would it convince me to permanently switch to Windows 11? Not in its current state, nope. But despite this, there is no evidence based on these tests that Windows 11 is worse in gaming and productivity.
---
Stay tuned for another test, hopefully next week, when we pitch a clean install of Windows 10 against a clean install of Windows 11 on the same test PC.
As an Amazon Associate I earn from qualifying purchases.