Earlier this year, when Telltale Games announced that it was launching a new choose-your-own-adventure game series based on DC Comics' Batman, I have to admit, I was very skeptical. Not because I don't like Batman - he's my favorite superhero, in fact - but due to the fact that it's very difficult to make a game that's based solely on the character and the drama that surrounds him.
Sure, Rocksteady has done a decent job developing the games in the Arkham series, but I personally feel that its effort focuses less on the character of the Caped Crusader, but rather around the villains, the action, and the Arkham setting that very few other games or movies have explored. And that's alright; Arkham games aren't meant to scrutinize the motivations of Batman or the emotional drama that revolves around him.
So naturally, I was very doubtful about Telltale's endeavor; there was a strong chance that the developer could do serious damage to the dark and gritty story of Batman - as some other forms of media already have.
Fortunately, Telltale Games proved me extremely wrong, and published, what I believe to be the best game of 2016. Read on for my full review of Batman - The Telltale Series.
Story
Batman - The Telltale Series sees you assuming the role of Bruce Wayne as you campaign to get Harvey Dent elected as the mayor of Gotham, and maintain your image as the prodigal son of the millionaires Thomas and Martha Wayne. If you've seen Christopher Nolan's Dark Knight trilogy, or rather any other form of media based on the character, you already know Bruce's background.
But knowing Bruce's history isn't as cool as actually living it, which is exactly what Telltale makes you do throughout the course of its game. As Bruce Wayne, you have to make critical decisions that may impact Harvey Dent's chances of becoming the mayor, or more interestingly, your own public image. Each decision carries weight, whether you choose to pick a fight with Gotham's mob boss, your old friend, or even Dent himself, among numerous other personalities.
As Batman, the story is much more straightforward. Your objective is to take down a criminal organization "The Children of Arkham" that's terrorizing the city of Gotham in various unforeseen ways. After donning Batman's cowl, you'll have the opportunity to do practically everything that you've ever seen or heard the superhero do in the comics or movies. You can pick fist-fights with criminals, take them down stealthily, glide in the air, utilize your arsenal of gadgets, and terrorize the bad guys of Gotham, in general.
Sounds pretty exciting, right? Not even close. That's standard Batman stuff that you've probably already done in Arkham games - if you've played them, that is. The area where Telltale really shines is when you get to play as Bruce Wayne without the cowl. Trust me, it's pretty hard to resist the urge to punch Oswald Cobblepot (The Penguin) right in the face when he's talking about your parents, or to talk to the crime-lord Carmine Falcone with humility and decency. And there's the best part of the game; you don't have to. You can choose to punch Cobblepot in the face and even refuse to shake hands with Falcone, should you feel like it. And each choice has consequences, one wrong move could result in the drastic decline in your relationship with other characters.
But that's not to say that playing as Batman isn't fun, by any means. It's thrilling to don the cowl of the Caped Crusader and take down the bad guys in Gotham. The main villain of the series is a particularly formidable foe, both in terms of gravitas as well as combat capabilities. As you might have noticed, I haven't talked about the villain much, and that's because too much information could spoil the identity of the villain. Let's just settle on the fact that it's a worthy one.
And talking about characters, there are many familiar faces that you'll see throughout the series. Some of these have made appearances in the movies, but many are from comics. The main cast includes Batman himself, Alfred, Harvey Dent, Commissioner Gordon, Selina Kyle, Vicki Vale, Oswald Cobblepot, Lucius Fox, Renee Montoya, Mayor Hamilton Hill, and yes... the Joker.
You read that right. Telltale Games has unexpectedly incorporated a version of Joker in its Batman series, and while it understandably doesn't match the rather high standards set by Heath Ledger, Mark Hamill, and Jack Nicholson (whose performances I rate equally), it comes very close. The character packs the same chaotic punch and insane personality that is loyal to the source material, and even features an appearance very similar to the one depicted in The Killing Joke. Suffice it to say that Telltale's take on the Joker is vastly superior to what I consider to be a disastrous performance by Jared Leto in the equally disappointing Suicide Squad. I know it might seem unfair to compare a live-action version of the popular character with a voice actor, but I feel that if we just compare who embodied the character of the Joker in spirit, the latter takes the win.
Gameplay
If you've played Telltale's games before, you're probably already familiar with the gameplay format employed by the developer. If not, here's a quick recap: you usually have a fixed time to make a decision, your decision might save someone's life or it may result in its untimely end. And trust me, it's extremely difficult to choose an optimal option in this game. Many choices result in gut-wrenching consequences that may leave you scarred for quite some time.
The title also features Telltale's signature Quick-time-events that require you to press a combination of buttons to perform an action, usually a combat move or interaction with your gadgets. Action sequences are thrilling and it's particularly satisfying to land punches correctly or accurately throw your trusty batarang at its target.
Players can also interact with their environment, pick up things and examine them, and so on. But what I found very pleasant was the fact that Telltale had incorporated proper detective-based sequences as well. There are some missions in which you have to find clues at crime scenes and try to link them together in order to determine what happened at the particular scene. While these sequences are understandably lengthier than the rest - depending on how long it takes you to find all pieces of evidence - but at the end, it's very satisfying to completely understand what happened at a scene of crime, which is then expertly illustrated in stop-motion illustrations as well.
Another profound aspect of the game was the ability to choose between visiting a scene as Bruce Wayne or as Batman. This is a very interesting technique that wants you to weigh the consequences of the manner of your appearance before you take the plunge. And trust me, it's very difficult deciding between visiting Carmine Falcone as an angry Bruce Wayne or as a threatening Batman.
And I don't think can I emphasize this enough, but each choice matters. There are consequences to almost every decision you make. There will be numerous instances when you'll be torn between saving one character or another, and there will probably be plenty of decisions that you'll regret. But that's all part of the fun of Batman - The Telltale Series.
Presentation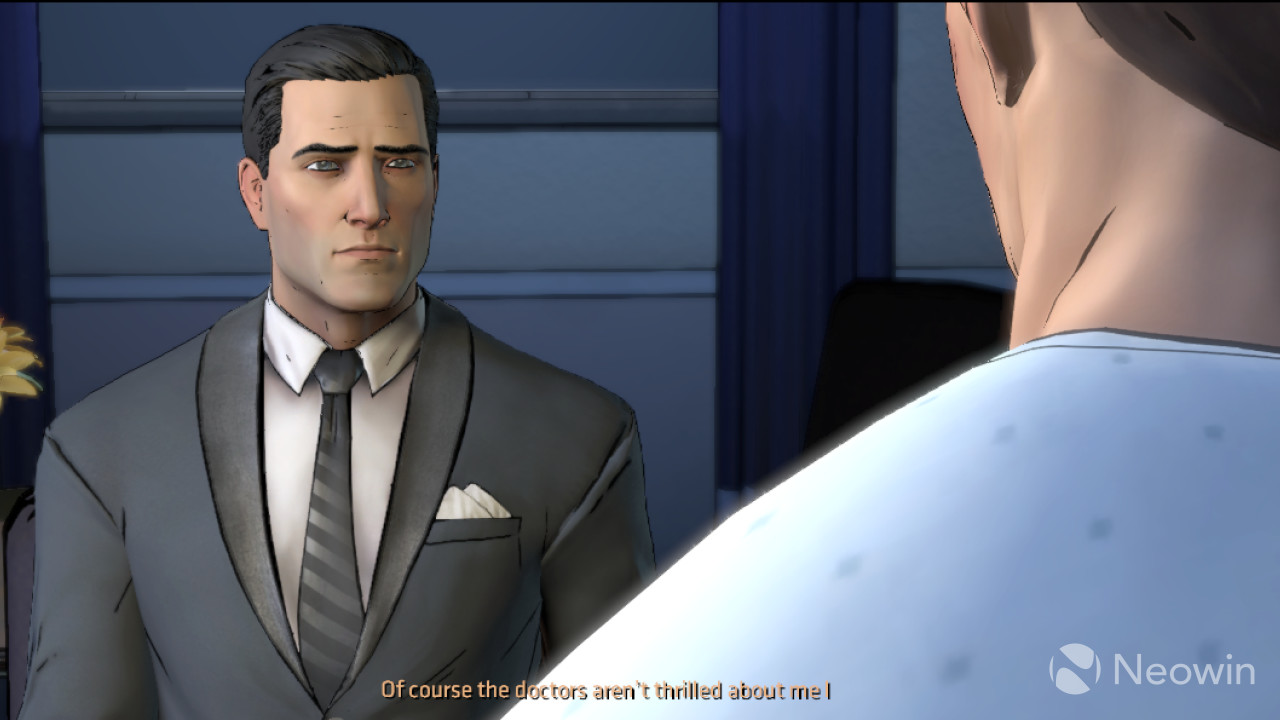 As you might have read on Steam, various websites, and publications already, this game seriously lacked graphical optimizations and stability when it launched. And were I to review it a month ago, I would have probably taken a couple of points off of it in my final rating. However, the game has fortunately been updated quite a few times in the past couple of weeks, and each update has fixed the lag and graphical hitches in the otherwise almost flawless game.
That said, some minor bugs do appear from time to time, I've noticed a recurring newscaster's head to hilariously disappear while he's reporting, but the issues aren't as serious or game-breaking as they were before. Now, I feel confident in recommending the game to others as almost all major issues have been fixed, and the game runs much better on PCs.
In terms of character and environment design, you'll notice Telltale's signature simplistic art style. However, I do feel that the expressions now seem a lot more believable and realistic. The surroundings are well-detailed and most characters are very similar to their counterparts in the source material from which they've been adapted.
I also liked how the story was presented. It's dark, gritty, and multi-layered, and you won't be able to figure out the overarching storyline from the start. It's very well thought out, so much so, that I can guarantee that you won't be able to immediately figure out who the main villain is - contrary to most other games.
To my credit, I read almost six hundred Batman comic issues around five years ago, I've seen Nolan's Dark Knight trilogy numerous times, I've seen some animated DC films, and I've watched some episodes of the animated series based on the Caped Crusader, but I honestly haven't seen a story like the one presented in Batman - The Telltale Series.
That said, I obviously haven't read all of Batman's source material nor can I claim to have watched every possible presentation of Batman in other forms of media; it's possible that the storyline of the game bears resemblance to some other take on Gotham's Dark Knight, but I'll leave that for more well-versed readers to decide.
Last but not least, the game features an extremely talented voice acting cast that truly brings the characters to life. Nearly all characters are exactly how I imagined them to sound like when I read the comics all those years ago, most notably Troy Baker in the role of Bruce Wayne, Travis Willingham as Harvey Dent, Enn Reitel as Alfred Pennyworth, Murphy Guyer as James Gordon, Richard McGonagal as Carmine Falcone, and Laura Bailey as Selina Kyle. Unlike many other games, voice acting isn't a let-down in Batman - The Telltale Series and the stellar cast truly accomplish the task set before them with finesse, accounting for a very intense and engrossing gaming experience.
Final Take
Batman - The Telltale Series is a love-letter to fans of Gotham's Caped Crusader. It promises an exciting premise, allows you to play as both the titular superhero as well as Bruce Wayne, and features a truly remarkable and intense story. The star-studded voice acting cast brings the fictional characters to life and the choices are extremely difficult to make.
The first season of the series packs in five episodes, all of which are available in the Windows 10 Store, Steam, Xbox 360, Xbox One, PlayStation 3, PlayStation 4, Android, and iOS - with the first episode of the series currently free on some of the aforementioned platforms. Each episode takes roughly two hours to complete but since the replay value is quite decent as well, you can expect to complete the game in its entirety in around 12-13 hours, which is pretty much standard for every Telltale title.
All in all, I found Batman - The Telltale Series to be an exceptional game with plenty of plot twists that kept me guessing throughout the gripping storyline. It allowed me to truly understand the motivation of Gotham's Dark Knight as well as the complexities revolving his character. Batman is a character that has been developed over a period of roughly 75 years and Telltale's endeavor does it justice. I would have no hesitation naming Batman - The Telltale Series as my Game of the Year.
---
Batman - The Telltale Series was reviewed via a copy purchased from the Windows 10 Store by the reviewer himself. The game was tested on a Dell Inspiron 15-5558 with the following specifications:
Display: 15.6" non-touch, 1366x768 resolution
OS: Windows 10, 64-bit
RAM: 8GB
Processor: Intel Core i5 5200U CPU, ~2.20 GHz
GPU: Intel HD Graphics 5500, NVIDIA GeForce 920M (2GB VRAM)
Batman - The Telltale Series
Pros
+ Multi-layered plot + Difficult decisions + Ability to play as Bruce Wayne + Remarkable voice acting + Unpredictable and intense
Cons
- Minor graphical issues
Price
$24.99 (Season Pass)