At CES this year, Dynabook announced the Portégé X30L-G as the lightest 13.3-inch laptop with Intel 10th-gen processors. And indeed, at 1.92 pounds, it certainly delivers on that promise. The only laptop that I know of that's lighter is the NEC LAVIE Pro Mobile, which was also announced at CES and weighs in at 1.85 pounds, but that has eighth-gen CPUs.
Those 10th-generation processors are from the Intel Comet Lake U family, rather than Ice Lake. The reason for that is because this is actually a business laptop, so there needs to be a vPro variant of it. Ice Lake does not offer vPro SKUs, only Comet Lake has that.
The key selling point of this PC is its weight though. At under two pounds, it is ridiculously light. This makes it perfect for anyone that travels a lot, or might be carrying it around in a backpack for hours on end.
Specs
CPU
Intel Core i5-10210U
Graphics
Intel UHD Graphics
Body
308.8x211.6x17.9mm, 870g
Display
13.3-inch non-touch 1920x1080
Memory
16GB DDR4 2666MHz
Storage
512GB M.2 PCIe SSD
Ports
(2) USB 3.2 Gen 1 Type-A
(1) USB 3.2 Gen 2 Type-C
(1) HDMI
(1) Ethernet
(1) MicroSD
(1) 3.5mm combo audio
(1) AC power
Battery
4-cell 42Wh - PA5353U-1BRS
Audio
DTS Audio Processing, Stereo Speakers, Dual-Microphones, Headset jack - Microphone/Headphone Combination Port
Webcam
Webcam with TruTalk Dual Microphones, IR camera
Security
Trusted Platform Module (TPM v2.0), Fingerprint Reader, Reinforced Security Cable Lock Slot, Infrared IR Camera for Windows Hello Face Sign-in
Material
Magnesium alloy
OS
Windows 10 Pro
Price
$2,014

Day one
Design
The Dynabook Portégé X30L-G comes in a dark shade of blue with a silver trim, and it looks pretty stylish. Obviously, it's made out of magnesium alloy, as that's the only way to get the weight down to under two pounds. It's very sturdy though, passing MIL-STD-810G tests. In fact, at CES, Dynabook actually had 100 pounds of weights on top of one, just to show that it can handle that.
This PC looks stylish and feels fairly premium, two things that I often worry about when it comes to magnesium laptops. Most magnesium laptops feel like plastic. I wouldn't say that the case is different with the Portégé X30L-G, but it still feels solid. The color gives it a nice look, with a flat, brushed lid that gives it a touch of style. One minor point is that the Dynabook logo printed on the lid is just a grayish silver, rather than the chrome silver that we find on the accents by the trackpad, hinge, and power button.
The Portégé X30L-G isn't particularly thin, at least when compared to other two-pound PCs. That's not really the point of this business laptop. For one thing, it has a full 15W U-series processor. If it had a Y-series chip, this would be much thinner, since there's no fan required, but it would also require a meaningful sacrifice in performance. Using the U-series processor allows for fewer compromises, not just in terms of performance, but it also means that the PC is thick enough to include all of the ports that you're used to.
And it does have plenty of ports. On the right side, there's a full-size Ethernet port, two USB 3.2 Gen 1 Type-A ports, and a Kensington Lock. Dynabook is the first company that I've seen use the new USB 3.2 branding, but USB 3.2 Gen 1 is exactly the same as USB 3.0 and USB 3.1 Gen 1. It will get you 5Gbps.
On the other side, you'll find HDMI, microSD, a 3.5mm audio jack, an AC power jack, and a USB 3.2 Gen 2 port. And of course, USB 3.2 Gen 2 is the same as USB 3.1 Gen 2, providing 10Gbps speeds. Note that while it comes with a barrel charger, you can still use USB Type-C to charge the device. This isn't that uncommon with business laptops, as it maintains compatibility with older and newer chargers.
Let's talk about the weight though, because that's the key selling point of this laptop. It weighs just 1.92 pounds, and you can see in the image above that Dynabook set it up levitating at CES. If you're like me and sometimes you're carrying a laptop on your back all day, a laptop that's under two pounds really makes a difference.
You're also not compromising on performance, which would be the case with something like an Acer Swift 7. This thing uses Comet Lake U, right up to the hexa-core Core i7-10810U. As far as I know, this is the lightest 13-inch laptop with 10th-gen processors on the market, and that doesn't seem to be changing any time soon.
Display and audio
The Dynabook Portégé X30L-G comes with a 13.3-inch FHD display. The one that was sent to me does not support touch, but that's available if you want it. Personally, I don't think it's necessary with this form factor, as it doesn't even have a 180-degree hinge.
The screen is a Sharp IGZO matte display, and it looks pretty good. Not only that, but the matte glass does an excellent job of blocking any glare in direct sunlight. The ability to comfortably use it outdoors is something that I consider to be important on a machine like this. This is meant to be ultra-portable, so you should be able to use it anywhere. That being said, it loses points for not having a cellular option.
For a premium PC in 2020, it's worth saying that the bezels are pretty big, and one has to wonder why. After all, smaller bezels means a smaller footprint, and that means that the PC could be even lighter and more portable. Honestly, it's the huge top and bottom bezels that stick out, with the massive webcam and IR camera.
Dynabook did good by including an IR camera though. The option of facial recognition is always good to have.
I was pleasantly surprised with the audio quality from the stereo speakers, which are located on the bottom of the laptop. They sound just a little bit tinny, but honestly, I expected worse. Both volume and clarity are pretty solid. For something that's not labeled as Dolby Atmos or anything in that league, this is pretty good stuff.
Keyboard, trackpad, and fingerprint sensor
The keyboard on the Portégé X30L-G makes some strange choices, but if your business is already using Dynabooks, you'll already be used to it. For example, the right-hand Shift key isn't all the way to the right; instead, there are PgUp and PgDn buttons there. I can't fault Dynabook for stuff like that, just like how Lenovo puts the Fn key to the left of Ctrl on ThinkPads. When it comes to business laptops, there needs to be consistency across the lineup.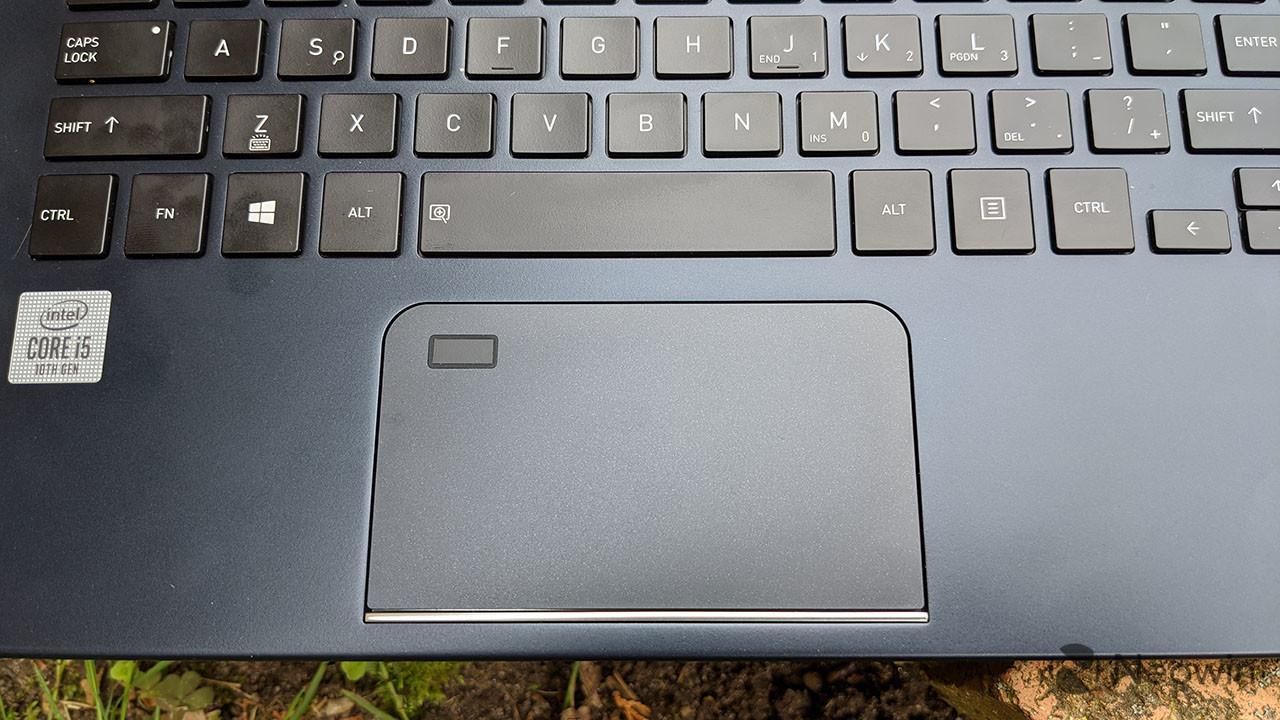 One thing that does annoy my is the placement of the fingerprint sensor. It's actually part of the Microsoft Precision trackpad, which is super annoying. I know what you're thinking. You're probably hoping that Dynabook did some jiggery pokery to get the fingerprint sensor to act as a trackpad while it's not being used as a fingerprint sensor. It did not. If you're trying to drag and drop and you go over that sensor, be prepared to drop.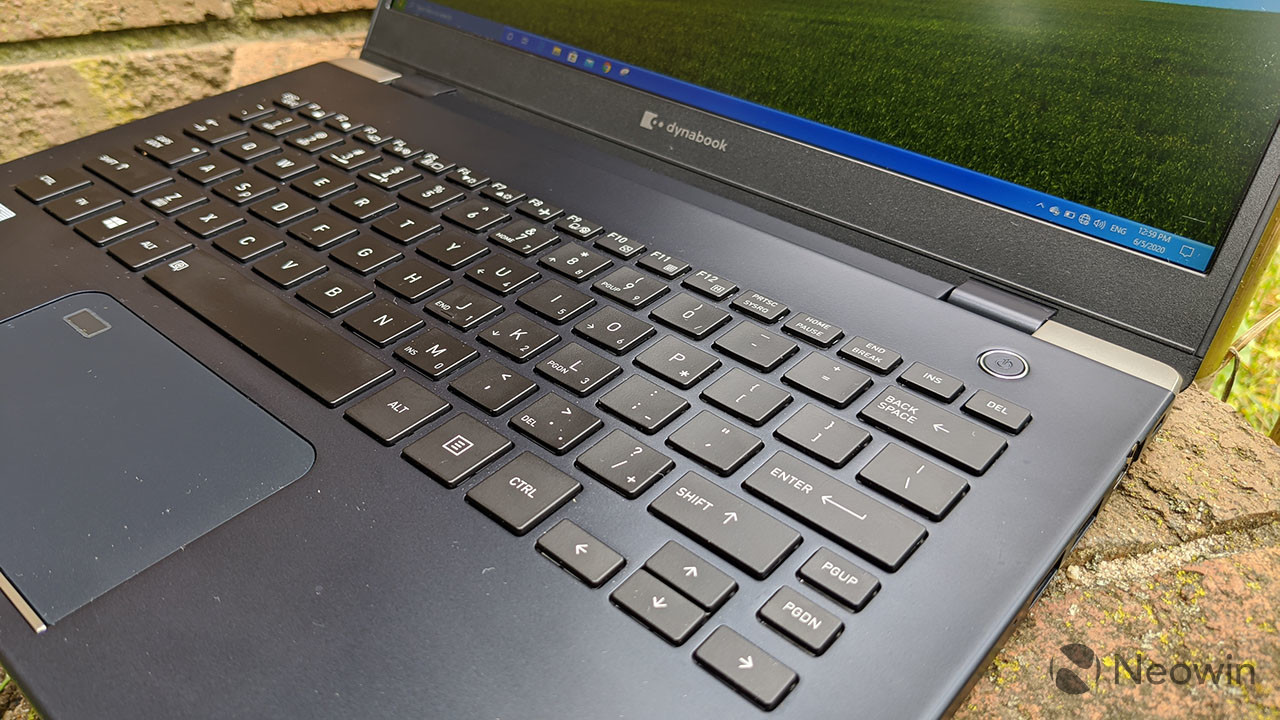 Also, if you look at the power button on the top-right of the keyboard, that looks like something that could have doubled as a fingerprint reader. It would also let you log in with fewer steps, since you wouldn't have to press it again after booting up the PC.
The keyboard itself is fine, although to me, it feels like there's just a bit too much resistance on the keys. It's accurate, and I didn't struggle with writing articles on it, but there was something about the keyboard that just kept it from entering my comfort zone.
On a side note, one thing I'll add about the whole keyboard deck is that it's pretty. Yes, that's something that caught my eye. I like the silver accents around the power button and under the trackpad, and I think it looks nice when paired with the deep blue color of the laptop.
Performance and battery life
The only pre-configured model I could find on Dynabook's website includes an Intel Core i5-10210U, 8GB RAM, a 256GB SSD, and that comes in at $1,599 (currently on sale for $1,373.99). If you choose to customize it, you can upgrade the processor to the quad-core Core i7-10510U or the hexa-core Core i7-10710U, or you can choose the vPro variants of any of the three. You can also configure it with up to 24GB RAM and 512GB storage.
Honestly, the configuration options are kind of underwhelming, considering that this is definitely priced in the premium tier. This model that was sent to me costs over $2,000, and that includes the base model CPU, a memory bump, and a storage bump. Totally specced out with the Core i7-10810U, 24GB RAM, 512GB SSD, and the touchscreen, it comes out to $2,519.
The Core i5-10210U included in my review unit is a 15W quad-core CPU with eight threads. For mainstream performance, it absolutely gets the job done. 16GB RAM helps with handling larger tasks, of course, and the Core i5/16GB combo is actually in demand in businesses.
For benchmarks, I used PCMark 8 and PCMark 10.
| | |
| --- | --- |
| PCMark 8: Home | PCMark 8: Creative |
| | |
| | |
| PCMark 8: Work | PCMark 10 |
| | |
| | |

The scores here are fine. This is all pretty mainstream stuff.
The biggest issue is actually battery life. At best, I got six hours of regular usage out of it, and that's not great. This thing has a 42Wh battery, so you might be able to see why it's not offered with things like a 4K display. Obviously, a larger battery would mean that the laptop would way more, but the Portégé X30L-G feels like something that was trying to hit a mark under two pounds no matter what.
Even if the 1.92-pound weight is the main value indicator, that doesn't mean that Dynabook couldn't have offered a larger battery as an option. That's exactly what HP did with its ultra-light Elite Dragonfly. While I happen to be looking at my Elite Dragonfly review, that configuration costs $65 more than this one, but it was a convertible and came with a vPro Core i7 and two Thunderbolt 3 ports. The Portégé X30L-G really does feel pricey for what it is.
Conclusion
Formerly Toshiba, Dynabook has a very long and prestigious history, and with the relatively high price tag, you can expect quality and you can expect support. If your business is standardized on Dynabook's laptops, the Portégé X30L-G is definitely worth your consideration. This is particularly true for employees that might be traveling a lot, or doing anything where they'll be taking their laptop on the go frequently.
There are a few key things missing, such as Thunderbolt 3. Along with 40Gbps data transfer speeds, Thunderbolt 3 lets you connect to dual 4K monitors off a single port, or you can use it to plug in an external GPU. For someone on the go, that would be an easy way to set up a workstation. The same goes for cellular connectivity, something that can be useful out in the field. My other big issue is the fingerprint sensor placement, but I won't go on and on about that, since it's the same on all Dynabook laptops.
Let's talk about the good. This thing ways in at under two pounds but it still doesn't sacrifice build quality. It doesn't sacrifice on performance either, packing Intel's Comet Lake family of CPUs, and it has a really nice matte IGZO display. The Dynabook Portégé X30L-G is a solid all-around PC, but make sure you can handle the shortcomings before you pick one up.
Pros
Crazy light and solid build Comet Lake performance Nice display Lots of ports
Cons
No cellular option Weird fingerprint sensor placement No Thunderbolt 3 Expensive Mediocre battery life