Panasonic is the market leader when it comes to rugged personal computing devices, which can be handed out to those that work in the most extreme conditions. These can include fire departments, police department, the military, and a whole lot more. Those using the device need to be able to get the job done from wherever they are, and the device needs to be up to the task without the user having to worry about something silly like breaking it, or connecting to Wi-Fi.
The reason that I love Panasonic Toughbooks, however, is that they're made to do just about everything. I reviewed the Toughbook 55, a Windows 10 PC, back in September, and just about every piece of it is modular. You can swap out batteries, the SSD, add an extra SSD, and more. You can use your imagination on this one.
That's why I was interested when the company contacted me about the Toughbook A3, its newest Android tablet. Panasonic says that it's been moving toward Android for tablets since the end of Windows CE, and businesses are buying in. While it has a full portfolio of Android devices, the A3 is the biggest and the newest.
Specs
CPU
Qualcomm Snapdragon 660, quad 2.2GHz, quad 2.8GHz
GPU
Adreno 512
Body
10.7x7.72x0.65in, 1.98 pounds
Display
10.1 inches, 1920x1200, 10-point capacitive multitouch with rain sensing and glove touch modes, anti-reflective screen treatment, up to 800 nits
Audio
Integrated microphone, Loud Speaker 94dBA
Input
Five definable buttons
Ports
USB Type-C
USB Type-A
Docking connector
3.5mm audio
Nano-SIM
MicroSD
Power
Connectivity

Qualcomm WCN3990 IEEE802.11 a/b/g/n/ac/d/h/i/r/k/v/w with MIMO
Optional Sierra Wireless AirPrime EM7511 – 4G LTE and HSPA+
Certified with Verizon, AT&T and FirstNet
Nano SIM card slot (x2)
Bluetooth V5.0 Class1 n GPS GPS/GLONASS/Galileo/Beidou/QZSS
Near Field Communication [NFC – Type A, Type B, FeliCa

Battery
Dual Li-ion 5580mAh
Storage/memory
64GB eMMC/4GB LPDDR4
Durability
MIL-STD-810H certified16
IP65 dust and water resistant
6' drop-resistant and tumble tested (500 tumbles, 3.3ft. 5 rpm)
Price
$2,699

Design
The Toughbook A3 has the kind of design that you'd expect from such a product. It's thick, it's heavy, and it looks like you could chuck it across a room and it wouldn't even scratch. It's all black, except for the traditional silver bezels found on Panasonic devices.
It's also IP65 rated, despite having tons of ports and removable parts. Most ports have covers though, which can be lifted to access the port, or can be removed entirely. The left side has a power port under the DC IN cover, and next to that, you'll find both USB Type-C and USB Type-A.
The Toughbook A3 actually can come with an optional second Type-A port. Remember, these are meant to work in the field for whatever you need it to do, so connecting to an additional peripheral might be necessary.
On the other side, you'll find a pen garage, and a covered 3.5mm audio jack. Pen input seems to be one of those things that Panasonic always includes, even on something like a clamshell laptop. Presumably, there's just a lot of demand for it.
On top, there's a bar code scanner. That's actually optional and removable.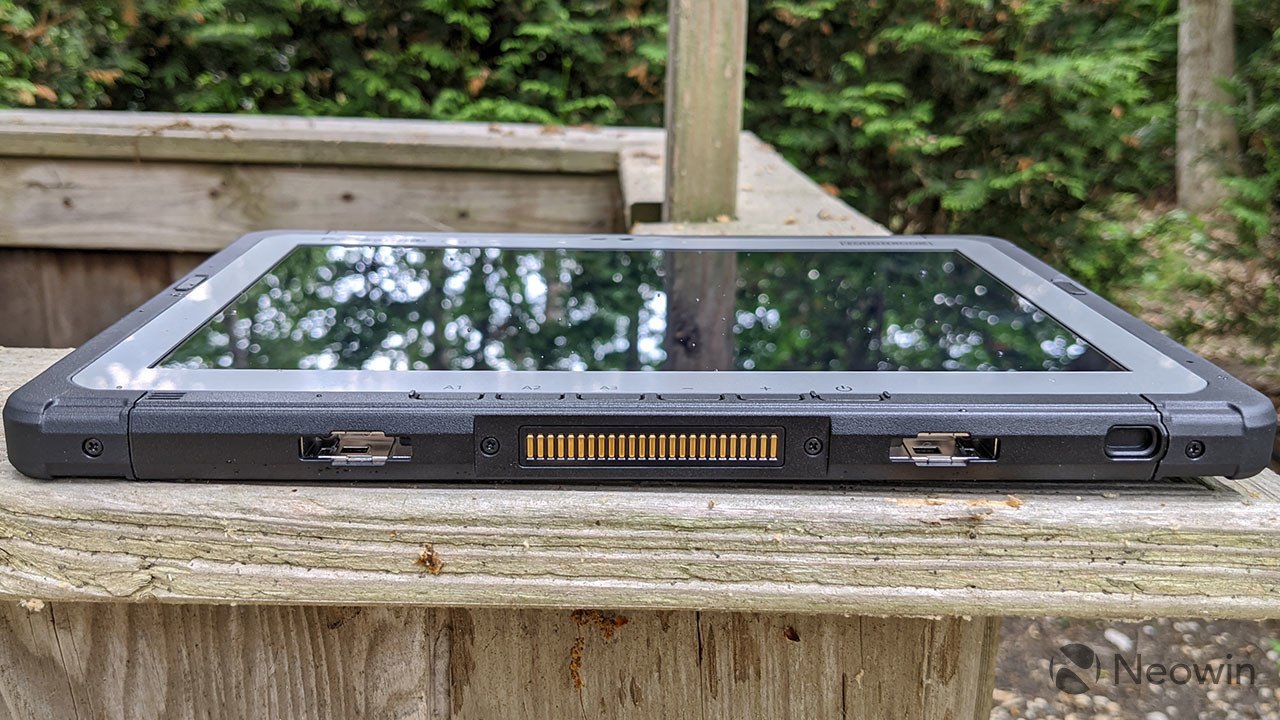 And on the bottom, there's a dock connector.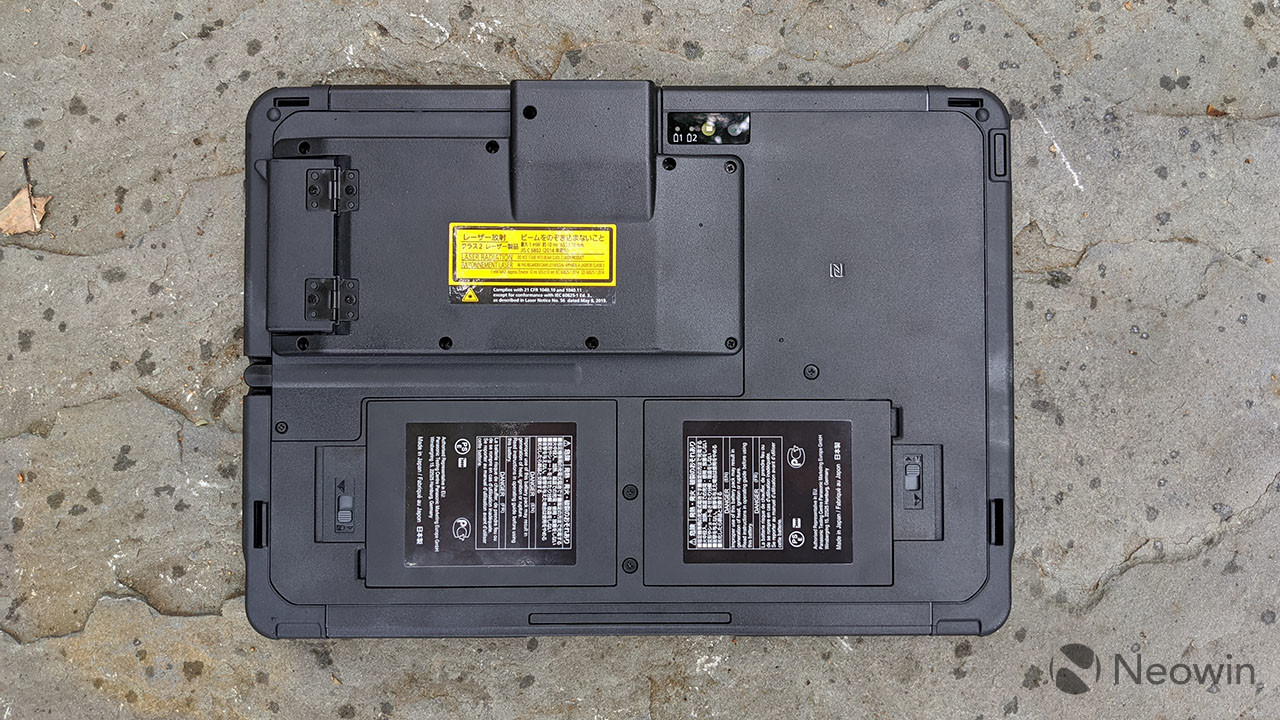 I may have buried the lede here though, because the Toughbook A3 actually has two batteries. Not only that, but they're hot swappable, meaning that you can swap one out without ever having to power down. This can be really useful during mission critical tasks where powering down to change a battery would take up just too much time.
Removing the battery is simple enough. There's a switch next to either one that you can flip to unlocked, you slide up to release, and you can just lift the battery out. Underneath, you'll find a nano-SIM slot (yes, it's dual-SIM), and you'll also find the microSD slot under the battery on the right.
This is really cool stuff. Panasonic says that this is the only Android tablet with hot swappable batteries, a feature really only found in laptops. It's also cool that it supports dual SIMs, something common on phones but rare on tablets, especially when cellular connectivity is rare on tablets to begin with.
Display and audio
The Toughbook A3 includes a 10.1-inch 1920x1200 screen, giving it a 16:10 aspect ratio. What I find really cool is that it offers 800-nit brightness. That means that you can use it anywhere, including in the brightest of sunlight. It's pretty wild. Again, I keep coming back to this idea that this is meant to do anything, go anywhere, and handle all conditions.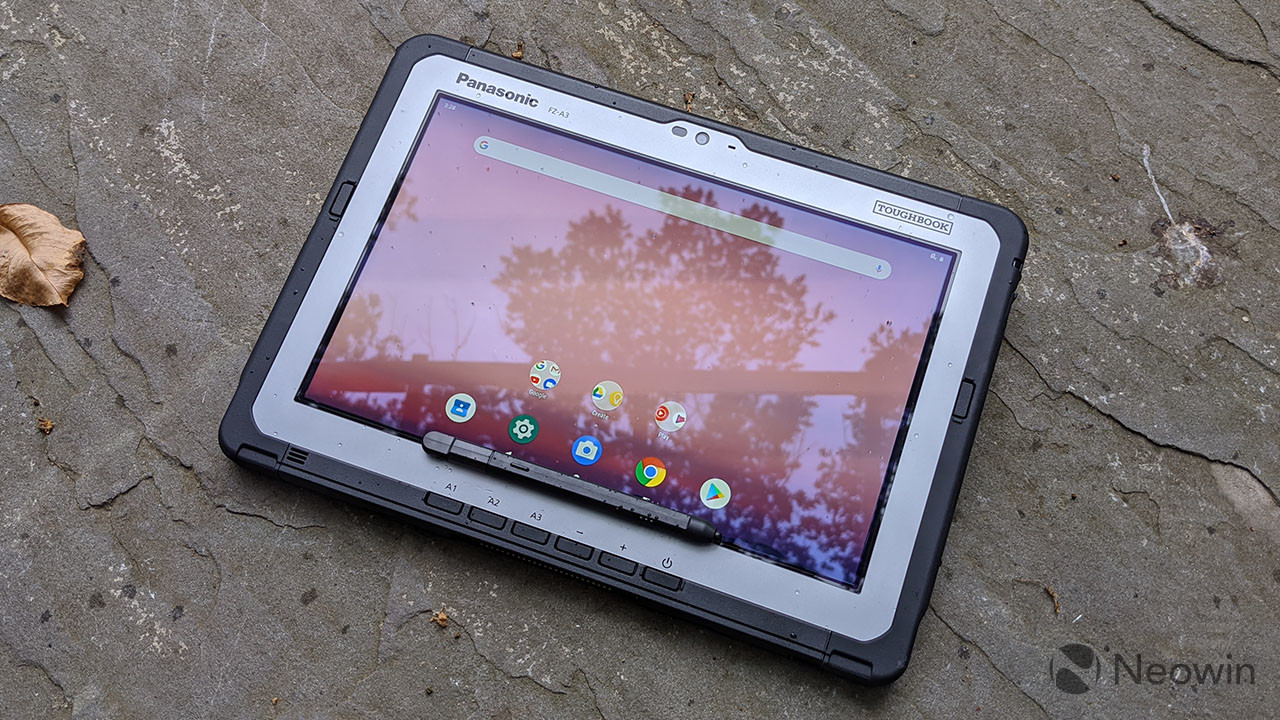 The same goes for audio quality. The speakers go up to 94dBA, which means that you'll be able to hear it in a loud crowd. This reminds me of law enforcement and military use cases, which might operate in loud environments.
Back to the screen, it can handle all kinds of input. As I mentioned, it supports pen input, and of course, it supports touch. That's not all though, because it's meant to work in the rain and with gloves on.
You'll also notice on the front of the device that there are a whole bunch of buttons. That includes six on the bottom and one on each side. Everything except for the power button is customizable. Using an app that Panasonic preinstalls, you can set what these buttons do, what combos of these buttons do, what they do when you long-press, and what happens when you wake up the device.
Software and battery life
These things are meant to handle extreme conditions, but also certain kinds of conditions. For example, a Snapdragon 660 chipset, 4GB of RAM, and 64GB of eMMC storage doesn't sound very premium, but most of the people using the Toughbook A3 are only going to be running one or two apps. That's why Panasonic's focus is elsewhere, on things like connectivity, incredible display and audio, and more.
That connectivity includes 4G LTE, which is certified for AT&T, Verizon, and FirstNet. If you're unfamiliar with FirstNet, that's the LTE band that's reserved for first responders, so they don't have to worry about a congested network in an emergency. Oddly enough, I wasn't able to use my Google Fi SIM in it. Panasonic never promised Fi support, of course, but it's just the first time I've seen something from T-Mobile's network not work in an unlocked device.
Panasonic also includes a selection of apps for use with the A3. For example, UserButtonManager is the one I mentioned above that lets you customize the buttons. That app also lets you customize what happens when you wake up the device, so it can, for example, load up a kiosk app. There are also apps for hardware diagnostics, device management, and a barcode reader.
There's an app called StylusNote, which is exactly what it sounds like, and there's an app for signing documents.
There's also a Rapid Configuration app, which will let you configure a wide array of Panasonic Toughbooks in a short amount of time. You can take them and use NFC or scan a QR code to configure the new devices.
Speaking of configuring the new Toughbook A3 units, if you have an issue, such as if one breaks, Panasonic sends out a new one as soon as it gets the report. The new unit is pre-configured, so it's ready to go as soon as it's put in the user's hands.
Battery life is also fantastic. Panasonic promises up to nine hours with both batteries, and I found that it got those numbers easily. I assume that this is while connected to cellular and doing some active tasks. Of course, if you're using this out in the field, you might have extra batteries with you, since one of the key features to this tablet is the ability to hot swap batteries.
Panasonic also has a battery replacement program, just in case your business doesn't know how many extra batteries to order. It detects your battery's health, and if it's going to fail soon, the company will ship out a new one immediately.
One other thing worth noting is that it runs Android 9 Pie. Yes, to most, this seems like an odd choice, but the whole idea is to not create fragmentation in whatever business is using Android tablets. Panasonic says it does have a plan for upgrading to Android 10 when a customer wants it.
Also, I didn't run benchmarks on the Toughbook A3. This really isn't that kind of device, as should be indicated by the mid-range specs.
Conclusion
I really love Panasonic Toughbooks. As I've said a few times, it just feels like they can do anything. They're expandable, they have cellular connectivity, and more. With 4G LTE, a super-bright screen, and powerful audio, I feel like the Toughbook A3 can be used anywhere.
The biggest issue is probably the price, as this thing starts at $2,699. Of course that, and my issue with the OS version, is by design. While the A3 has mid-range specs, it's not a mid-range device. It's a rugged tablet with pen support, dual-SIM 4G LTE connectivity, dual hot swappable batteries, an 800-nit display, and 94dBA audio
You'll also notice that in a lot of these photos, the Toughbook A3 is wet. Yes, I took the photos on a rainy day on purpose, because with a device like this, why not? It can handle just about anything, just about anywhere.
To pick up a Toughbook A3, you'll have to contact your Panasonic sales representative.
Pros
Bright display Tough and rugged Expandable Handles any situation
Cons
LTE limitations Android 9 Expensive