In 2011 it felt a bit like HTC was playing catch-up with Samsung. They failed to release the HTC Sensation before the Samsung Galaxy S II was launched, and while the device was a solid dual-core performer it never reached the heights and success of the Galaxy. They followed up the Sensation with the likes of the Rezound, Sensation XE and XL but again the devices were not compelling enough to steal the market away from Samsung.
However, we're in 2012 now and it's a new era for HTC with their One Series devices. Along with the smaller One S and mid-range One V, HTC has grand plans to reclaim the high-end market with the HTC One X; brand new design, powerful specifications and a full-featured camera all make the device, on paper, look like a compelling purchase. Not to mention that it's packing the latest Android 4.0 with HTC's revamped Sense 4.0 UI.
The HTC One X is already available on several phone carriers worldwide as a top-tier device, and will be launching in the United States in early May (albeit with slightly different specifications). As always , my HTC One X was provided by MobiCity and they continue to provide top-notch service. They currently have the HTC One X available for AU$699 unlocked/off-contract (or £499.95 incl. VAT in the UK), which puts it in a similar price bracket as the recently released Sony Xperia S.
Specifications
HTC manages a couple of "firsts" for this device. One of the big ones is that the HTC One X is the first smartphone to ship with a quad-core Tegra 3 chipset under the hood: it runs at 1.5 GHz across all four ARM Cortex-A9 cores, comes with the improved 12-core ULP GeForce GPU and 1 GB of RAM. Just on the RAM, one of the under-the-hood features that often gets overlooked is the fact that Tegra 3 raises the 32-bit single-channel LPDDR2 from 600 MHz to 1066 MHz for increased I/O speed.
Tegra 3 also comes with the touted "4-plus-1" core configuration that sees the system-on-a-chip outfitted with a fifth low-power "companion core". This extra core is limited to just 500 MHz, but uses less power than any one of the four 1.5 GHz ARM Cortex-A9 cores so the main processing unit offloads low intensity tasks (such as music playing with the display off) to the companion core to save battery.
The One X (left) next to last year's HTC Sensation
Unfortunately Tegra 3 only makes use of ARM Cortex-A9 cores, which are comparatively last-generation when they are going up against the likes of the (already-released) Qualcomm Snapdragon S4 and their Krait CPUs and the (upcoming) TI OMAP 5 series and Samsung Exynos 5xxx chipsets that contain ARM Cortex-A15 cores. Cortex-A15 cores are stated to be at least 25% faster than Cortex-A9s, delivering at least 3.5 DMIPS/MHz compared to 2.5 DMPIS/MHz.
Other new features for Tegra 3 include supporting ARM's "NEON" SIMD extension, which ARM claims enhances the efficiency of media encoding and decoding, and support for outputting to displays up to 2560x1600 in size. These are just the super-technical details though and probably won't affect day-to-day users in a great way. 
The other main first is the Super LCD 2 display that dominates the front panel of the device. I can't seem to find much information about the panels themselves, but Super LCD panels are manufactured by Sony and improve on regular TFT LCDs by having greater color accuracy, deeper blacks for better contrast, less reflection under sunlight and better viewing angles. S-LCD 2 improves on this in many ways (HTC says better viewing angles and less glare), but again I can't seem to find any direct information about the technology from the manufacturers.
Finally I should talk briefly about the camera which HTC says utilizes their ImageChip for great image processing. The camera itself takes 8-megapixel shots thanks to the backside-illuminated (BSI) sensor and f/2 28mm lens, and comes with an LED flash. It's capable of 1080p video recording with real-time effects , the ability to capture a photo while recording video and slow-motion video capture. More about all these features in the camera section.
Here is the full specifications table:
 
HTC One X
Product Codes
S720e
GSM Bands
850 / 900 / 1800 / 1900
3G/4G Bands
HSPA 850 / 900 / 1900 / 2100
Display
4.7-inch Super-LCD 2 at 1280 x 720
312 ppi pixel density
10-point capacitive multi-touch
Processor
NVIDIA Tegra 3 chipset
1.5 GHz quad-core ARM Cortex-A9 CPU

Graphics
ULP Kal-El GeForce
RAM
1 GB
Storage
32 GB internal user storage
Connectivity
Wi-Fi 802.11 a/b/g/n (dual-band)
Bluetooth 4.0
A-GPS
DLNA
NFC
Camera
8 MP rear camera with f/2.0 28mm lens, BSI sensor and LED flash
1.3 MP front camera
1080p video recording (rear), 720p recording (front) 
Ports
MicroUSB
3.5mm audio jack
Sensors
Accelerometer
Magnetometer
Gyroscope
Proximity sensor
Light sensor
Battery
Li-Po 1,800 mAh non-removable
Launch OS
Android 4.0 "Ice Cream Sandwich"
Sense 4.0 UI
Launch Date
April 2012
Size & Weight
134.36 x 69.9 x 8.9 mm
130 g
Price
Unlocked & Outright: AU$699 (~US$740)
Also available on Optus, Vodafone AU, Three UK, Vodafone UK, O2 and more
Design
I've always been impartial on the design of most of HTC's Android (and Windows Phone) line-up, I mean sure some of the phones like the Sensation are well made and functional, but the designs never really had a wow-factor to them. This has all changed with the release of the One Series. Needless to say, after taking the One X out of the box for the first time I fell in love with the design.
I attribute this love to two basic things: it's reasonably slim, at least for a HTC phone, and it feels amazing in your hands. The HTC One X comes in at 8.9 mm thin at it's thinnest point, and yet while I have a super-slim (7.1 mm thin) Motorola Droid Razr with me right now it doesn't seem that much fatter despite packing an extra 1.8 mm. While the Razr keeps its slimness right to the edges, the One X tapers and curves away at the sides, which makes it feel and look deceptively slimmer.
The thinness is perfectly complemented by a great feel to the smartphone. In your hand, the curves and tapering to the device make it extremely easy to hold despite the relatively large size of it, and the polycarbonate unibody feels nothing short of amazing. In fact, despite the body technically being made out of plastic, it has a fantastic texture and premium feel that Samsung never managed to capture in their plastic-body devices.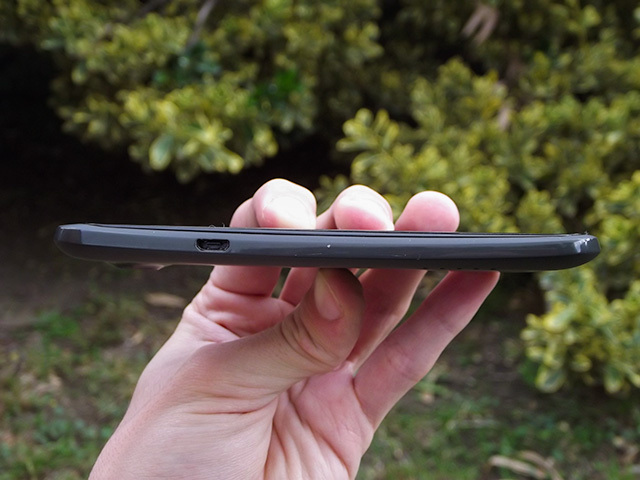 The front sees the large 4.7" display covered with protective Gorilla Glass, which curves off beautifully to each side in what HTC perfectly describes as an "infinity display". When swiping left-right across the display your finger simply whooshes off the edge without any annoying bezel ridge to stop you, and in general the glass feels surprisingly good.
Below the display sees HTC's choice of three capacitive buttons: back, home and the app switching button; essentially mimicking the one-screen buttons that are present in stock Android 4.0. Through choosing to use the multitasking button over the menu button on the phone, this presents an annoying issue in apps that haven't been optimized for Android 4.0, which I go over in more detail in the software section.
Above the display HTC has cleverly hidden the notification light, ambient light and proximity sensors and has managed to make the speaker grill and camera look just right in the polycarbonate shell. There is also a prominent and shiny HTC logo so your mates know who made this sexy smartphone.
The back of the device is made entirely out of the pleasantly tactile and minimalist polycarbonate while being splashed with a protruding camera, HTC (and Beats Audio) branding, speaker and dock ports. Towards the top you can make out the SIM card port (with a removable tray) and 3.5mm headphone jack.
Initially I was concerned that on a desk the One X rests directly on the camera's lens, which protrudes out of the back by around 1.2mm, however after a very close inspection it appears that only the bottom part of the metal lens rim sits on the desk while the main part rests just a fraction of a millimeter above the desk. It's good to see not all of the lens rests directly on the surface but it might have been nice to see the glass indented just slightly from the metal rim.
Around the device you'll find the micro-USB port to the left and long volume rocker to the right, with a power button on the top. For a device of this size it's much more convenient to have the power button on the side, as I found myself having to slide the device up and down in my hand to reach the power button, and often I couldn't properly hit it while still holding it reasonably. Not a huge deal, but a strange design decision that I also saw (and complained about) with the large HTC Titan.
All-round though I really have to praise HTC for taking a look at their past line-up and thinking long and hard about how they could improve it. The end result from countless hours of research and development is one of the most stunning handset designs I've seen in the past few years.
Display
If you liked the look of a Super AMOLED display, your mind will certainly change after seeing the Super LCD 2 display on the One X. The 4.7-inch 1280x720 S-LCD 2 display is outstanding, gorgeous, amazing, beautiful, superb, brilliant, stunning and any other similar descriptive term you want to use.
Turning the device on and seeing the homescreen for the first time nearly blew me away in terms of the color achieved from the LCD display. I never imagined that you could make an LCD display look this good after a few years of seeing AMOLED displays dominate the color vibrancy scale, albeit with slight accuracy issues. The S-LCD 2 on the One X is so vibrant yet so accurate with colors it puts AMOLEDs to shame.
In fact nearly everything about the Super LCD 2 display is better than an equivalent Super AMOLED: the colors are vibrant but at the same time accurate, the white levels are pure and bright, the contrast is surprisingly good, the display combats glare well in direct sunlight, the viewing angles are fantastic and the black levels are really good for LCD.
Not to mention there is no PenTile subpixel matrix here giving false impressions of pixel quantity; instead you get the much crisper and better RGB stripe technique that is used with almost every other type of display.
720p Super LCD 2 on the HTC One X (top) vs. qHD Super AMOLED on the Motorola Droid Razr (bottom). Both displays at maximum brightness.
The only noticeable benefit of an AMOLED over S-LCD 2 is the black levels; the S-LCD 2 comes close, but you simply cannot achieve completely switched-off pixels with an LCD panel like you can with AMOLED. However this doesn't stop S-LCD 2 from being the better technology in pretty much every other respect.
With a resolution of 1280 x 720, the One X's 4.7-inch display also falls over the magic 300 pixels-per-inch (ppi) rating - with 312 ppi - that effectively makes individual pixels indistinguishable to the naked eye. Reading text with the One X's display is crisp and easy, and the S-LCD 2 technology provides good white/black levels and contrast along with great outdoor reading conditions.
The 720p resolution and large size means the display is also great for watching high-definition videos, and thanks to the Tegra 3 SoC it should be easily capable of decoding and downscaling 1080p. Expect this device to be great for media as it has already been set up with a brilliant display to watch it all on.
I can't stress enough how good the colors look - and how much better they are than AMOLED - or how crisp the display is by just showing photos. You really need to experience the display in person to know what I'm talking about, because honestly it's the best display I have ever seen. While the original S-LCD panels were not the greatest replacement for Super AMOLED, S-LCD 2 is by far the best display technology going around.
Software
The HTC One X comes loaded with Android 4.0 "Ice Cream Sandwich" with HTC's custom Sense 4.0 UI skin that alters the appearance of stock Android 4.0 while adding new features. Rather than having to go over Sense 4.0 and Android 4.0 in every review of a product that runs either of these, I've split them out into their own separate reviews.
→ HTC Sense 4.0 UI review
→ Android 4.0 "Ice Cream Sandwich" review
The review of Sense 4.0 comes straight from the version I used on the HTC One X, while the Android 4.0 review comes from my use of the Galaxy Nexus.
At lot of features from stock Android 4.0 have made their way into the software on the One X, but on the other hand a few haven't. Here is a quick breakdown.
Android 4.0 features available stock on the HTC One X
Face unlock
Gmail, Maps, YouTube, Talk, Play Store and Search apps
Screenshotting
Real-time speech-to-text
Android 4.0 features skinned on the One X
Launcher, notification pane, lockscreen, app drawer
Settings menu, including data usage meter
Widget resizing
Unlock to camera
Contact cards
Messaging, Contacts, Calendar, Calculator, Clock, Gallery, Music, Browser, Camera, Mail, Car and Movie Studio apps
Improved copy and paste
Recent Apps switcher
Android 4.0 features not available on the HTC One X
On-screen buttons, except for the legacy menu button
Storage visualizer. Instead you get the version seen with Android 2.3
Time-lapse photography
Of course there are also a few features added to the operating system by HTC, so again I recommend you check out my HTC Sense 4.0 review for all the nitty gritty bits of the HTC One X's software.
Performance
As I mentioned earlier in this review, the HTC One X is powered by an NVIDIA Tegra 3 chipset, which contains four ARM Cortex-A9 processing cores clocked at 1.5 GHz along with an ULP GeForce GPU. You also get 1 GB of RAM with the package, 32 GB of on-board storage, dual-band Wi-Fi 802.11a/b/g/n and Cat.14 HSDPA (21.1 Mbps) + Cat.6 HSUPA (5.76 Mbps) on the 850, 900, 1900 and 2100 UMTS bands.
This is not to be confused with the HTC One XL, which packs a Qualcomm Snapdragon S4 chipset, only 16 GB of storage and LTE radios. In the United States, this device will be branded as the "One X" on AT&T but I do want to stress that this is not the same device (in terms of performance) as the device I have with me today; look for a One XL performance review in the future.
Tegra 3 die photo with the cores highlighted in yellow
As the Tegra 3 SoC seen here with the One X uses regular 1.5 GHz ARM Cortex-A9 cores you would expect single- and dual-core/thread performance similar to other ARM Cortex-A9 products, such as the TI OMAP 4 series devices (Droid Razr, Galaxy Nexus) and Exynos 4xxx chipsets (Galaxy S II, Galaxy Note) at similar clock speeds. You could also reasonably expect similar performance to the Qualcomm's Scorpion cores used in Snapdragon S3 devices (HTC Sensation, Rezound, Sony Xperia S).
The only real advantage the Tegra 3 has over these other chipsets in processing power is the extra two cores. Unless the applications make use of these extra two cores you will not experience performance that is any different to the dual-core SoCs I listed above, but if indeed all cores are used you could expect up to twice the performance.
In real-world performance, the One X is one of those devices that never lags, ever. Anything from applying real-time effects to the camera, to browsing intensive websites like The Verge, is smooth and extremely responsive. Expect next-to-no delay opening applications and performing basic tasks because the Tegra 3 is definitely capable enough to do this. I'm not sure whether all four cores are used throughout the Sense interface, but whatever HTC has done certainly makes the experience smooth.
For gaming I tried a range of mid-to-high-end games such as Grand Theft Auto III and Shadowgun (not the Tegra 3 version because I didn't want to pay for the same game twice). Going on the paper specifications on performance of the Kal-El ULP GeForce, which increases the core count to 12 (from 8 in the Tegra 3 ULP GeForce), you could get up to 2x the performance of the Tegra 2 chip when you factor in the increase core clock (above 300 MHz). This should put it close to par with the Mali-400 MP used in the Galaxy S II's Exynos 4210 chipset.
Playing the aforementioned games was very smooth on the highest graphics settings, easily delivering over 30 FPS even in intense moments. Comparing it to the experience I had gaming on the Galaxy Nexus a few months back, which has a PowerVR SGX540 GPU and a similar 1280 x 720 display, I can definitely tell that the Tegra 3 Kal-El ULP GeForce is the more powerful of the two. It also seems faster than the Adreno 220, but Qualcomm hasn't provided paper specs for that particular GPU to compare numbers.
Normally I would also check out some of Gameloft's 3D games, but unfortunately at this stage they have not made any of the games "compatible" with the One X, even though I believe that any of them would run just fine on the NVIDIA hardware.
Starting with the HTC One X I want to go forwards with a slightly different set of benchmarks: out goes Smartbench 2011, replaced by the newer SmartBench 2012 productivity test, Qualcomm's Vellamo benchmark and Rightware's BrowserMark, with GLBenchmark 2.1 (with 720p offscreen) and NenaMark2 for graphics performance testing.
Reminder: Benchmarks are just a set of numbers that accompany a phone's hardware for very specific scenarios and performance tests. Often real-world experiences can vary drastically between devices where benchmarks suggest they shouldn't, and so benchmarks should only be taken as a basic comparison of devices.
Here you can clearly see the advantage of a quad-core processor at work in both SmartBench 2012 and Vellamo, with the One X's 1.5 GHz Tegra 3 chip coming in at 95% and 55% better respectively than their 1.2 GHz dual-core equivalents in the Galaxy Nexus. In Browsermark, which is ran from within the (stock) browser, the One X has less of an advantage (probably due to the browser not utilizing all four cores), falling 3% slower than the Nexus.
Ideally you would like to see a 100% improvement over a 1.5 GHz dual-core chip that has 1 GB of RAM and utilizes Cortex-A9 cores, however it was unlikely to happen and 95% faster than a 1.2 GHz chip in SmartBench is mighty close. In Vellamo the performance is not close to 100% better because again, the benchmark probably does not utilize all four cores throughout the test, and you'll find software not utilizing all the cores is the downside to having a processor that only increases the number of cores rather than the quality of each included core.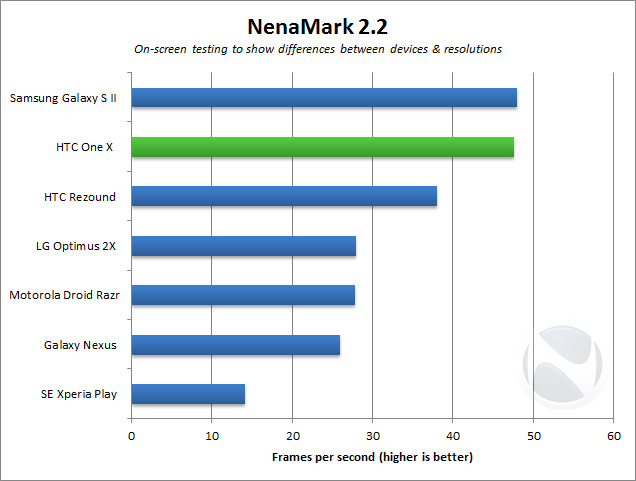 In the graphics benchmarks I was pleasantly surprised to see the dominance of the Kal-El ULP GeForce over the Mali-400 MP at the same resolution (hence the off-screen tests to put the two properly against eachother). The Tegra 3 GPU was 49% and 13% better than the Exynos 4210 GPU in the Egypt and PRO tests respectively, but fell short of the mighty-powerful PowerVR SGX543MP2 found in the iPhone 4S. 
It was also nice to see an improvement of 2-3x over the original Tegra 3 GPU, which nowadays is simply not up to scratch at delivering 720p graphics compared to the newer offerings.
When pitting the One X directly against the Samsung Galaxy S II at native resolutions (1280 x 720 and 800 x 480), the results were more balanced and show that you should get similar performance out of the two on face value. The One X was a hairline slower than the Galaxy S II, but had to render to 2.4x the amount of pixels as the latter device.
Once I get my hands on a HTC One S with the new, and supposedly speedy, Qualcomm Adreno 225 GPU it will be interesting to see where that device fits in. Stay tuned for the performance overview of that device and the Qualcomm MSM8260A.
A quick mention must also be made of the on-board storage transfer I/O speeds: I managed between 8 and 9 MB/s write when I was copying over some videos and music to the device, and around 20 MB/s read from the phone. This is generally better than what you would get from a microSD card (unless it's Class 10) and really quite good compared to other mediocre speeds I have seen in the past.
Camera
HTC has put a lot of effort into making it known that the HTC One X packs an impressive camera, including features such as an 8-megapixel blackside-illuminated sensor with f/2.0 28mm lens, LED flash and 1080p recording. There are also numerous software features that are cool to have: burst shot, HDR, panorama, real-time effects, slow-motion video, picture in video and quality settings, but strangely no time-lapse as included with stock Android 4.0
Taking a photo while using the real-time negative effect
After a lot of testing and pondering on the shots I've taken with the HTC One X I can conclude that it's good in two situations: lots of light, as in outside on a sunny day; and low-light where shots appear brighter-than-life. Strangely, the middle ground you might find indoors and on cloudy days is less than impressive while the former situations can provide quite good results. 
Here are some shots taken with good lighting. Notice the One X seems to have a good lens as well, with the large aperture delivering good depth-of-field and crisp shots when in focus. I did notice the One X is incapable of taking really close macro shots, requiring the lens to be at least 8 cm away from the subject normally, but pulling the camera back slightly still delivers good results.
Here are some shots taken with a lot less lighting that have still come up really well. Generally the One X's camera makes low-light shots appear brighter than reality with no real appearance of high-ISO grain, probably down to the use of a BSI sensor.
Now here comes the strange thing that I saw with middle-level light, such as shots on cloudy days. On the one hand, mid-to-close shots can be vibrant and quite beautiful (relative to the conditions), such as the first shot below; however when you pull back to a wide shot the color clarity seems to wash away and generally these shots seem darker than reality. I have no idea why this occurs with the One X camera because it seems good at low light photography, then it washes out with cloudy shots.
Here is a 100% crop of the street image several shots above. It's not the clearest image you can get with a camera, but I have definitely seen worse (especially with past HTC cameras).
The low-light performance I've already mentioned is very impressive, but when I went into an incredibly dark room it brightened up my photo far more than I was expecting with minimal grain. Turning on the flash made the subject more visible but it did wash the colors out as most LED flashes do; also, the flash is useless for items that are more than a few meters away from the camera.
I mentioned before that the camera does real-time effects at the push of a button, and the results deliver Instagram-like "indie" photos. Most effects have various sliders and controls, which is good for someone who enjoys "enhancing" images this way, but I doubt that personally I would use the feature much. Here is a collage of some of the results of the real-time effects.
Also available is a panorama mode that works surprisingly well at stitching together images and can deliver, width-wise, quite large scenes. The end result is also in close-to-full quality, with the below panorama coming in at 8187 x 1796 (and 5.1 MB) for the original image.
On to video quality and I was impressed with what the One X delivered: at 1080p/24 the image is on-par with what I've seen with other smartphones, but it manages to have quick autofocus and exposure adjustment which makes it a very versatile camcorder. Audio is also remarkably crisp and reasonable quality considering the small microphones it uses to record.
While I know other devices are technically capable of slow-motion capture, the One X is the first I have had hands-on time with that actually implements it. Checking the "slow-motion video" box reduces the quality to mediocre 480p but captures at 120fps, meaning that every real-time second appears as four recorded seconds. The video player allows you to switch between real-time and slow-motion, but the recording itself is slow-motion as you can see below.
Other features include a burst shot mode taking four images per second, which actually groups all burst-shot images together and allows you to select the best photo, and the ability to take up to four still shots per second from within the stock video player. Both these features work well and add to the incredibly impressive set of features available with the One X camera.
However I'm not convinced by the overall quality of the HTC's camera. Sure, low-light and sunny pictures look great, but in other situations results can be unpredictable and mixed, sometimes washed out but sometimes vibrant. If HTC found a software mix that allowed the camera to perform its best in all situations, which I'm sure the sensor is capable of doing, it would be amazing, but right now the Sony Xperia S still claims crown of best camera going around.
Media Playback
With such a gorgeous display and heavily marketed "Beats Audio" you would really hope that the HTC One X manages solid media playback. In the past, like with the HTC Titan, I have been disappointed by the SRS audio enhancement option that came with the device and as this is my first time trying out Beats audio enhancement I'm hoping for much greater things.
First I have to mention the rear speaker on the HTC One X. Like most rear speakers, it's really, really terrible; it has absolutely no bass end and piercing high tones that make it horrible to listen to any music. Luckily though, that's not what people generally do with phone rear speakers, instead it's for speakerphone calling, hearing your ringtone and the occasional YouTube video when you don't have any headphones lying around. 
In this respect the rear speaker is reasonably good: it's crisp enough to hear someone's voice through and it's loud enough to hear in your pocket in a relatively noisy room. When holding the phone in a landscape position however, I had a tendency to cover up the speaker with my right hand which could block the sound for games, but other than that I can't complain.
Sound through headphones is also really good, especially, and surprisingly, when you enable Beats Audio in the notification pane. Normal listening sounds rather flat and lacking in depth and bass, but after enabling (or leaving enabled) Beats Audio it lifts music to sound fuller and richer. It definitely sounds better than my Droid Razr, but not as good as music direct from an amplifier as you would expect.
Also as the device comes with 32 GB of on-board storage there is plenty of space to put your music collection. Mine is not particularly large, but I managed to fit all 12 GB of it on with plenty of room to spare, which I could use for videos and photos if I wanted. Of course having a microSD card slot would be nice so you could expand this further, but 32 GB should be enough for most people.
On to the video test where I try out a number of different file formats and codecs. As I started doing in my Xperia S review, alongside the native video player I'll also be using the 3rd-party MX Video Player to assess the playback of usually unsupported files. Note that the Tegra 3 SoC has a dedicated video and audio decoding engine built it, so it should perform well.
Medium
Native Playback
3rd-Party Playback
Cordy Gameplay (.wmv)
640x360 WMV3 video @ 3046 kbps
WMA2 2ch audio @ 96 kbps
Perfect playback
Perfect playback using hardware decoding
The Big Bang Theory (.avi)
624x352 XviD video at 1082 kbps
MP3 2ch audio at 128 kbps
Perfect playback
Perfect playback using hardware decoding
Epic Rap Battles of History 7 (.mp4)
1280x720 H.264 video at 2531 kbps
AAC 2ch audio at 128 kbps
Perfect playback
Perfect playback using hardware decoding
TRON Legacy (.mp4)
1280x720 H.264 video at 2461 kbps
AAC 6ch audio at 401 kbps
Perfect playback
Perfect playback using hardware decoding
Black Swan (.mkv)
1920x800 H.264 video at 17025 kbps
DTS 6ch audio at 1536 kbps
Perfect video playback but no DTS decoding (so no audio)
Either perfect video playback with no sound (hardware decoder) or stuttering video and perfect sound using any of the other software options
THX Amazing Life  (.mt2s)
1920x1080 H.264 video at 9011 kbps
AC3 6ch audio at 640 kbps
Not recognized (this is usual for an MT2S file)
Plays the video fine using the hardware decoder, but no sound. Try to get sound working makes the video stop working, or makes the video stutter horribly. Software decoding is laggy.
MysteryGuitarMan  (.mp4)
1920x1080 H.264 video at 2701 kbps
AAC 2ch audio at 128 kbps
Perfect playback
Perfect playback using hardware decoding
It was great to see that the HTC One X can decode HD videos with 6-channel AAC audio without the need to use third-party software. Unfortunately it cannot decode DTS audio, and even the software decoder has issues with this in MX Video Player, so if you have videos that have DTS audio you can discount them from working well without conversion.
Other than that you have to praise the playback of the One X: the HTC sound enhancer boosts the volume of quiet videos in the stock video player, and the 720p display is vibrant and beautiful as always. I was actually really enjoying watching THX's Amazing Life video (although disappointingly without sound) on the gorgeous display, and Blu-ray-quality videos are going to look great with superb color reproduction.
I also have to praise the in-call quality of the HTC One X through the call speaker on the device's top front. It's loud enough you can hear people on the other end in noisy rooms and the device provides active noise cancellation so the recipient can also hear you clearly. Generally speaking this is the case for all current smartphones, so I am waiting (but not expecting or wishing) for a phone to have terrible in-call quality.
Battery Life
Due to the HTC One X's polycarbonate unibody design, unfortunately you don't get a user removable battery, instead you're left with an internal 1,800 mAh lithium-polymer (Li-po) battery. HTC probably could have put a larger battery in the device, although after they surveyed the community they found that people prefer slim phones (like the One X) to fat ones with large batteries.
Among the staff here at Neowin we've had mixed results with the HTC One X's battery life. My device has seen reasonably good device, easily lasting through a day with moderate usage and even lasting two with little usage. Generally I have only had to charge once per day despite the device's 4.7-inch display being the main cause of battery drain.
For Owen and Byron though, who also have One X's with them, they have seen relatively poor battery performance, with what they claim is everyday usage only getting them 8 hours of life. See the screenshots they sent of their battery usage below.
Alternatively here are the shots of battery usage on both my HTC One X, with light usage, and one of my Twitter followers with a One X who claims he used it occasionally for tweeting and Google Talk.
I have seen around 5-6 hours with heavy usage, but usage in light/moderate conditions the life seems to vary a lot. One theory Byron presented was that the companion core in the Tegra 3 might not be performing optimally in all cases, and I passed my concerns on to HTC but they have yet to respond.
As such I can't say for sure whether the battery life is good or bad. Going just on my experiences I would say it's reasonably good and easily lasts me a full day, but considering Owen's exceptionally poor performance I'm not going to firmly say it's good.
Video Hands-On
Check out my hands-on video overview of the device, good for when you want to see the device in action and don't want to read everything in the written review.
Conclusion
Pretty much everything about the hardware of the HTC One X is desirable. By far the display is the nicest I have ever laid my eyes on: it delivers crisp text, beautifully rich colors, solid outdoor performance and it's nice and large for viewing media. The overall design of the device is also incredibly pleasing - easily the best design ever from HTC - as it combines thinness with an awesome feel and minimalist colors.
Honestly I was surprised at just how good the performance of the Tegra 3 chipset is, and while I still believe that next-gen chipsets with Cortex-A15 cores will easily outperform it, for now it has to be the all-round fastest chipset on the market. The performance of the quad-core processor is admirable to the point of dominating all benchmarks, and the GPU holds its own very well against the likes of the powerful Mali-400 MP found in the Galaxy S II.
The camera, while generally good and incredibly well featured, can't live up to what I saw on the Sony Xperia S. With the One X I did manage to get a number of great-looking shots, but there were also some dodgy photos that were inexplicably washed out and underexposed. That said I love the fact that you can record slow-motion video and the amount of other features puts last-generation devices to shame.
Where the downsides start pouring in all revolve around HTC's Sense UI 4.0. Sure, it has loads of features on top of stock Android 4.0 "Ice Cream Sandwich" and improves over the last iteration of Sense, but it simply looks too last-generation compared to the futuristic and concise appearance of vanilla Android. Rounded corners and shiny gradients just don't fit in well anymore, and I really wish that you could get a HTC One X without Sense pre-loaded because that would really be a killer device.
Alas, that won't be happening and it remains just shy of a truly amazing device.
→ Buy the HTC One X from Mobicity or Mobicity UK
→ The HTC One X official website
→ HTC Sense 4.0 review | Android 4.0 review