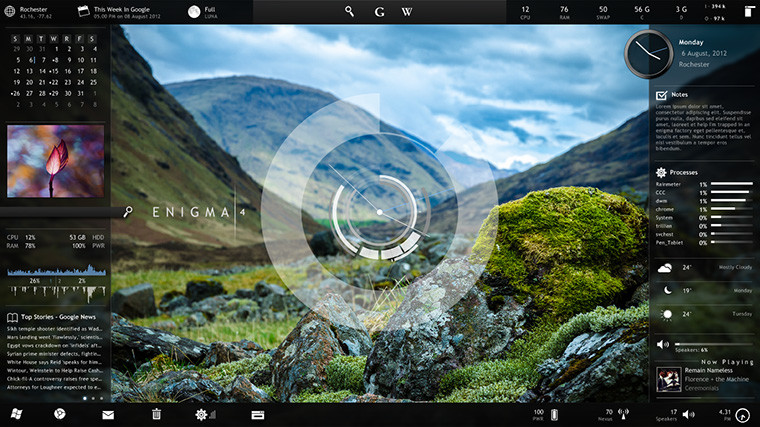 Rainmeter is the best known and most popular desktop customization program for Windows. Enhance your Windows computer at home or work with skins; handy, compact applets that float freely on your desktop. Rainmeter skins provide you with useful information at a glance. It's easy to keep an eye on your system resources, like memory and battery power, or your online data streams, including email, RSS feeds, and weather forecasts.
Many skins are even functional: they can record your notes and to-do lists, launch your favorite applications, and control your media player - all in a clean, unobtrusive interface that you can rearrange and customize to your liking. Rainmeter is at once an application and a toolkit. You are only limited by your imagination and creativity.

Rainmeter is open source software for Windows XP/Vista/7/8/10 distributed free of charge under the terms of the GNU GPL v2 license.
Rainmeter 4.0 Beta release notes:
You can safely install the new 4.0 beta version right over top of your existing Rainmeter 3.3 or earlier installation, and nothing you have done will be lost or changed. There is never any need to uninstall any earlier version of Rainmeter to use the newest version.
Important change to Rainmeter 4.0
Due to future application improvements we intend, which will require the latest version of the Direct2D / DirectWrite graphical engines:
As of Rainmeter 4.0, Windows XP and Windows Vista are no longer supported by the application.
Rainmeter 4.0 requires at least Windows 7 with Service Pack 1 and the Platform Update applied. These should have been automatically applied several years ago by Windows Update, but if you have Windows Update turned off you may need to get and apply these updates manually. Windows versions later than Windows 7 are fully supported.
If you are on Windows XP or Windows Vista, and can't or don't wish to upgrade, you will need to stay on the 3.3 Release version of Rainmeter.
Changes in Rainmeter beta 4.0:
For some stability and performance reasons, we are in the process of changing most or all of the plugins that are distributed with the Rainmeter installation from being external "plugins" to being internal "measures". At this time, there is no need to change anything in your skin code, but do be aware that discrete .dll files for these plugins will no longer exist in your Rainmeter Plugins folder. As of this writing, the following plugins have been turned into measures:
NowPlaying
MediaKey
RecycleManager
WebParser
Additional details on important changes as the beta cycle progresses can always be found at Change Announcements.
July 12, 2016 - Revision 2617
Added String meter: Added Shadow InlineSetting type to String meter Inline options. This will allow you to add a drop shadow to all or part of a string.
Download: Rainmeter 4.0.0.2617 Beta | 2.1 MB (Open Source)
View: Rainmeter Home page