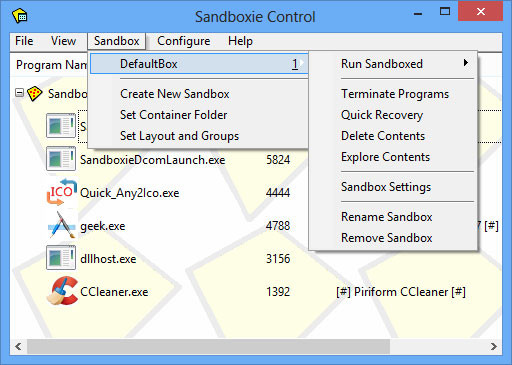 Run programs in a sandbox to prevent malware from making permanent changes to your PC.
Sandboxie allows you to run your browser, or any other program, so that all changes that result from the usage are kept in a sandbox environment, which can then be deleted later.
When you browse the Web, changes occur to your computer system. Some harmless, like recording the addresses of Web sites you have visited, so the browser can help you complete a Web address that you type in. Some more harmful, like the unsolicited installation of malware. When you use Sandboxie to protect your browsing session, it catches all these changes just as the browser is about to apply them into your computer system. Sandboxie does record these changes on behalf of the browser, but it records them in a special isolated folder, called the sandbox. Thus, with Sandboxie, you can browse the Web securely while still keeping all your browser's functionality for active and dynamic content, such as Javascript and ActiveX. All undesired side effects, including the removal of malware, can be easily undone.
Changes in Sandboxie 5.16:
Fixed Windows 10 build 14942 "SBIE2205 Service not implemented: SetWindowLong8"
Fixed Windows 10-64 build 14965 "SBIE1222 Error with security token: (C00000BB / 35)"
Fixed Windows 10-32 build 14971 "SBIE1222 Error with security token: (C0000058 / 62)"
Fixed incompatibility with latest Nvidia drivers & DirectX.
guard64.dll added to templates.ini for Comodo.
In Win 8.1-32, and 10-32, UAC was always checked and grayed in Run Any Program start.exe dialog box.
Added OpenWinClass=SWFlash_PlaceHolderX to fix Flash failure to start on some videos.
Fixed certificate revocation check error
Temporary files are no longer created with copy/paste
SbieCtrl now gets Sandboxie updates via https.
ActivIdentity (and other manufacturers') secure smart cards (CAC) are now supported (https://www.hidglobal.com/identity-management).
Fixed BSOD that can occur if your license has expired and you are using MS Office ClickToRun.
Added "Always on Top" option to SbieCtrl View menu. This will keep the SbieCtrl window as the top-most window.
Fixed elevated installer failure introduced in 5.14.
Download: Sandboxie 5.16 | 8.6 MB (Shareware)
View: Sandboxie Website