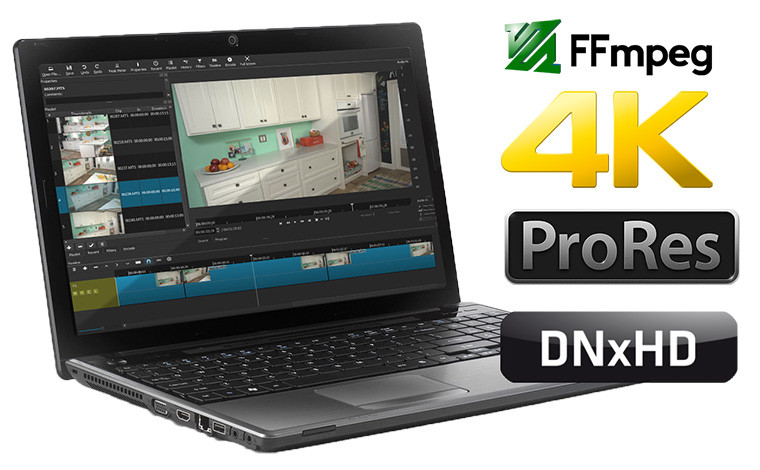 Shotcut is a free, open source, cross-platform video editor for Windows, Mac and Linux. Major features include support for a wide range of formats; no import required meaning native timeline editing; Blackmagic Design support for input and preview monitoring; and resolution support to 4k.
Editing Features
Trimming on source clip player or timeline with ripple option
Append, insert, overwrite, lift, and ripple delete editing on the timeline
3-point editing
Hide, mute, and lock track controls
Multitrack timeline with thumbnails and waveforms
Unlimited undo and redo for playlist edits including a history view
Create, play, edit, save, load, encode, and stream MLT XML projects (with auto-save)
Save and load trimmed clip as MLT XML file
Load and play complex MLT XML file as a clip
Drag-n-drop files from file manager
Scrubbing and transport control
Video Effects
Video compositing across video tracks
HTML5 (sans audio and video) as video source and filters
3-way (shadows, mids, highlights) color wheels for color correction and grading
Eye dropper tool to pick neutral color for white balancing
Deinterlacing
Auto-rotate
Fade in/out audio and fade video from and to black with easy-to-use fader controls on timeline
Video wipe transitions:
bar, barn door, box, clock (radial), diagonal, iris, matrix, and custom gradient image
Track compositing/blending modes:
Over, Add, Saturate, Multiply, Screen, Overlay, Darken, Dodge, Burn, Hard Light, Soft Light, Difference, Exclusion, HSL Hue, HSL Saturation, HSL Color, HSL Luminosity.
Video Filters:
Alpha Channel: Adjust, Alpha Channel: View, Blur, Brightness, Chroma Key: Advanced, Chroma Key: Simple, Contrast, Color Grading, Crop, Diffusion, Glow, Invert Colors, Key Spill: Advanced, Key Spill: Simple, Mirror, Old Film: Dust, Old Film: Grain, Old Film: Projector, Old Film: Scratches, Old Film: Technocolor, Opacity, Rotate, Rutt-Etra-Izer, Saturation, Sepia Tone, Sharpen, Size and Position, Stabilize, Text, Vignette, Wave, White Balance
Speed effect for audio/video clips
Hardware Support
Blackmagic Design SDI and HDMI for input and preview monitoring
Leap Motion for jog/shuttle control
Webcam capture
Audio capture to system audio card
Capture (record) SDI, HDMI, webcam (V4L2), JACK audio, PulseAudio, IP stream, X11 screen, and Windows DirectShow devices
Multi-core parallel image processing (when not using GPU and frame-dropping is disabled)
DeckLink SDI keyer output
OpenGL GPU-based image processing with 16-bit floating point linear per color component
What's new in Shotcut 21.08.29:
Added support for WebP export with presets for still sequence and animation.
Added Properties > Measure Video Quality... using VMAF.
Added a new video filter GPS Text (contributed by Daniel F).
Added a new video filter Reflect.
Added a new Deband video filter (contributed by Austin B).
Added a warning dialog before File > Export Frame... from a proxy file.
Added support for keyframes to Mask: Simple Shape > Rotation.
Added support for the operating system clipboard when copying and pasting filters.
Added support for the operating system clipboard when cut, copy, paste, overwrite or append a clip.
Added a dialog when Timeline > Track Operations > Insert Track on the top audio track to choose audio or video.
Added handles to the sides of the rectangle on-screen control (VUI) (contributed by TRA).
Changes
Changed the storage for thumbnails and waveforms to use files instead of database.
Changed Time Remap to limit input values to the maximum duration of the clip.
Changed to set the file date on proxy files to match original file.
Improved reliability of Time Remap status/feedback info.
Improved the speed setting in the Time Remap filter with an option to either modify or lock the input time.
Improved player grid display and snapping when zoomed.
Improved image sequence if there is a numeric filename discontinuity or rollover to > 0.
Fixes
Fixed possible crash when using Audio Waveform Visualization filter.
Fixed Mask: From File > Custom... might lose track of its file.
Fixed Text: Simple > File date broken in v21.05.
Fixed Timer filter's new Speed parameter not scaling Duration.
Fixed a possible crash reading a YUV 4:2:2 uncompressed video.
Fixed some clips' duration in project XML saved in frame units instead of seconds.
Fixed Timer start and end buttons when filter in point is set.
Fixed quality/rate control with libx264rgb in Export > Codec.
Fixed undo simple keyframes in Size, Position & Rotate turned on advanced keyframes.
Fixed undo followed by redo when trimming clips on Timeline may not be correct.
Fixed a crash moving multiple clips to the beginning with Ripple All Tracks on.
Fixed changing Time Remap > Enable pitch compensation in disables Zoom keyframe Values.
Fixed file paths with special characters not working in filters such as Mask: From File.
Fixed exported HEVC MP4 and MOV files are not playable with macOS QuickTime Player or iOS.
Fixed Properties > Reset for an image.
Fixed a possible crash when a transition is removed during trimming on the Timeline.
Fixed keyframes may be dragged past another.
Fixed Time Remap filter may cause image artifact when using Export > Parallel processing.
Fixed Properties > Extract Sub-clip... on GoPro videos or other videos with non-muxable data track.
Fixed Stabilize video gives incorrect results after splitting or trimming clip.
Fixed a crash when dragging multiple clips with variable frame rate to timeline.
Fixed the timeline playhead could go beyond the end of the timeline.
Fixed opening a project starts paused on the second frame instead of the first.
Note
Please be aware there will be a one-time conversion of cached thumbnails and waveform data when you first run this version. The old database will be kept so if you downgrade or run an older version you still have that older cache to rely on. You can remove either db.sqlite3 (old) or thumbnails (new) in the app data directory to cleanup the old cache or to re-run the conversion to the new file-based cache.
Download: Shotcut 21.08.29 (64-bit) | Portable | ~100.0 MB (Open Source)
View: Shotcut Home Page | Other Operating Systems
Get alerted to all of our Software updates on Twitter at @NeowinSoftware