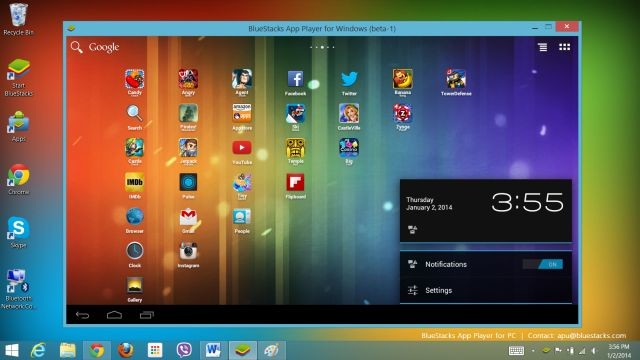 A trend at CES 2014 was for OEMs to start bundling Android with their Windows PCs. It kind of makes sense, I think, as it will expand the value of a traditional PC but really, who is the target market here and what are the actual benefits?
What we saw at CES was AMD, Intel and many of the OEMs that build Windows laptops and desktops, trying to bundle Android into their machines to some capacity. It could either be a dual boot situation like what ASUS showed off or allowing Android apps to run inside of Windows using a virtualized environment but…why?
It's easy to understand why OEMs are looking at alternative ways to boost sales because the PC market is contracting. In fact, in 2013, sales contracted by 10% over 2012 which is the biggest contraction in the market since firms started tracking PC sales.
It would be easy to point the finger at Microsoft and say they aren't doing enough to spur on the sales of PCs with Windows 8.1 but the fact is, consumers are buying PC replacements, such as tablets and smartphones, which is what is undercutting PC sales.
The idea of running Android apps on a Windows machine is somewhat logical as Android now has a massive footprint in the mobile segment. What doesn't seem to make much sense is that mobile Android apps are designed for mobile devices not PCs with a mouse and keyboard or even a touchscreen laptop as the resolution in the displays are dramatically different. And if you are going to argue that Android tablet apps would be more relevant, can you name a killer Android tablet app that doesn't have an alternative in the Windows store or heck, any application that will run on Windows? 
If you want to draw a parallel as to why OEMs are looking to add Android to PCs to spice things up, take a look at 3DTV. 3DTV was used as a way to make a product look premium, adding Android apps to Windows PCs is the same thing. But we all know how 3DTV worked out and I would hedge that Android apps on Windows PCs are going down the exact same route.
For common tasks, such as web browsing and checking email, tablets and smartphones are a better tool that are less cumbersome for the consumer. Because we now have so many ways to browse the web, buying a new PC every few years is no longer needed since we get a new cellphone, generally speaking, every two years or so. This is the logical reason behind the decline, as opposed to strictly blaming Microsoft, which seems to be the cool thing to do.
The idea that PCs are completely going away is also a bit ludicrous too. Sure the market is contracting, but Excel, Photoshop, accounting, report writing and other functions will need a traditional PC for the foreseeable future. But do these markets needs Android apps, heck no. We may have peaked in terms of annual sales, but that does not mean the PC market is dead.
Transformer Book Duet runs Windows 8.1 or Android 4.2.2
So are Android apps really going to help combat this decline and push vendors to sell more PCs? Probably not, because they are not addressing the fundamental reason consumers are not buying a PC. When was the last time you heard someone say "I'd buy this laptop, but it doesn't run this Android app that I must have?" Heck, even if the previous statement had been said, you have been able to run Android apps for sometime on a Windows PC using Bluestacks, which makes all of the above a moot point.
It's not all awash, the dual-boot scenario that you see on transforming devices such as the ASUS model posted above make a bit of sense. Seeing that Windows has the laptop/desktop market share on under its belt and Android has strong roots in the mobile segment, this scenario does seem logical, but is not a perfect solution either. You have to admit that jumping between two operating systems on one device is a pain in the butt as your settings, files, and even web browsing history do not always transfer flawlessly. What makes more sense, is to have one OS that can do both, PC tasks and tablet tasks…. like Windows 8.1
What I am saying is, Android on a PC with Windows is nothing more than a cheap marketing gimmick that OEMs hope will boost sales. The practicality of the feature, minus the dual-boot scenarios on a tablet that kind-of make sense in an off-handed way, is not there. At this point, OEMs are throwing anything with a buzzword into their machines to help move them rather than focusing on quality, innovative products... but that's nothing new.