With a whopping 32.6 million views in 2012, the Facebook article on Wikipedia has become the most viewed English article of the year, according to statistics from Wikimedia's Toolserver. The next highest viewed page, Wiki, is a surprising one with 29.6 million views - it's this page that explains how sites such as Wikipedia function - while the third place is taken by the list of deaths in 2012 (25.4 million views).
The full list of the top 100 most viewed Wikipedia articles is naturally filled with unsurprising inclusions, but nevertheless there's some strange bits and pieces in there.
Sex comes in at the 18th most viewed page (13.6 million views)
The article explaining elocution is #34 (10.3m views), beating popular historical figures Adolf Hitler (#39), Abraham Lincoln (#44) and Albert Einstein (#98)
Human penis size got 7.7 million views for the #82 spot
Facebook (#1) and Google (#9) were the only tech companies in the top 100; no Microsoft or Apple, although Steve Jobs ranked at #64 and Windows 8 at #77
People were clearly interested in the end of the world on December 21, as the 2012 phenomenon article was #7 with 20.6 million views
It's also interesting to note the distribution of the top 100 most viewed articles.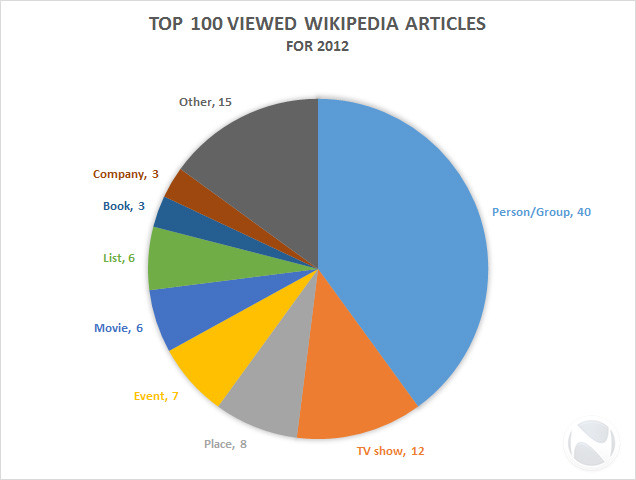 And here are the top articles from each category
Group: One Direction | Person: Whitney Houston
TV Show: The Big Bang Theory
Place: United States
Event: 2012 Summer Olympics
Movie: The Avengers
List: Deaths in 2012
Book: Fifty Shades of Grey
Company: Facebook
The full top 100 list of most viewed Wikipedia articles can be found here, along with the lists for articles in all the other languages of Wikipedia.