AirParrot allows you to wirelessly beam your screen or media files to a variety of media receivers. Easily share your screen, videos, audio, presentations and so much more. AirParrot is designed to send content to a number of media receivers, even simultaneously. Broadcast to multiple devices like Apple TV and Chromecast, or share audio around the house to AirPlay-enabled speakers. Use AirParrot in combination with Reflector to create a seamless mirroring experience to any computer or device. Never worry about compatibility issues again; share from any device, to any device!
Share wirelessly with everyone in the room without the need for cables and adapters. AirParrot gives anyone the ability to share and engage the classroom, boardroom or beyond. Focus on what matters most and send content from any device to a receiver connected to a television or projector.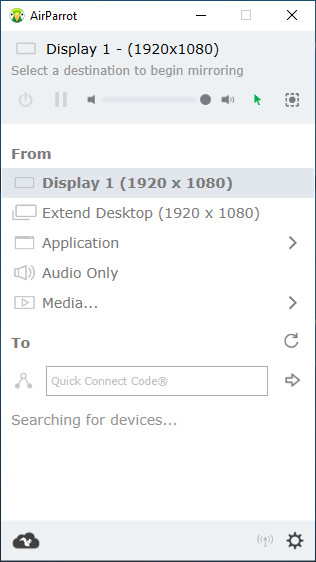 Just select any media file in AirParrot to begin watching on your TV—even control playback from your remote control. Streaming media is quick and results in no audio or video quality loss. Beam media in 5.1 surround sound for a theatre experience, at home. AirParrot effortlessly handles the headaches of different video formats so your videos always play right where you want them, regardless of receiver compatibility.
AirParrot 3.0.0 release notes:
The latest technology = the fastest speeds.
AirParrot 3 reduces screen mirroring and streaming latency to 16 milliseconds at 60 frames per second. How fast is that? Your eyes take 100-400 milliseconds to blink. So it's pretty fast.
AirParrot 3 uses up to 50% less CPU by offloading video processing to the GPU. That means even weaker computers that struggle to display video content can use AirParrot 3 to process video faster while using less power.
Mirror and stream faster than the blink of an eye.
Extended Desktop for Windows.
Extended desktop comes to Windows. Fully supported on both macOS and Windows, use AirParrot 3 to extend your computer desktop to an Apple TV, Chromecast or other receiver. That means your living room TV is now your office. Working from home just got a whole lot better.
Apple HomePod. Fully Supported.
Windows and macOS users can now stream directly to the Apple HomePod. Wirelessly send native audio and .mp3 and .mp4 files to one or many HomePods. Play those tunes anywhere in high definition.
Audio and Video. In Maximum 4K and Surround Sound.
AirParrot 3 streams 4K video and surround sound completely wirelessly. Immerse yourself in the highest quality picture and sound.
A modern new look
Beautiful icons and an updated interface. The new AirParrot 3 design matches the technology behind it: slick and powerful.
Download: AirParrot 32-bit | AirParrot 64-bit | ~ 70.0 MB (Shareware)
Download: AirParrot for Mac | 26.2 MB
View: AirParrot Home Page
Get alerted to all of our Software updates on Twitter at @NeowinSoftware