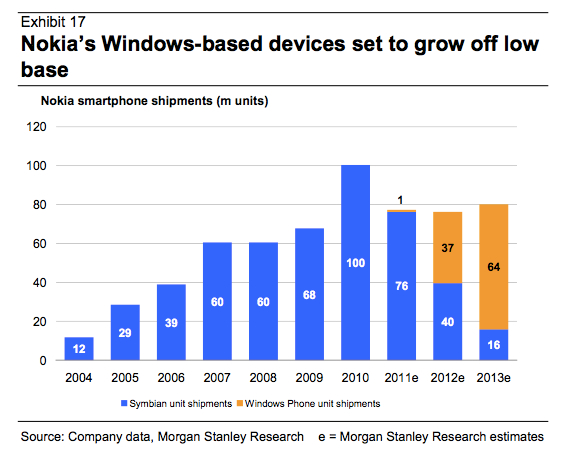 Nokia and Microsoft obviously want lots of people to purchase the Windows Phone-based Lumia line of smartphones. Now a new analyst note seems to be predicting good things for the collaboration. As reported by AllThingsD.com, Morgan Stanley predicts that Nokia could ship 37 million of those Windows Phone-based devices in 2012. That number will increase to 64 million units in 2013.
That would be a huge improvement for Windows Phone as a whole, considering that its current market share percentage among smartphone operating system is in the single digits.
Morgan Stanley has an even more optimistic projection for Windows Phone when it adds in its predicted shipments of devices made by HTC, the creators of the Titan and Radar phones. If those numbers are included with Nokia, that shows Windows Phone-based devices shipping 47 million units in 2012 and 74 million units in 2013.
Those numbers don't include Windows Phone-based devices made by other companies, primarily Samsung.  If Morgan Stanley is correct, then Windows Phone could be a much bigger competitor to Apple's iOS and Google's Android.
Image via Morgan Stanley