As expected, during its Xbox E3 Briefing for 2019, Microsoft announced a ton of games that will be coming to its Xbox console and PC. But, along with software, the firm also took time to tease its upcoming console, Project Scarlett, and debuted the Xbox Elite Wireless Controller Series 2.
The Elite Wireless Controller Series 2 is meant to be a follow up to the Elite Wireless controller that made its appearance back in 2015. The unit has been well overdue for an update and thankfully, Microsoft has delivered. So heading into the media briefing today, there was some expectation that it would be front and center, surprisingly, it was not.
Luckily, before heading out from the event, I decided to take a quick look around the merchandising area, and there it was, a vacant booth, partially set up for the Xbox Elite Wireless Controller Series 2. Taking a quick look around, there wasn't much to see, but luckily on one side, there they were, behind glass - the new controller! From a visual inspection, it definitely looked good, and the new case was superb, housing the additional thumbsticks, paddles, and D-pads. As my excitement grew, from the corner of my eye, there appeared to be people on the other side, ducking down and huddled around something.
Popping my head over, this caused the folks to scurry away revealing the Elite Wireless Controller Series 2 in plain sight. So, like any curious fellow, it was time to check this new controller out and get some quick hands-on time with it. What can I say, it felt great in hand, but of course, with such a short amount of time, I wasn't able to feel all of the improvements Microsoft touted during its press conference.
Perhaps the first thing that struck me is just how tacky and grippy the new wrap-around rubberized grip is. Without much effort, the controller felt firmly in place. It was hard to gauge the weight as it was tethered, but whatever I felt, it seemed reasonable, and I would say even light.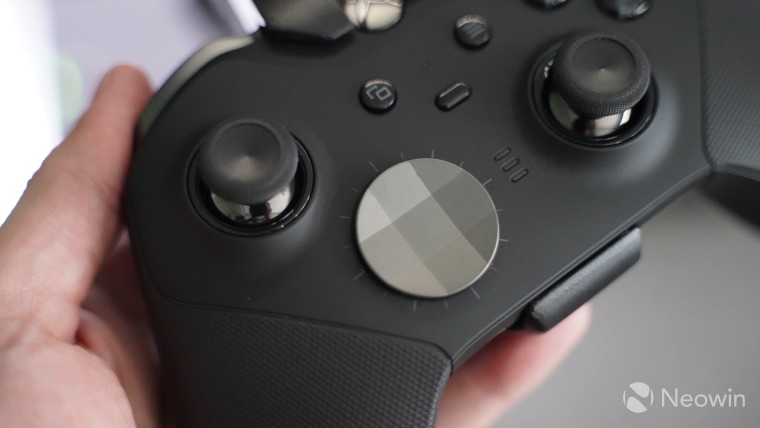 Of course, the huge differences from the previous generation need to be experienced and that is something I am looking forward to when the demo stations go live. We should be able to check out how the thumbsticks tension adjustments work, along with the new profile settings, and the newly improved triggers.
But for now, enjoy the pictures, and if you already have your heart set, you can pre-order the controller for $179.99. The controller will be made available on November 4.